Mia Hamm
by
Lauren Campanella
My hero is Mia Hamm from the Women's National Soccer Team. She was born on March 17, 1972 in Selma, Alabama. When she was 8 years old, her parents adopted her new brother Garrett, therefore making her the fourth oldest out of six children. Mia Hamm was what is known as a "military brat," always traveling and moving around the world. Hamm moved more than seven times in her life. She now lives in Chapel Hill, North Carolina. Hamm's brother, Garrett died in 1997 from a rare bone marrow disease. Hamm was in pain when he died because she looked up to him and he was one of her heroes.

Besides her brother, Hamm had a lot of other heroes and people she looked up to, such as Wayne Gretzky and Jackie Joyner-Kersee. Other influences are Anson Dorrance, her old coach, Michelle Akers, Briana Scurry, Kristine Lilly, and her new coach, April Heinrichs. Hamm looks up to these people because of they way they act towards her, or because each person has a different talent in playing and it makes her want to become a part of that and be better for herself.
Hamm has come a long way to become where she is right now. She grew up playing soccer on some girl teams but mostly played with the boy teams. That also helped her get her aggression and passion for the game. It really helped her become the best women's soccer player of all time. But soccer is not the only interest in Hamm's life. She also enjoys playing golf, reading, and cooking.
Mia Hamm has been my hero ever since I started playing soccer in the second grade. She is my hero because she always tries her hardest during practice and games. She isn't snobby and doesn't think that she is the best soccer player even if she really is. Mia Hamm always has time for her fans and she thinks it is wonderful for younger athletes to participate in sports. She always tells her fans "Make sure that you are playing soccer because you love it, not because your parents are making you do it."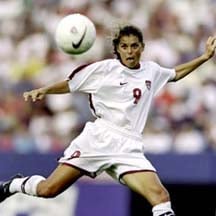 Hamm and the rest of the Women's National Soccer Team really make me want to sit down and watch the game. They are all very talented players and should be very proud of the influences they are to younger athletes. Mia Hamm didn't let anything get in her way to strive for the gold. Her brother Garrett's death really made her feel bad, but with help of her teammates she pushed through it. Garrett helped her want to win and get trophies for herself. She also established the Mia Hamm Foundation to help other people who, like Garrett, have bone marrow diseases. Mia Hamm has been my hero for most of my life, and I want to follow my dreams like she followed hers.
Page created on 8/2/2001 5:12:35 PM
Last edited 1/6/2017 11:56:39 PM
The beliefs, viewpoints and opinions expressed in this hero submission on the website are those of the author and do not necessarily reflect the beliefs, viewpoints and opinions of The MY HERO Project and its staff.
Related Books