Mary Lyon, founder of Mount Holyoke College, was a pioneer in the struggle to establish institutions of higher education for women. Mary Lyon was born on February 28, 1797, on a remote New England farm. The Lyon family lived in Buckland, a town in the hills of western Massachusetts.
In 1814, townspeople offered Mary Lyon her first teaching job at a summer school in Shelburne Falls, a town next to Buckland. She was 17 years old. At the time, teachers needed no formal training--young Mary Lyon's reputation as an excellent student years earlier was enough of a qualification. Female teachers were especially in demand due to a growth in population and large numbers of men moving west in search of better opportunities.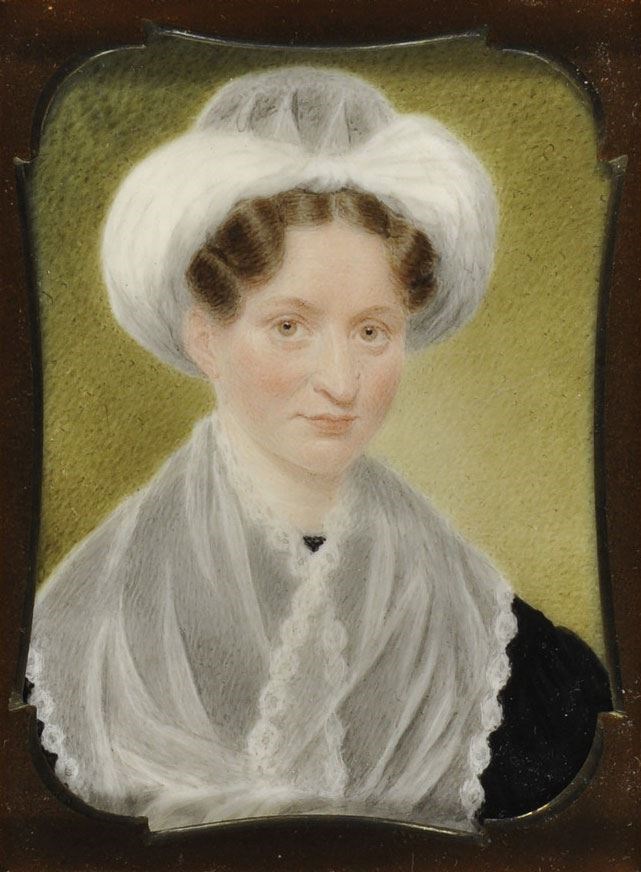 Mary LyonMary Lyon ivory miniature.jpg / Public domain via Wikimedia Commons
Teaching fired Lyon's desire to continue her own education, a goal not easy to achieve in the early 19th century for an intelligent young woman with little money. Although private female academies, often called seminaries, were springing up in New England, women of modest means, like Mary Lyon, could not afford their fees. Moreover, the curriculums, which included "lady-like" skills like drawing and needlework, were far less challenging than at male schools where students studied subjects like geometry, science, and Latin.
Despite the financial burden and a busy teaching schedule, Mary Lyon was determined to further her learning. In her own words, she gained "knowledge by the handfuls." She alternated time spent in classrooms and at lectures--sometimes traveling three days by carriage to enroll at a school--with teaching and running a school. Against the advice of her family, Lyon paid for her education by cashing in a small inheritance from her father. Ever frugal and resourceful, she saved a portion of her small salary and traded coverlets and blankets she had woven for room and board.
Mary Lyon's reputation as a gifted teacher spread far beyond the Buckland schoolhouse. Over the next 20 years, she taught at schools in western and eastern Massachusetts, and in southern New Hampshire. She became an authority on the education of women. These were the years when Mary Lyon developed her educational philosophy and gained experience in managing a school. Inspired by her own struggles to obtain an education, she worked hard to expand academic opportunities for young women and to prepare them to become teachers, one of the few professions open to women.
The year, 1834, was a turning point for Mary Lyon. She decided to leave Ipswich Female Seminary, where she was assistant principal, and focus all of her time and efforts on founding an institution of higher education for women. For the next three years, she crusaded tirelessly for funds and support. It was not the best time to ask people for donations--the United States was in a severe economic depression. But Mary Lyon persisted. She wrote circulars and ads announcing the plan for the school, raised money, persuaded prominent men to back her enterprise, developed a curriculum, visited schools and talked to educators as far away as Detroit, chose the school's location, supervised the design and construction of a building, brought equipment, hired teachers, and selected students. She endured ridicule from those who felt her ambitious undertaking would be "wasted" on women. Her constant travels often left her in a state of exhaustion. Yet, Mary Lyon never doubted her belief that women deserved to have the same opportunities for higher education as their brothers.
In the fall of 1837, the schoolteacher from Buckland at last saw her dream fulfilled when the first 80 students arrived at Mount Holyoke Female Seminary. Many had traveled two or three days by stagecoach and carriage; all had passed difficult oral entrance examinations in English grammar, math, U.S. history, and geography. Upon Mary Lyon's instructions, they each brought with them a Bible, an atlas, a dictionary, and two spoons.
In 1837, Mary Lyon was an educator ahead of her time. She required seven courses in the sciences and mathematics for graduation, a requirement unheard of at other female seminaries. She introduced women to "a new and unusual way" to learn science--laboratory experiments, which they performed themselves. She organized field trips on which students collected rocks, plants, and specimens for lab work, and inspected geological formations and recently discovered dinosaur tracks. She invited distinguished scientists to give lectures, and inspired women to pursue careers in the sciences as college teachers and researchers. Mary Lyon herself taught chemistry. Her interest in the sciences and high expectations for women sparked a tradition of leadership in science education that continues to this day at Mount Holyoke College.
The success of Mount Holyoke opened the doors of higher education for women. Mary Lyon proved that women were as intellectually capable as men, and that an institution for women offering a college curriculum could survive financially. Her impact on education was felt across the United States and in distant corners of the world. Graduates of Mount Holyoke Female Seminary carried Mary Lyon's ideals and teaching methods into schools which they founded or taught at, in places like Albert Lea, Minnesota; Marion, Alabama; Bitlis, Turkey; and Honolulu, Hawaii; Umzumbe, South Africa; and the territory of the Cherokee Nation; Kobe, Japan; and Clinton, New York. One founded the first public school in Oklahoma; classes were held in a tent. Through the work of Mount Holyoke's alumnae teachers, the quality of elementary and high school education improved nationwide; the presence of well-educated female teachers in the classroom offered role models for bright and aspiring girls and young women.
Page created on 2/23/2007 7:12:17 AM
Last edited 2/24/2020 4:22:02 AM