by
Robin Venter

- MY HERO Intern - from

Laguna Beach, California in United States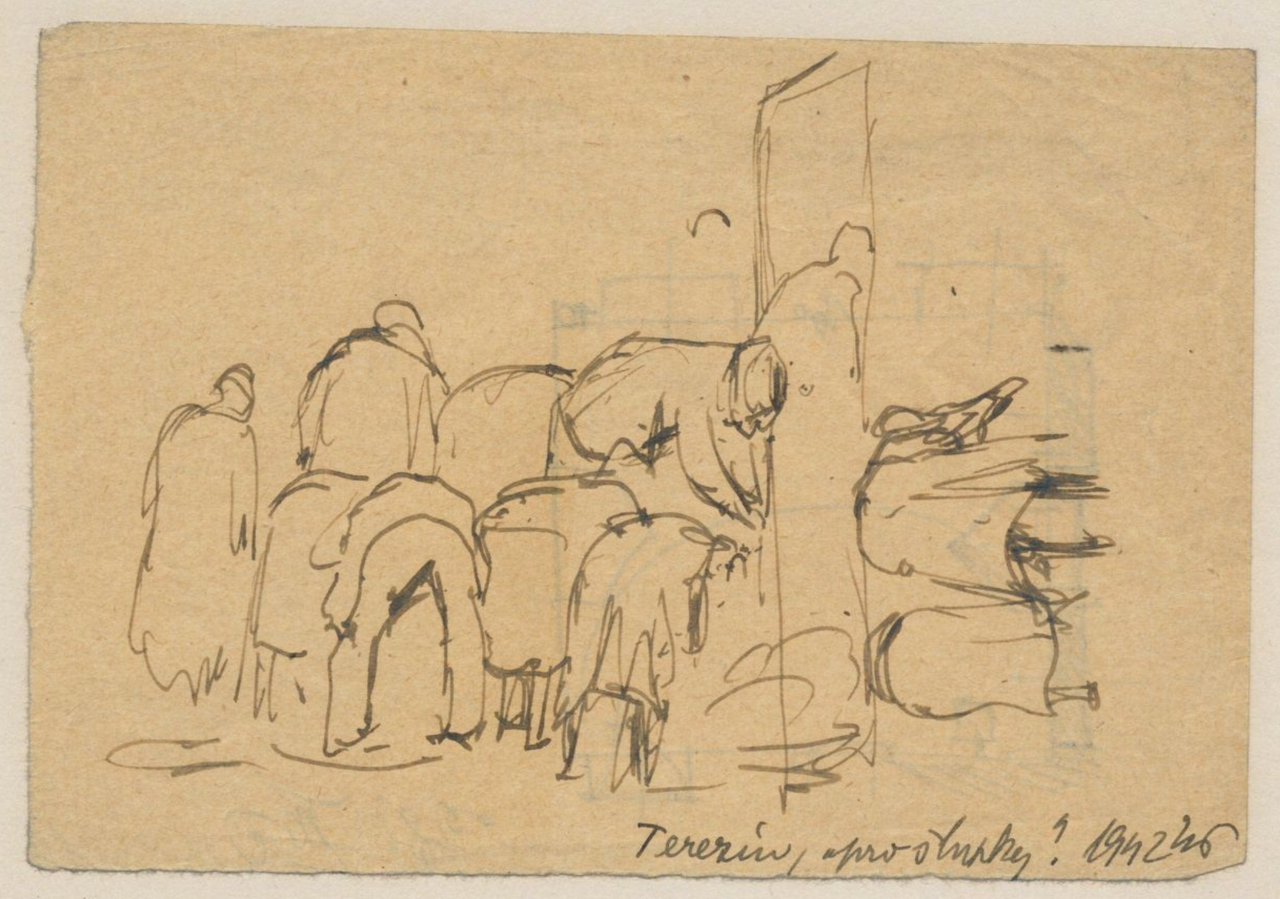 Terezin, Starving PeopleUsed with permission from the Leo Baeck Institute
Norbert Troller was a Jewish Architect born in 1900 in Bruenn. Before studying architecture in Czechoslovakia (now Brno, Czech Republic) and Vienna, Troller served as a soldier in WWI and was taken as a prisoner of war from 1918 to 1919 in Italy. When he returned home, Troller worked as a successful architect in Czechoslovakia until he was sent to the German concentration camp Theresienstadt (translated to Terezin in Czech) in 1942. The ghetto of Theresienstadt was a former military fortress re-purposed into a concentration camp for mostly Czech-Jews. Soon after the camp's establishment in 1941, the Nazis designated a Jewish Elder and a Jewish Council was created in order to insidiously fulfill German needs such as effectively organizing the day to day activities of its inhabitants, along with deciding who would be deported to extermination camps in "the East'. When Troller arrived, because of his connection to the Jewish council, he was appointed as the camp's architect. The artist was able to design living spaces for the Jewish inhabitants and re-purposed the barracks and fortress for the steadily increasing population.
During Troller's imprisonment, the artist discreetly made artworks of daily life. His architect tools such as drawing implements and watercolors allowed him to document the happenings of the camp. Both glimpses of humanity and the overwhelming tragedies of life inside of Terezin were captured by the artist's work, which he was careful to hide beneath his mattress. The creation and distribution within the camp was strictly prohibited and a punishable offence. Over 300 of Troller's pieces were preserved underneath his mattress. Despite the artist's precautions, he was further imprisoned, along with other artists, in an event called the "Painters Affair." He was subsequently sent to Auschwitz where he managed to survive until the camp was freed in 1945.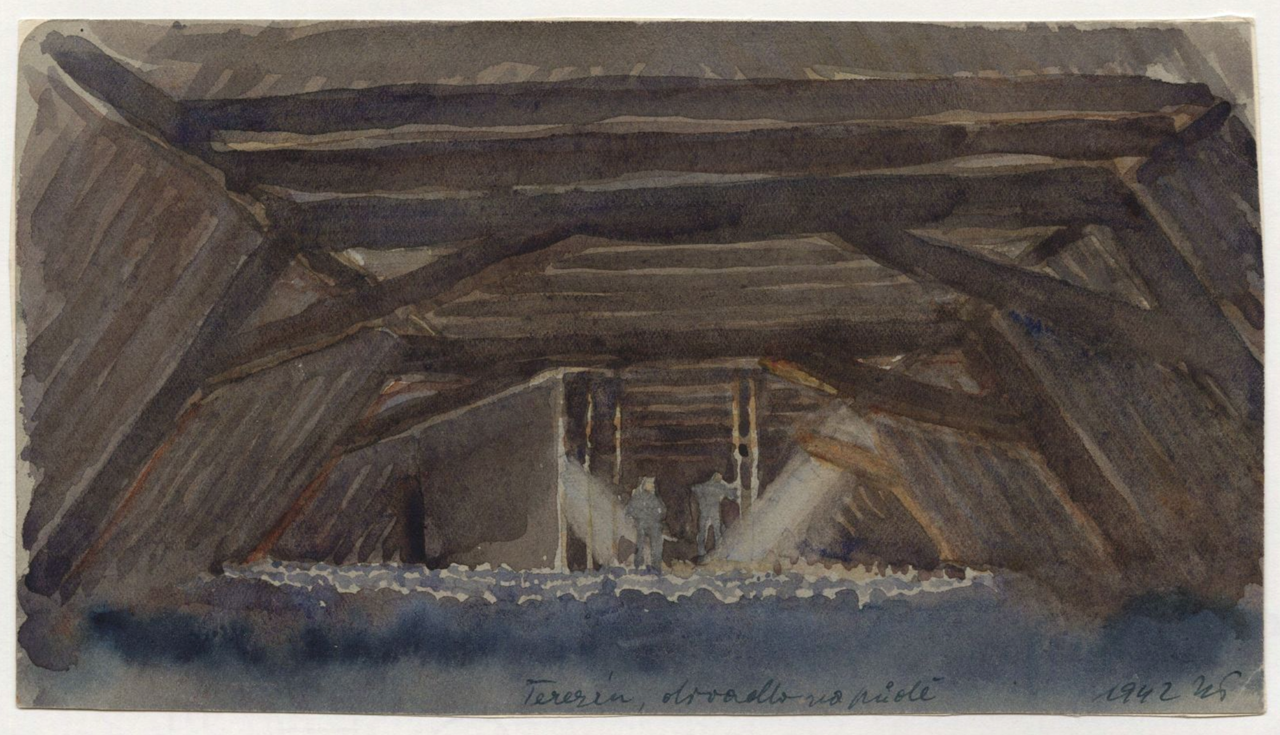 Terezin, Opera Performance in Attic.Used with permission from the Leo Baeck Institute
Troller chose to document acts of kindness, solidarity between the imprisoned Jews at the camp, and the resilience of the people around him. He paints scenes of concerts and operas being performed for residents while the inmates still had creative outlets, scenes of children playing, of children and women going on outings, and brief moments of happiness amidst the hardship surrounding them. The artist also makes sure to document the horrors of the camp. He paints the overcrowded barracks where individuals were crammed into, made sketches of starving individuals wrestling over kitchen scraps, and sketched portraits of the sick and dying. Documenting the daily life of Terezin in artworks allows for a unique perspective into the lives of the individuals who lived and died there.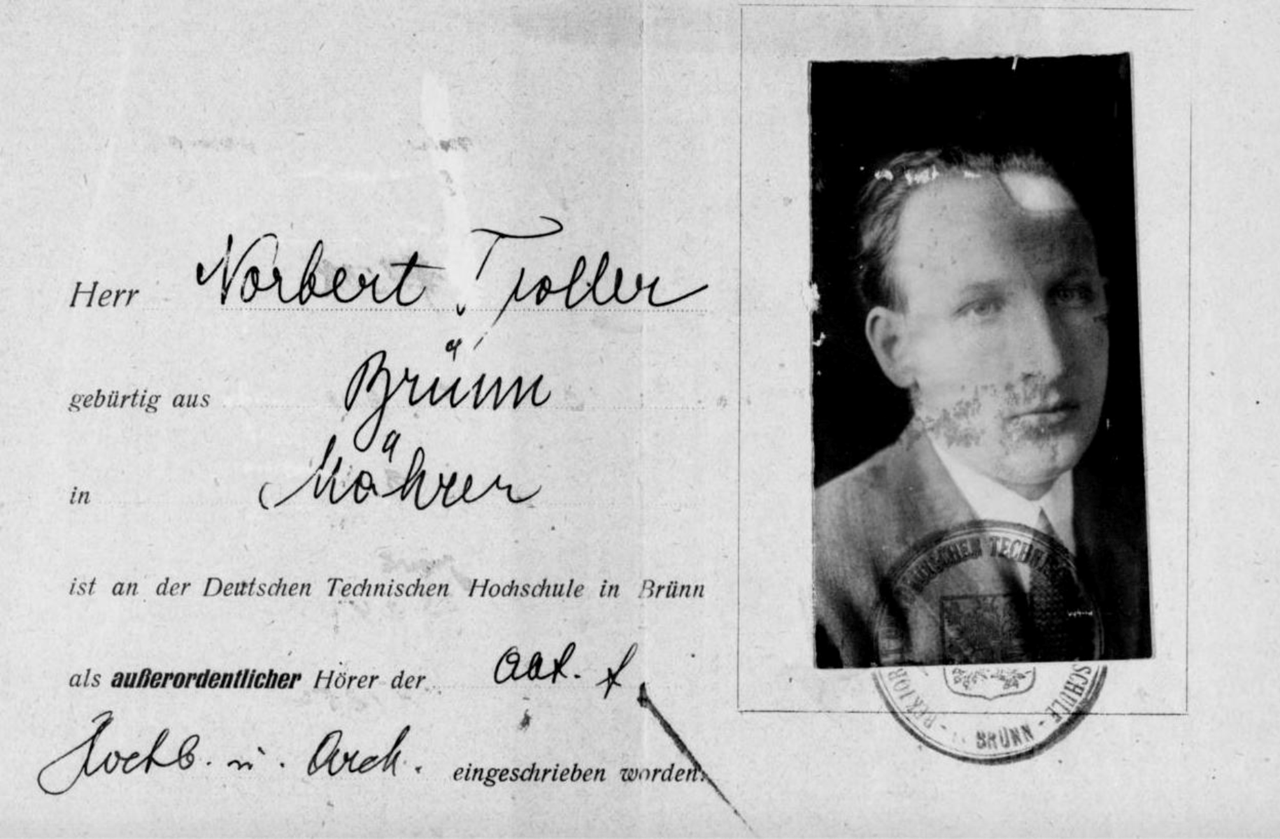 School identification document, with a photo of Norbert Troller from 1920.Used with permission from the Leo Baeck Institute
Once freed from Auschwitz, the artist worked once again in Bruenn until he moved to New York, where he designed Jewish Community Centers, opened his own architectural practice, and participated in architectural competitions. Years after he was freed, the artist returned to Theresienstadt to collect his work, which miraculously still remained. In 1981, he had an exhibition of his 300 works at Yeshiva University in New York. He died in 1981.
After Norbert Troller's death, his memoir "Theresienstadt: Hitler's Gift to the Jews" was published, including a few of his watercolors. The book recounts his years spent in Theresienstadt and Hitler's "Model Ghetto," and serves as a vital preservation of history.
Page created on 1/22/2021 10:36:29 PM
Last edited 1/27/2021 9:32:33 PM