"I've always felt that 'to whom much is given, much will be required,'" says Alyse Nelson. Having been raised in a family "that supported her dreams," she had felt, even from a very young age, that she was put here to serve.
As the CEO/President of Vital Voices Global Partnership, which unleashes the power of women's leadership all over the world, Alyse, who co-founded the organization, has expanded the network of women leaders to over 15,000 in 184 countries, tripling its size.
How did it all begin? She takes us back to the moment when she first heard the call to action that changed her life.
1995: The Fourth UN Conference on Women, Beijing, China
"In 1995, I was 21 years old, I was a college student. I was desperate to understand my place in the world. This was probably most profound to me when I traveled to the United Nations Fourth World Conference on Women," she recalls.
She had saved and borrowed to buy a plane ticket bound for the Fourth United Nations Conference on Women in Beijing, China--with four different stopovers on the way. "It was the only ticket I could afford. I really didn't know what was going to happen but I knew I was supposed to be there. It was that sort of gut feeling, like I'm really scared. I don't even know if they're going to let me into the conference. I don't speak Chinese. I hardly have enough money in my pocket to stay in a hotel for enough nights before I could get into the conference where I could stay in these cheaper dormitories. But I just felt like I had to go."
Alyse remembers what can be described as a sense of destiny: "It was something that I knew in my heart was going to reveal and sort of set me on a path that would be life changing. And it was. Hillary Clinton, then First Lady of the United States, made her very famous speech where she declared that 'Human rights are women's rights, and women's rights are human rights."
"Although it seems really simple, back then, quite frankly, this was a really radical statement," Alyse says. "The fact that she went to Beijing, many people thought, even in her husband's administration, that that was not a good idea. This was a country that didn't have the strongest record on human rights. But she knew that the women of the world were counting on her to raise their unheard voices to the world stage. And sure enough, when she showed, all the cameras of the world were trained on her every move. And that went out like--like fire around the world."
While today global connectedness and women's issues seem mainstream, Alyse puts Clinton's speech in its historical context as something that reached across boundaries. "I think that that [speech] was the beginning of a global call to action, or a movement for women around the world, to be part of something that was much larger than ourselves...Since then, we've had the rise of technology to enable us to connect. We've had the rise of social media, so that we and our voices can be part of the conversation."
Alyse relates the life-changing nature of this moment: "Traveling there, to Beijing, to that conference--a meeting of 189 different governments from around the world; 55,000 women activists gathered in one place; learning about issues like female genital mutilation or human trafficking, or even the powers of micro-finance or girls' education to uplift communities and pull them out of poverty--for me was transformative. And it made me recognize that I had a mission in life. And that mission was to seek power to empower others, or to seek voice to give to so many women and girls around the world that don't have a voice."
Vital Voices Global Partnership
What is now Vital Voices Global Partnership began in 1995 as the Vital Voices Democracy Initiative, established by then First Lady Hillary Clinton and Secretary of State Madeleine Albright, before becoming the NGO, Vital Voices Global Partnership: "Initially it was the idea that women were not being heard. Women were not at the decision-making table. Women were not as vital a part of the economy as they could be. And we understood that if we could get women's voices heard, we could make things at least 50% better. We never realized that a number like 50% was way too small."
That is because, as Alyse has seen in her more than two decades working with Vital Voices, "Power expands the moment it's shared. And women often want to do that. When they 're invested in, they want to give back, they want to pay it forward. And that's what we do at Vital Voices. We simply search the world for these leaders with a vision for extraordinary change. And we invest in them to take that vision to scale."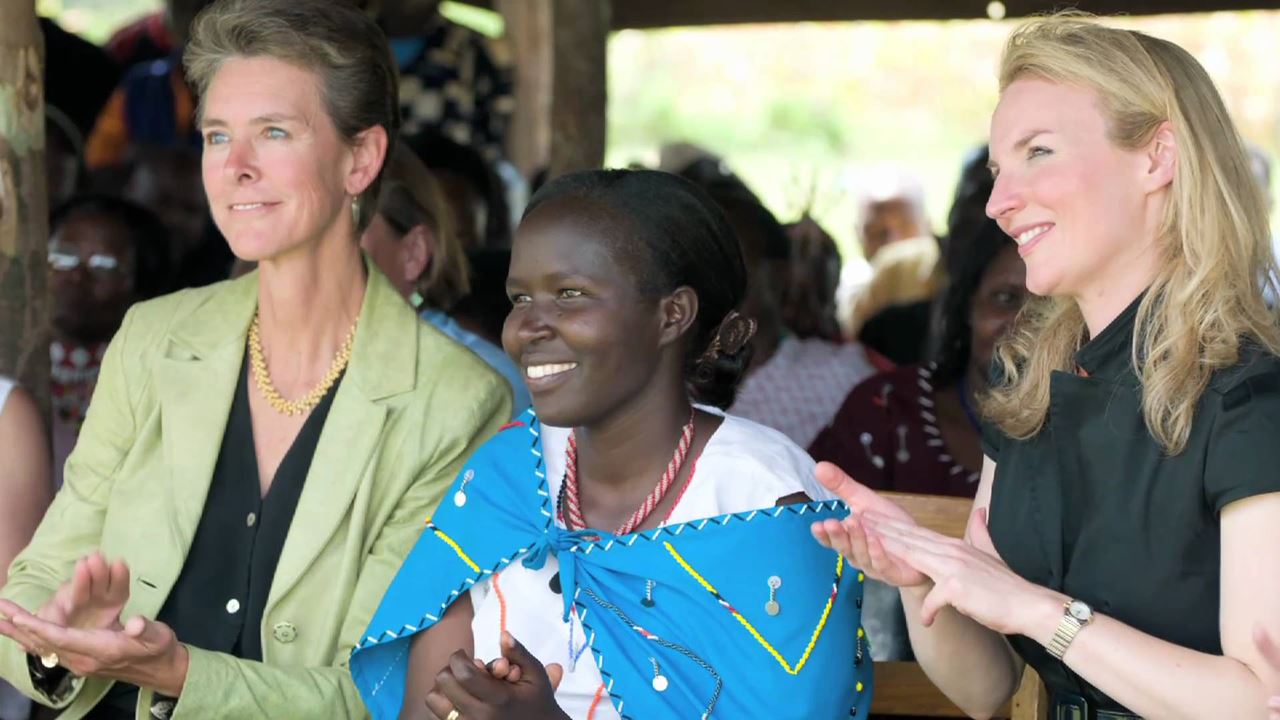 Alyse Nelson with Kakenya NtayiyaVital Voices Global Partnership
Alyse seeks leaders all over the world who have bold ideas for changes. Vital Voices provides the crucial support they need to realize their vision: "I'm on the look out all the time for people who have these extraordinary dreams. Women who know how to get there, they know the problems, they know the solutions, they just need a little bit of help. They need training, they need mentoring, they need a network of their peers. People who are doing things like they're doing, whether it be starting a shelter, or starting the first girls' school in a Masai village. So oft en when we meet women, 'Oh I'm not a leader. I'm just doing my part in my community to make change. I'm just righting a wrong.' And to me, those are the leaders."
Alyse observes that women lead differently: "Women tend to step and lead because they are motivated by wanting to make change, to right a wrong in their community. They're collaborative. When they're mentored they tend to mentor not one other, but many others. When you invest in a woman who has a vision for change in her society, in her community, in her country, she will bring others with her. She will impact the lives of hundreds, if not thousands, of others. Women lead differently--not necessarily better than men--but differently. And I think that difference right now in our world is so desperately needed."
HERlead
Alyse feels she can never pay back the wealth of guidance she has received from countless women mentors. The only thing she can do, she says, is to pay it forward: "At Vital Voices, one of the ways I really feel like I'm able to pay it forward to young women in this country is to introduce them to the lessons of leadership that I've learned from thousands of women around the world." One way she does this is through the HERlead program at Vital Voices, a partnership with Ann, Inc. [the parent company of Ann Taylor and Loft].
The program is designed to invest in and mentor the next generation of women leaders, chosen from high school students in the United States. "They come from all across the United States. Different religions and socio-economic backgrounds and cultures, but all of them are united by the fact that they want to make change in our world. It's about investing in and mentoring the next generation. And they gain training, through the women leaders that we work with from around the world."

HERleadVital Voices Global Partnership
"The first lesson that we teach them is that leadership is not a final destination. It's not about title or position or how many people report to you. It's about the decisions that you make and the actions that you take on a daily basis. And that they're not too young, and that they shouldn't wait for an invitation to step up and lead change.
The HERlead fellows attend the annual Vital Voices Global Leadership Awards, an experience Alyse hopes will be for them what the UN Conference in Beijing was for her--a call to action. "They come to see extraordinary unsung heroines on the front lines of change."
The awards have featured women leaders from countries like Cambodia, Kenya, the Pacific Islands, Egypt, Pakistan, Tunisia, Liberia, among others. These are "places where women have struggled for their rights, but still they've been able to make change. They show them that leadership is about collaborating, about being inclusive and listening to all voices. About crossing lines that divide us to make progress. And I know that these girls go back transformed."
Advice for Young Leaders
A Meaningful Life
I ask what advice she has for young women leaders. She begins with the importance of a life with meaning: "The most important advice I'd give to any young woman is follow your passion. Don't worry about taking the job that's got the best title or the largest salary. Take the job where you know you're going to thrive. Where your heart is going to sing. Because you know that every day you're living your mission. Life a life that is not only successful, but that is going to have significance."
"And you can't do it without asking for help along the way," she adds. "Sometimes as women we're afraid to ask for help. That maybe it makes us look like we don't know what we're doing or that we're weak. And I think that it's exactly the opposite. I think that when you show people that you're open to learning and that you're a sponge. I think people have a lot of respect for that."
Risks and Failure
"I believe really strongly that as a young person you have to take risks. Because if you don't take them as a young person, you won't take them as you get older. Because the stakes for taking those risks and potentially failing get seemingly larger and larger as you get older. And I think that it's important at a young age to also fail--or misstep. As long as you can learn from that failure, it's really not the opposite of success. It's a stepping stone closer to it."
Mentors
"A mentor is someone who is really willing to stand behind you. Someone who believes in your dreams. So they need to get to know you first and who you are and believe that they want to invest in you and stand behind you. You'll find mentors all around you. It's not somebody that you go up to and say, 'will you be my mentor?' You need to build a relationship. You need to build that mutual admiration, respect and trust with someone before they can truly become a mentor that impacts your life."
Be the Leader You Want to be Led By
"For young women who don't feel the support of other young women. I think that what they need to do is continue to support others. When you gain opportunities, share them with others. Think about what sort of leader you want to be led by. I think when you act in a certain way, those things come back to you."
You Can Achieve It
"And I think that I would pray and wish for young women that someone would throw them into the deep end of the pool! In my career, I think I have learned at the fastest pace, and certainly had some failures along the way in that learning process, when...I've been given opportunities that I didn't know the first thing about how I was going to take them on and implement them, or even be successful at them. Someone taking the risk on me gave me the confidence to take that risk on myself. To see that you can actually achieve it. That you can rise to the occasion is a powerful lesson."
Heroes and Hope
"I feel really blessed to have been mentored and supported and shown the way of leadership by so many women who I would consider my heroes, starting with Hillary Clinton," Alyse reflects. "[Hillary was] someone who really recognized that she had voice, power and platform, and she really used it to give back."
"There have been so many other heroes. Women like the late Inez McCormack from Northern Ireland who was one of the first to cross sectarian lines that were piding the community. And said 'Enough, enough of our husbands and our brothers and our sons dying in this bloody war.' Women like Hawa Abdi in Somalia, who runs a refugee camp for 90,000 people."
"They make all of us believe that things are possible. Change is possible and that we can't give up hope."
Alyse wrote the best-selling book "Vital Voices: The Power of Women Leading Change Around the World," to share the inspiring stories of some of the women leaders of the Vital Voices network, and continues to share their stories as host of the Vital Voices podcast.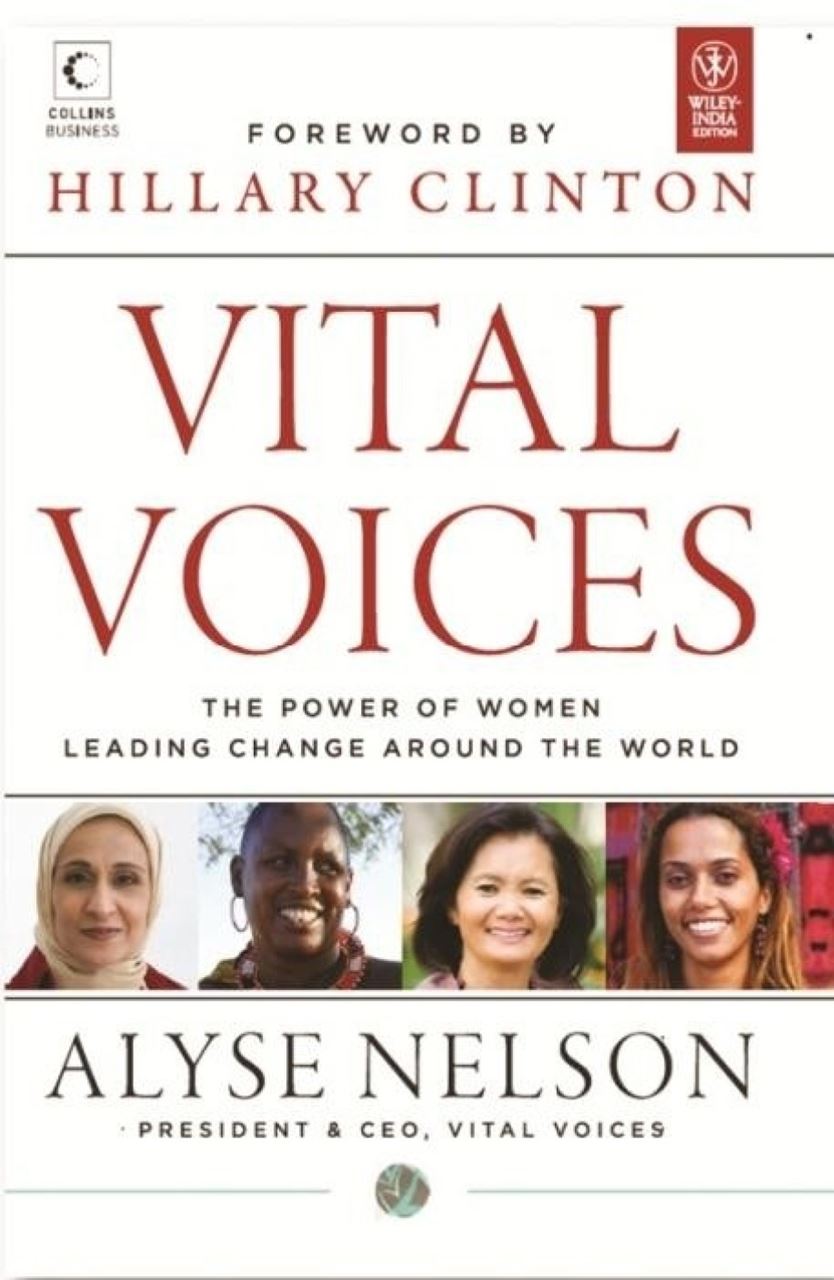 Vital Voices: The Power of Women Leading Change Around the WorldVital Voices Global Partnership