Toni Morrison
by
Demeshia from St. Louis
"Creative writers are always greater than the causes they represent." These are the words of English author Edward Morgan Forster. I think that Toni Morrison represents single mothers making a world of change, with writing as her distraction away from poverty around the world. Toni Morrison is a hero because she writes about real-life experiences; she is an inspiration to young adults, and gives white people an insight of the black perspective. She captivated millions of readers with her rich characters and stunning dialogues. She is the only living American winner of the Nobel Prize in Literature. If you were to read her stories she addresses the reality, as painful as it might be, to state the truth. And people's real-life struggles in history and today through verbal stories.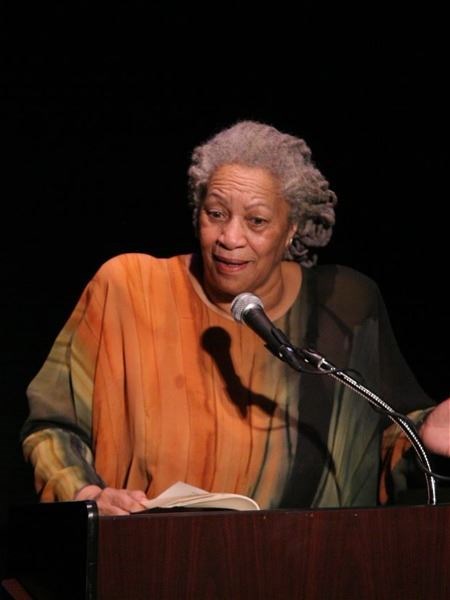 Toni MorrisonAngela Radulescu [CC BY-SA 2.0], via Wikimedia Commons
Even though she is known as Toni Morrison, at birth her name was Chloe Anthony Wolford. Chloe was born February 18, 1931 and she is the current age of 81. Chloe was born in Lorain, Ohio as the second of four children. Morrison has written 10 novels and won a multitude of highly respected awards.
Toni Morrison is a hero for all Americans, African and otherwise, for her writing, by not giving up on a dream. Even though her first published book didn't sell that well, she didn't give up. It was difficult dealing with ways to express her feelings to her husband, who wasn't around. With finally becoming a single parent and having to support her two sons, she wanted to make a change. She showed people that writing can get you through hardships. She made a change by helping and letting people know that they are not alone in the world. Toni wrote about the real truth and to not be afraid to speak only the truth. She is an inspiration to young adults on writing what they feel and about life hardships.
MY HERO Recommends "Toni Morrison - Writer & Playwright | Mini Bio" by Biography channel
Secondly, Toni is a prime example of a believer, because she showed that you can live in an integrated neighborhood and be aware of the racial divisions. People who don't want you to succeed think you have to be inferior. No one thought she was. Toni was the only black kid and the only kid that could read. That tells you anyone can put their mind to whatever they want, no matter what background or city you're from. The more people put you down, the more motivation for you. Toni graduated with honors in high school despite all the struggles.
Thirdly, Toni Morrison's life is an eye opener for all races around the world. She wrote very strongly when she wrote "Bluest Eye" in 1970. She wouldn't just let people get on blacks, so she decided to try to "explain" the black life to white audiences. She wouldn't write from the position of an outsider but from her own experiences. She wanted to write from within what she dealt with growing up. Toni Morrison is an inspiration to young adults; she gave white people an insight on life, and expressed real-life situations. As my hero deals with her struggles and remains a strong black woman, you can always look into writing or journaling to get your mind off your own struggles. You never know, you might end up making it a career later in life.
Page created on 3/21/2013 12:00:00 AM
Last edited 2/25/2020 11:42:22 PM
The beliefs, viewpoints and opinions expressed in this hero submission on the website are those of the author and do not necessarily reflect the beliefs, viewpoints and opinions of The MY HERO Project and its staff.