Wangari Maathai
by
Heidi Antocicco
Dans un monde où les gens ont de plus en plus un penchant pour le matériel et leur propre vie plutôt que les problèmes du monde et les difficultés auxquelles les autres font face, Dr. Wangari Muta Maathai en usant de toutes ses forces pour créer une Afrique pleine de verdure et tournée vers l'intérêt communautaire, demeure convaincue que son message sera répandu. Elle a passé la plus grande partie de sa vie à planter des arbres et à promouvoir des mouvements destines à sensibiliser les gens sur l'importance qu'il a à entretenir la planète, en commençant simplement à être plus sensibles à la nature dans leurs propres communautés.
Maathai est née et a grandi dans un village africain pas loin du Mont Kenya.Elle a eu la chance d'aller à l'université quelque chose qui était rare et qui le demeure toujours pour les femmes africaines.Elle fit des études en Biologie aux USA et finalement retourna en Afrique pour obtenir son PhD en Anatomie .C'est à son retour au bercail que Maathai prit conscience des difficultés que vivaient les femmes africaines à cause de la dégradation rapide et progressive du système écologique du pays .
"Les femmes rurales que j'ai rencontrées au Conseil de la Femme Kenyane pour lequel je travaillait m'ont fait part de leurs besoins,"Dans un discours Maathai dit a son auditoire. "Elles disaient qu'elles n'avaient pas assez de bois pour le feu, elles n'avaient pas non plus de bonnes sources d'eau potable ou même assez pour manger surtout les aliments de nutrition."
Maathai comprit que l'origine de tous ces problèmes était la dégradation de l'environnement qui les entourait. Elle se décida à faire quelque chose pour changer la situation des femmes ce qui donna naissance au mouvement de la ceinture verte,une organisation à but non lucratif qui plante des arbres pour aider à restaurer les écosystèmes dégradés en Afrique.En se souvenant du merveilleux marigot où sa mère et elle allaient puiser durant son jeune age,les vibrants arbres et la vie sauvage qui entouraient leur maison,Maathai avait le désir ardent de faire revivre ses moments au futurs habitants du continent africain.Cependant elle se s'inquiétait du fait que les gens qui devaient régler la situation n'avaient pas réagi à temps,alors personne d'autre ne le ferait.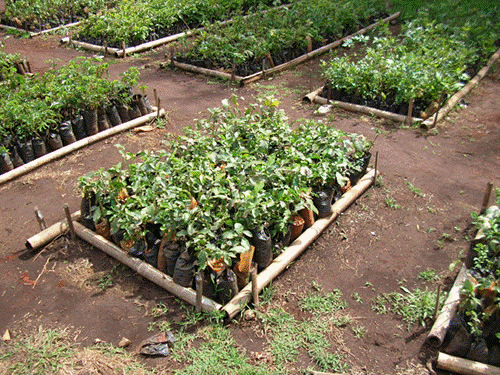 "Aujourd'hui le marigot s'est asséché,les femmes marchent sur des kilomètres pour aller chercher de l'eau,une eau qui n'est pas toujours potable et les enfants ne sauront jamais ce qu'ils ont perdu .Elle dit . "Mon défi c'est de restaurer les écosystèmes pour donner à nos enfants un monde beau et plein de merveilles" Depuis que Maathai a fondé le mouvement Greenbelt en 1977 des millions d'arbres ont été plantés au Kenya et dans les autres pays africains .Le mouvement ne se limite pas seulement à planter des arbres, il s'engage dans l'éducation des citoyens mais aussi fait la promotion des femmes.. Maathai se à formé les femmes sur la manière de repérer les problèmes environnementaux dans leurs zones et leur a appris comment résoudre ces problèmes pour que l'ecsysteme soit constamment maintenu et ne se dégrade pas une seconde fois.
En plus de son travail au sein du mouvement Greenbelt, Maathai fut élue au parlement Kenya en 2002 avec une majorité écrasante de 98% .Il a également servi comme directrice de la Croix Rouge kenyane pendant huit ans .Elle a reçu plus de vingt prix pour le travail remarquable qu'elle a accompli dans l'éducation la santé et les problèmes d'ordre environnemental y compris le Prix Nobel de la Paix en 2004.
Maathai dit"J'étais surprise quand j'ai gagne le Prix Nobel de la Paix car je pensais pas que les gens étaient entrain d'écouter.Alors je me rendis compte aussitôt que quoique cet honneur m'ait été destiné ce n'était pour moi seule mais pour les milliers de femmes qui ont planté 30 millions d'arbres à travers le Kenya comme étant une partie du mouvement Greenbelt.
En réalité les gens écoutent Maathai et font des activités parce qu'il les a inspirés. Le programme des Nations Unies pour l'environnement a encouragé le mouvement Greenbelt à partager son approche avec les autres organisations africaines du même genre. Depuis lors le Réseau Panafricain du mouvement Greenbelt a été mis sur pied et a formé pendant deux semaines des représentants venus d'autres organisations dans quinze pays africains sur les techniques pour faire les mêmes résultats que l'organisation de Maathai.
Page created on 7/11/2015 3:21:44 PM
Last edited 7/11/2015 3:21:44 PM
The beliefs, viewpoints and opinions expressed in this hero submission on the website are those of the author and do not necessarily reflect the beliefs, viewpoints and opinions of The MY HERO Project and its staff.
Extra Info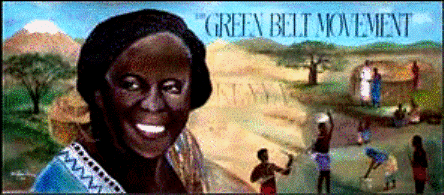 Wangari Maathai Foundation
Kenya: P.O. Box 67545
00100 Nairobi, Kenya
+254 20-251-333 ext. 686
London: c/o The Gaia Foundation,
Kate Povey
+44 207 428-0055