The MY HERO Project is delighted to announce three winners of the 2022 Sylvia Earle Ocean Conservation Award. MY HERO presents this annual award to filmmakers who showcase heroes who are working to protect the world's oceans. This year, two additional awards were granted — one for a student filmmaker and one for a film aimed at young audiences.
The annual award is named for Dr. Sylvia Earle, a world-renowned marine biologist, oceanographer, explorer, author, lecturer, leader, and research scientist who has led more than 100 expeditions and author of more than 200 publications. It is sponsored by MacGillivray-Freeman Films' Educational Foundation's One World One Ocean campaign[i].
Said Greg MacGillivray, Chairman of MacGillivray Freeman Films: "Sylvia Earle is our ocean hero, and we hope this award inspires aspiring filmmakers to shine a spotlight on other dedicated people from all walks of life who are working tirelessly on behalf of our oceans."
The winners are chosen by Barbara MacGillivray, the organization's Director of Partner Outreach, and her team.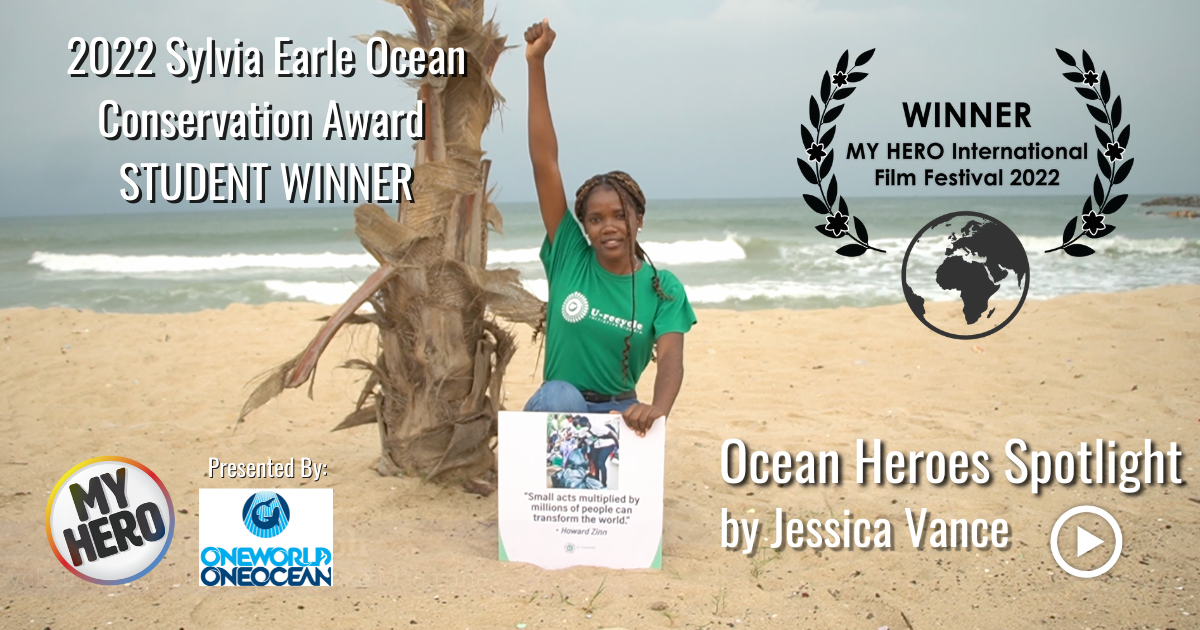 Ocean Hero SpotlightMY HEROThe 2022 student winner is Ocean Hero Spotlight by Jessica Vance. In the film, Oluwaseyi Moejoh from Nigeria and Heather Brockbank from the Bahamas share their stories of ocean activism.
Said Barbara MacGillivray: "I selected Ocean Hero Spotlight as the student winner to recognize Jessica Vance as an emerging filmmaker and I hope that she is able to continue her work with finding young ocean heroes and refine her interviewing and filming technique."
About Jessica Vance
Jessica is a current MY HERO Intern who studied at Stephen F. Austin State University in Nacogdoches, TX during the production of the video.
Said Jessica: "I was inspired to make the film by all the editors at Oh Wake Magazine. All of them are youth leaders for their causes and I admired that they would not only spearhead their own initiatives and passions but also take the time to spread awareness to other through various mediums, which is also something I hoped to do with my film. I've always enjoyed film, so I've taken every opportunity to express that, including in my education and professional career."
Jessica applied for the MY HERO internship program in early 2022 as she felt it aligned with her interests and career goals.
Said Jessica: "In the future, I hope to continue to make films. I'd definitely be interested in the documentary-style as I feel like they're a great vehicle for informing and raising awareness, even about typically niche topics."
MY HERO offers several Internship programs from Film Festival Interns, like Jessica, to Journalism Interns, Art Interns and Audio Interns. To find out more go to: Internship Opportunities.
For more information about all the 2022 winners, please got to: Silvia Earle Ocean Award
To see the winning films please go to: Sylvia Earle Award 2022.
---
[i] One World One Ocean is a global non-profit campaign designed to connect people emotionally to the world's ocean. Their mission is to raise awareness of ocean degradation, to inspire audiences through cinematography and to spark a global movement to protect our seas.
Page created on 6/12/2022 2:26:08 PM
Last edited 12/9/2022 5:02:05 PM