Many people have a special place in their hearts for their childhood hometown. Some even return to see remaining family members and friends, and to reminisce. But few have such passion and support for their birthplace as jazz trumpeter Wynton Marsalis, who has dedicated his time and talent to help his hometown of New Orleans, Louisiana rebuild after Hurricane Katrina devastated it in 2005. The award-winning musician has used his celebrity and his talent to raise awareness and the funds to restore life to the city and its inhabitants. His efforts, including benefit concerts and press campaigns, are helping to not only revive the musical heritage of New Orleans, but are going the extra mile to ensure that the spirit and history of its people will not be washed away with the flood waters.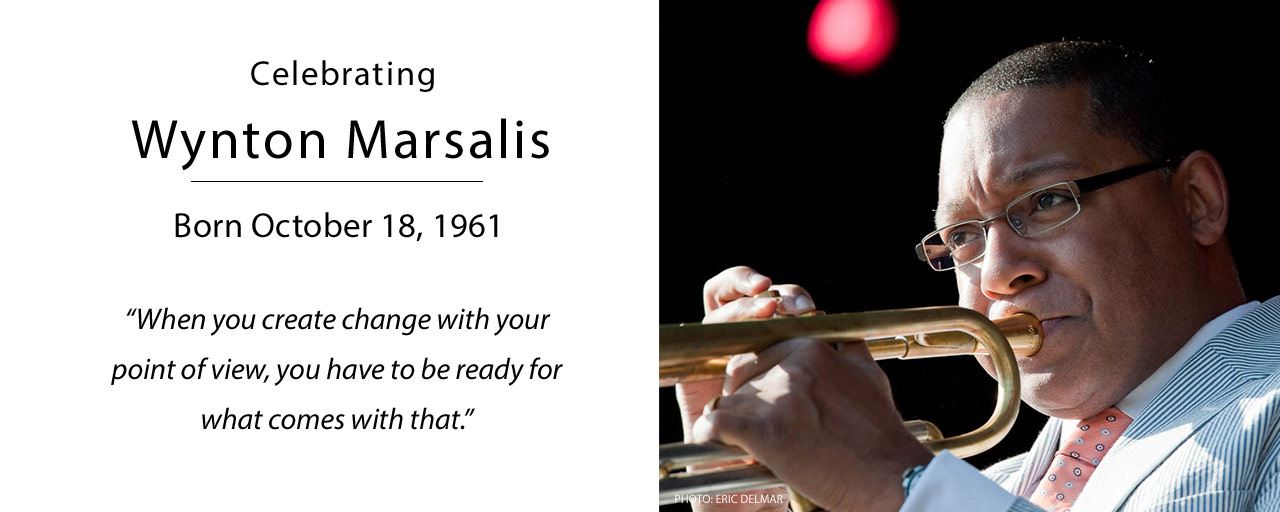 Wynton Marsalis born October 18By Eric Delmar (Given with permission from author) [Public domain], via Wikimedia Commons
In May of 2006 Wynton Marsalis gained recognition for his efforts, being named one of the heroes and pioneers in the Time 100 in 2006, the magazine's selection of the most influential and inspiring people of the year. As Grammy-winning musician Aaron Neville writes in the corresponding article in Time magazine, "No one has done more than Wynton, 44, to bring the plight of today's New Orleans to the attention of the world."
And no one in this generation has done more than Wynton Marsalis to enhance, elevate, and export our most American of art forms: the music of jazz. Whether he's playing in concerts to aid hurricane victims, recording 16 Grammy Award-winning albums, or teaching thousands of students each year, Marsalis is constantly drawing back to his roots in New Orleans and his belief that music can do so much more than entertain.
Wynton was born to Ellis and Dolores Marsalis on October 18, 1961. He and the five other sons of this musical family grew up in New Orleans, hearing the fantastic and compelling music of the city. At an early age, Wynton's talent for music, especially the trumpet, was quite evident. He played in a church band when he was eight years old and went on to attend the Julliard School of Music in 1978.
Soon after moving to New York, Wynton was invited to play with Jazz greats like Dizzy Gillespie and Sarah Vaughn. There was no doubt by now that Wynton Marsalis was taking his talent to the top. As a performer and composer, he joins the pantheon of legendary artists like Louis Armstrong, Duke Ellington, and George Gershwin. His music, played throughout the world, tells the story of American history— invoking our shame, our values, and the painful struggles we've endured to realize both. His composition, Blood on the Fields, tells the story of slavery and what it means to be free. It won him a Pulitzer Prize.
He has also worked to ensure that jazz's legacy is permanent. Jazz musicians have been playing at Carnegie Hall as guests since the forties, but always drifted back to smoky clubs and movie soundtracks. Now, thanks to Wynton Marsalis, jazz will always have a permanent home at the world's preeminent concert hall. Although Jazz at Lincoln Center was formed in 1991, it wasn't until 2004, under the artistic direction of Marsalis, that it gained a permanent home in Frederick P. Rose Hall, in New York City. Now the building serves as the center for jazz performance and education.
In addition to composing and performing, Marsalis has made it his mission to turn young musicians on to the joy of jazz, by personally teaching thousands of kids each year. His educational outreach goes even farther through projects like the award-winning television series, "Marsalis on Music." So he is a hero, not just to those who are touched by his music, but to the next generation of artists he so carefully nurtures. With every challenge and passion in life, Wynton proves again and again all that heart, optimism, and a vision can do to revive a musical genre, a city, and a nation.
Page created on 5/23/2006 8:54:22 AM
Last edited 3/24/2020 11:17:34 PM
Related Links
Wynton Marsalis
- The official website for Wynton Marsalis contains a discography, a fan club page, fun facts about Wynton, recent news and album releases, and "Wynton Radio," where you can listen to parts of Wynton's radio programs and music.
Academy of Achievement
- Read an interview with Wynton Marsalis. The Academy of Achievement brings students face-to-face with the extraordinary leaders, thinkers and pioneers who have shaped our world.
Joy2Learn
- The Joy2Learn Foundation was created in 2000 to improve public education by creating and providing high-quality arts content to schools at no charge, via the internet.
Jazz at Lincoln Center
- Jazz at Lincoln Center is dedicated to advancing the music of jazz through concerts, recordings, education, and more. Learn about their mission, concert tours, and the world-renowned Lincoln Center Jazz Orchestra on their website.
Kathleen Battle, Wynton Marsalis: Baroque Duet Part 07
- Click here for a video of Wynton Marsalis