MHIFF BannerMY HEROCONTACT: Wendy Milette FOR IMMEDIATE RELEASE
Director of Media
[email protected]
949-376-5964
MY HERO ANNOUNCES 2018 WINNERS OF THE MY HERO INTERNATIONAL FILM FESTIVAL
LAGUNA BEACH, CA – DECEMBER 28, 2018 – The MY HERO Project congratulates the winners of the 2018 MY HERO International Film Festival. The annual festival showcases uplifting and inspiring films that honor the world's heroes. All winning films can be seen on The MY HERO website. Highlights of the filmmaker awards include: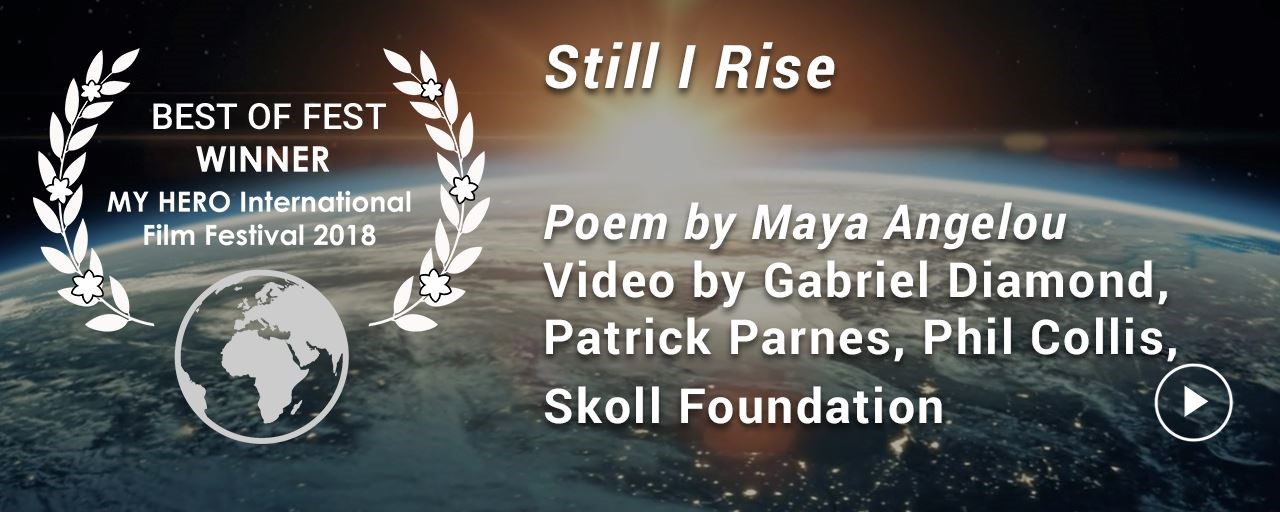 Sill I RiseMY HEROThe 2018 Best of Fest Winner is Still I Rise, directed by Gabriel Diamond, Patrick Barnes, and Phil Collis for the Skoll Foundation. In this experimental film, the powerful words and voice of poet Maya Angelou explore the topic of equality.
Dr. James Doty is the recipient of the 2018 Global Educator Award for his teachings in the field of the science of compassion. Doty is Founder and Director of Stanford University's Center for Compassion and Altruism Research and Education(CCARE), which conducts teacher training and public education on the practice of compassion, which is said to be as crucial to good health as exercise and diet.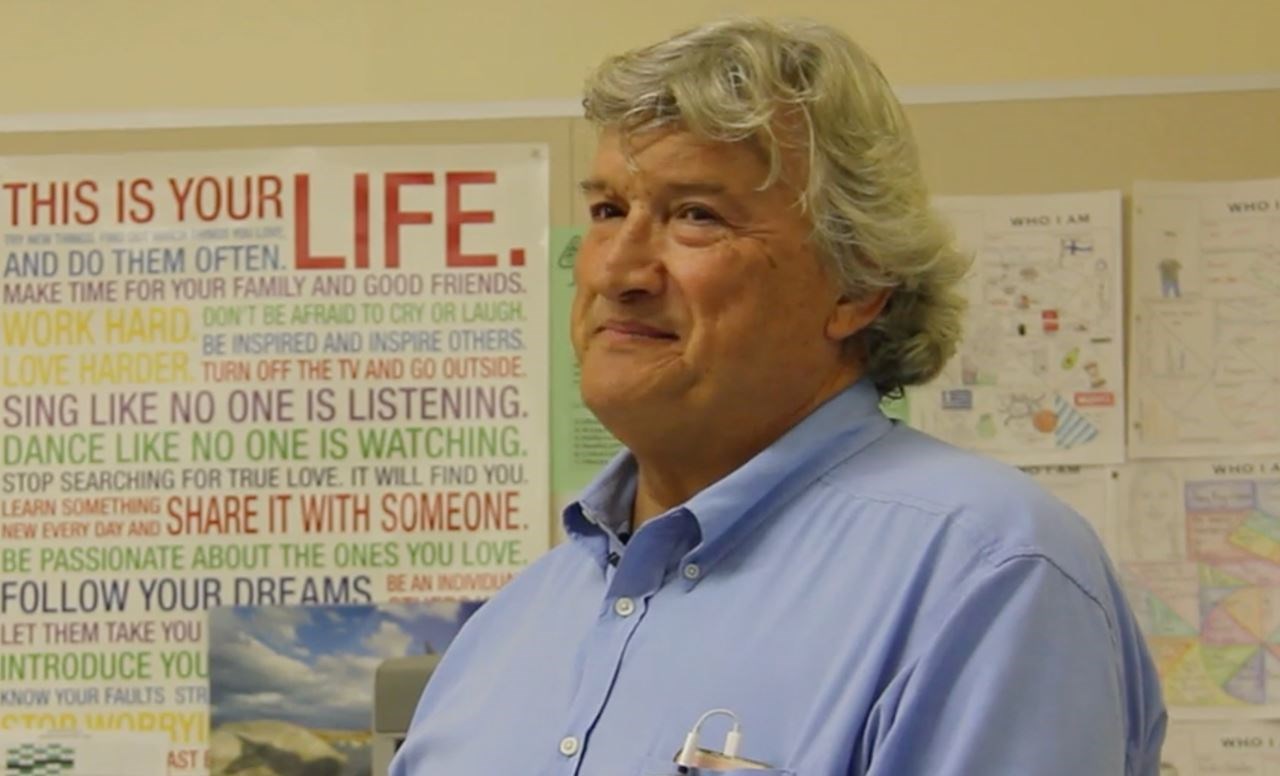 Dr. James Dotymyhero @ Palo Alto High School
The 2018 Media Arts Educator Award goes to Cheri Gaulke, an artist, activist and chair of the visual arts department at Harvard-Westlake School in Los Angeles. Gaulke is Artistic Director of The Righteous Conversations Project and is also Project Director and mentor for Digital Storytelling Adventures, a project that takes teens to areas recovering from conflicts, such as Laos, Rwanda, Cuba, Cambodia, and teaches them to develop and share stories of importance. . Gaulke is also the winner of this year's Eva Haller Women Transforming Media Award for her documentary Gloria's Call. Gaulke used art and animation to enhance the film, which features Dr. Gloria Feman Ornstein, a feminist art critic and pioneer scholar of women in art.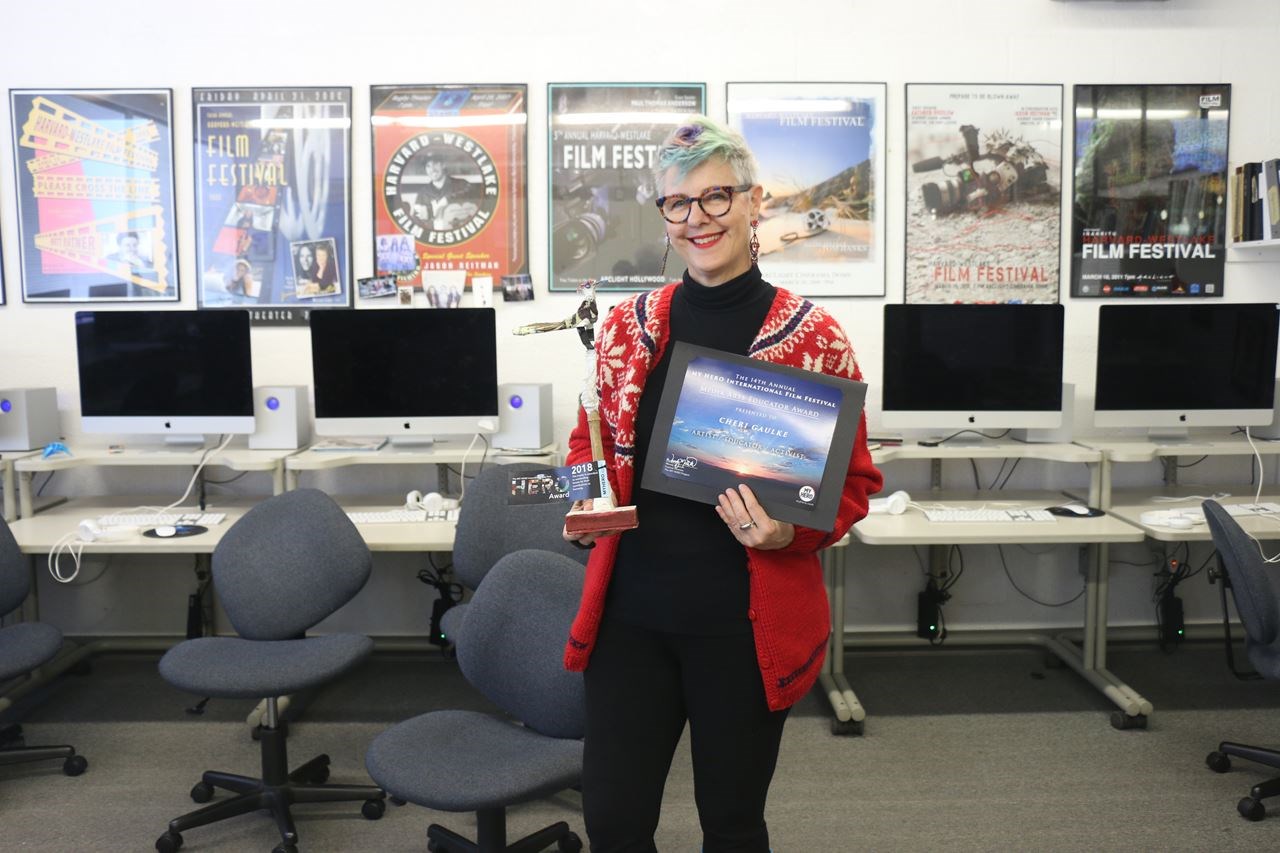 Cherie Gaulkemyhero
SPECIAL FILMMAKER AWARDS
Kim Phuc (excerpt) The Sunrise Storyteller is the 2018 winner of the Kovic Peace Prize, sponsored each year by Ron Kovic a Vietnam decorated Marine turned peace activist. The award honors a filmmaker whose message celebrates and promotes peace. Director Kasha Slavner tells the story of Kim Phuc, who was 9-years-old when she became the victim of a napalm bomb during the Vietnam War. Phuc says learning to forgive helped save her life.
Gwala Rising in the Bwanabwana Islands, a film directed by Stephani Gordon for Conservation International, is the 2018 winner of the Sylvia Earle Ocean Conservation Award. Named for famed oceanographer, author and explorer Sylvia Earle, the award is presented each year by MacGillivray Freeman's One World One Ocean Campaign. The film features the people of Anagusa, an island of Papua New Guinea, who honor the tradition of gwala. When gwala is observed, a declining reef is temporarily closed to fishermen to allow the ecosystem time to recover from global warming, population growth and overfishing. The goal is to create a healthier ecosystem and increased prosperity for those who depend on it.
Crow: The Legend is the winner of the 2018 Immersive Storytelling Award. The animated VR experience was directed by Eric Darnell. The story revolves around Crow, whose beautiful colors and beautiful voice make him the most popular animal in the forest. When winter comes, Crow must decide whether to make the ultimate sacrifice to save his friends.
Educate Girls, a Skoll Foundation film by director Gabriel Diamond is the winner of the 2018 Dan Eldon Activist Award, named for photojournalist Dan Eldon, who was killed on assignment in Somalia in 1993. Eldon's mother Kathy Eldon and his sister Amy Eldon Turteltaub, founders of the Creative Visions Foundation, sponsor this annual award to honor activism around the world.

Educate GirlsMY HERO
The Teen Press Award sponsored by TeenPress.org goes to Harvard-Westlake High School students' Kat Swander, Jack Safir for their film Gray Areas. The teens traveled to the U.S.-Mexico border to discover the gray areas of governmental policies and human experience. The film was created during a Digital Storytelling Adventure, a joint effort between Harvard-Westlake School and Peace Works Travel.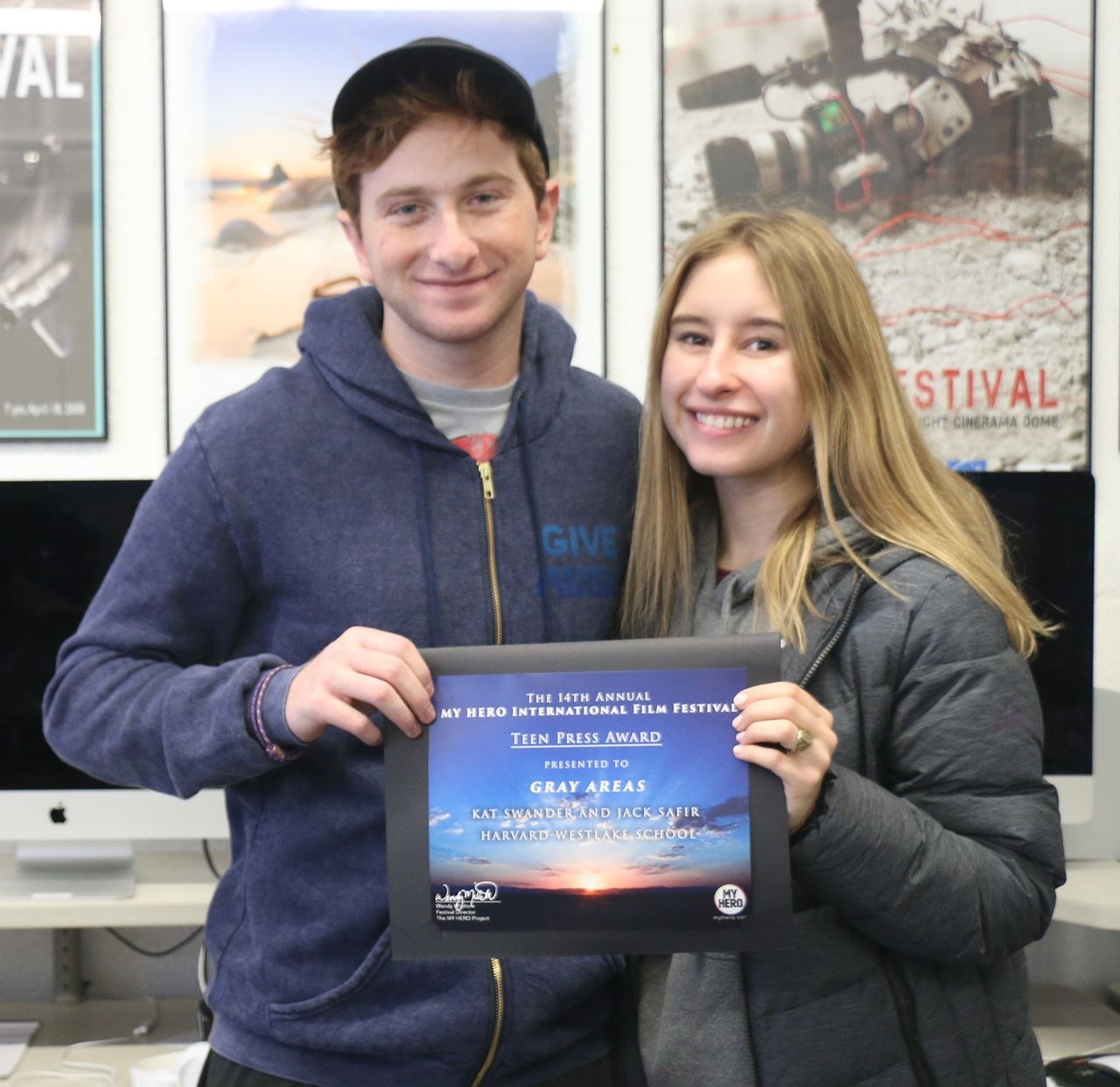 Jack Safir and Kat Swandermyhero.com
College student Hansen Bursic's film The Toothmans, is the winner of The Relationships First Award, sponsored by The Foundation for the Contemporary Family. The award goes to a filmmaker whose work illustrates the poignant connections in contemporary family relationships. This year's winning film tells the story of the Toothmans, a loving family-of-three living in rural McConnellsburg, Pennsylvania. Jim and Deb Toothman, and their daughter Cooper, talk about the familial and societal difficulties they faced with Cooper began to transition from a man to a woman.
Sophie Kim, a high school senior, is this year's recipient of the MY HERO Emerging Artist Award. An activist, playwright, poet and filmmaker, Kim is the Youth Poet Laureate for Los Angeles County. Kim submitted three short films to the 2018 MY HERO International Film Festival. Playas de Tijuana offers a glimpse into the lives of immigrants who have fled their homelands to seek a better life in the United States. Sincretismo explores the mix of lore and legend surrounding Mayan folk saint Maximón. From AIDS to Advice: LGBTQ + Seniors Tell Their Stories features seniors who tell stories about their lives during the HIV/AIDS crisis and offer advice for LGBTQ+ youth, parents and allies.
DOCUMENTARY AND HUMANITARIAN AWARD
Louis' Story: From Child Soldier to Role Model is the winner of the Documentary and Humanitarian Award. The film by Shanshan Chen, for Thomson Reuters Foundation, tells the story of Louis Lakor, who was taken from his home as a young child by the rebel group Lord's Resistance Army (LRA) and forced to become a child soldier. He escaped several years later and went on set up a workshop to help other former rebels affected by the war to learn new skills and find work.
Beyond Boko Haram, directed by Liz Mermin and Nicky Milne for Thomson Reuters Foundation, tells of a Nigerian de-radicalisation program that provides counseling and support for both victims and members of the Islamist militant group Boki Haram. The program was created by Dr. Fatima Akilu, a psychologist trained in Britain's National Health Service. The film explores Dr. Akilu's 'counseling on wheels' program, which reaches remote communities of Northeast Nigeria.
PEOPLE'S CHOICE AWARD
Each year students, parents, teachers and others vote on their favorite film and the winner is announced online. This year's People's Choice Award Winner is Looking After Our Country, by director Mark Pearce. The film features a young indigenous leader, and family man, who takes a stand against plans to build a large gas complex in one of the world's last great wilderness areas.
The full list of winners can be found on The MY HERO website (www.myhero.com/winners).
The MY HERO International Film Festival is part of The MY HERO Project, a non-profit 501(c)3 organization dedicated to sharing stories of the world's heroes through films, art, music and written stories. For more information, and for sponsorship opportunities, contact [email protected].
Submissions are being accepted for the 2019 MY HERO International Film Festival. Visit The MY HERO website to learn about Special Awards.