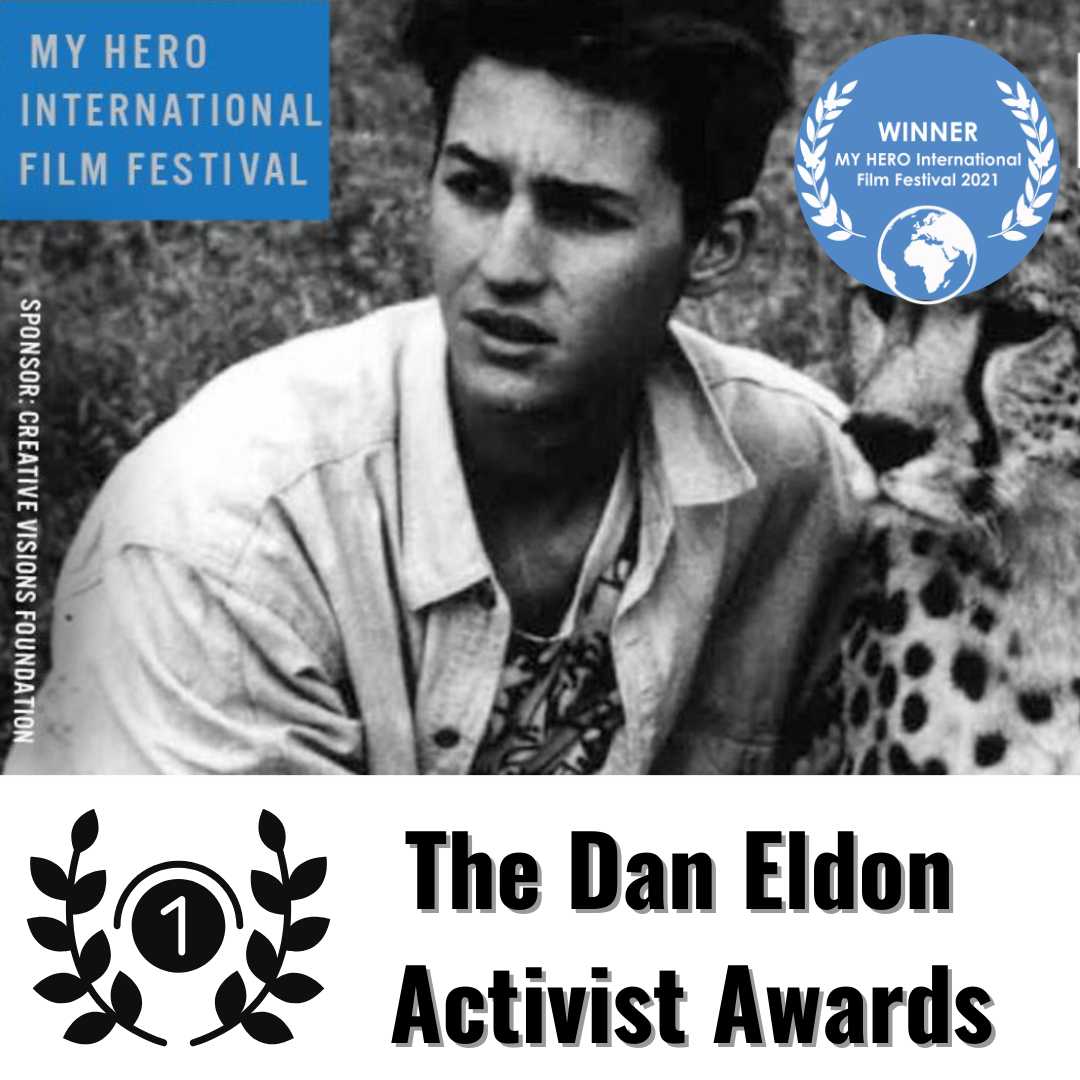 MY HERO2021 IFF Dan EldonPress Release December 2021
FOR IMMEDIATE RELEASE
Kathy Eldon of Creative Visions Foundation has supported MY HERO with The Dan Eldon Activist award since 2009. The award is given in honor of her son, photojournalist, artist and activist Dan Eldon's life and work. Watch a short film about Dan HERE.
Creative Visions' mission is to support, promote and amplify the work of creative activists who ignite positive change through storytelling, impact media, art, education and technology. At the 2021 MY HERO Award's Ceremony on December 4th, Kathy declared that, "Everyone who is participating in this marvelous, wonderful MY HERO Film Festival is a creative activist. You are using your creative spirit to tell a story that needs to be told about a problem that needs to be solved and to ignite, spark and catalyze action. I am so proud to be here."
Dan Eldon Activist Award Winners:
This year, Creative Visions awarded the Dan Eldon Activist Award to 4 films, 2 professional and 2 amateur:
Rainforest Action by Will Parrinello
The film, Rainforest Action, produced by Will Parrinello of the Mill Valley Film Group for the Goldman Environmental Prize was awarded the Dan Eldon Activist Award, 1st Place Environmental as well as the BEST IN FEST for its portrayal of the remarkable accomplishments of Nemonte Nenquimo, a 2020 Goldman Environmental Prize winner. To see the full story, please visit: myhero.com/will-parrinello-mill-valley-film-group-will-parrinello-wins-2021-best-in-fest
A Way Forward by Jacob Seigel-Brielle & Isaac Seigel-Boettner
A Way Forward, by Isaac Seigel-Boettner and Jacob Seigel Brielle placed 1st in the Documentary category and has won the Dan Eldon Activist Award. The film is about bicycles and how they are used throughout the world. For many Americans, the bicycle is a choice. An expensive toy. An eco-conscious mode of transportation. For countless others across the globe, it is much more. Filmmakers Jacob and Isaac, on location, sent a short film clip to thank MY HERO and to tell us that Dianah and Angela from their film are now pursuing University studies.
In the film, we meet Dianah and Angela, for whom going to school in rural Kenya couldn't have been more difficult. Rise before the sun. Fetch water. Study. Cook breakfast for the family. Brave the hour-long walk to class, dodging the sexual advances of motorcycle taxi drivers along the way. Arrive in class exhausted, worrying constantly about the return trip. Then Dianah and Angela got bicycles. Through the voices of three generations, A Way Forward tells the story of how something as simple as two wheels empowered these incredible young women to not only pursue their own dreams but inspire others to do the same.
Stated Kathy: "One of Dan's saying was to 'seek solutions, not problems' and these amazing girls found solutions...and I love that Jacob and Isaac found a way of communicating that solution, and that is creative activism."
On receiving the award at the festival, Jacob told us that Dianah and Angela are now pursuing university studies and said: "Thank you so much for this huge honor in recognizing our work. The Dan Eldon Award, especially, means a lot to us -there was so much that Dan did to shed light on stories that weren't getting the attention they needed."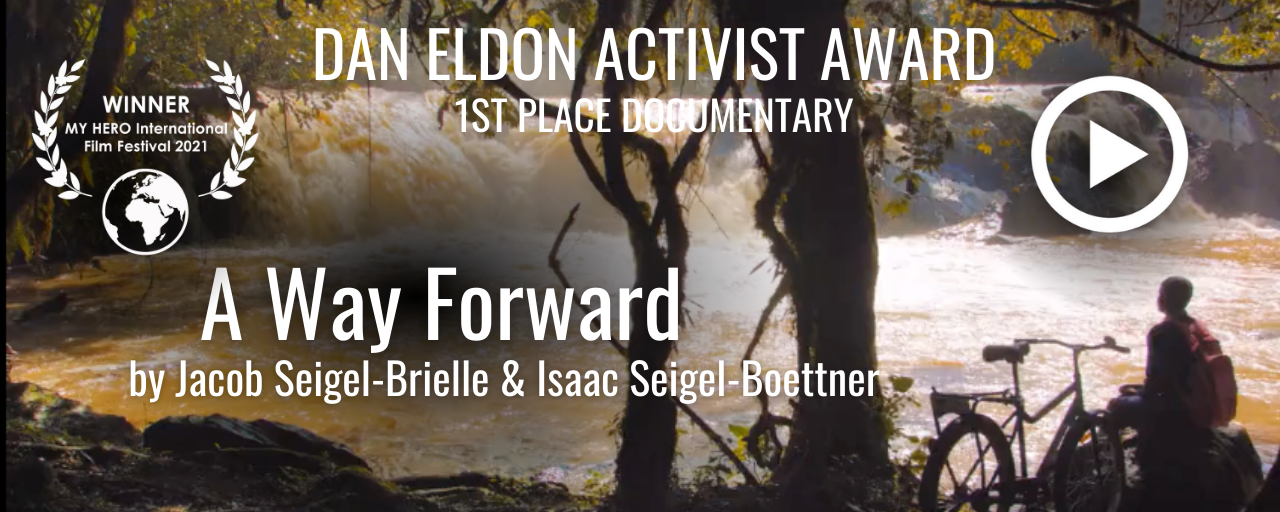 MY HEROA Way Forward
57 Years Ago by Jackson Carrico | New Roads High School
New Roads School High School student, Jackson Carrico from Santa Monica, CA. won the Dan Eldon Youth Activist Award for his film, 57 Years Ago, a short music video honoring the victims of police brutality. This moving, three-minute video is jam-packed with scenes from the Martin Luther King era, juxtaposed with footage from the 2020 Black Lives Matter protests and riots and provocative animation about the unarmed Black individuals killed by police in the last decade.
Jackson told his festival audience, "I really appreciate you giving me this award…Thanks to my film teacher, Michelle Bernstein, who really helped me every step of the way, inspired me a lot, and taught me about film."
Said Kathy: "If Dan were here today he would say, 'Unbelievable man. Really, really well done'." She continued: "The film moved me. The choice of music was amazing. The animation is beyond belief. It's really...good, and I think it's going to reach audiences that ordinary film won't reach. It will reach kids who are interested in music and not necessarily in social justice; you are what we call subversive - you are sneaking in and getting at them in a whole different way. Our foundation, Creative Visions, is focused a lot on social justice and the intersection of race and other issues so it was really important to me to give you this award on behalf of Dan."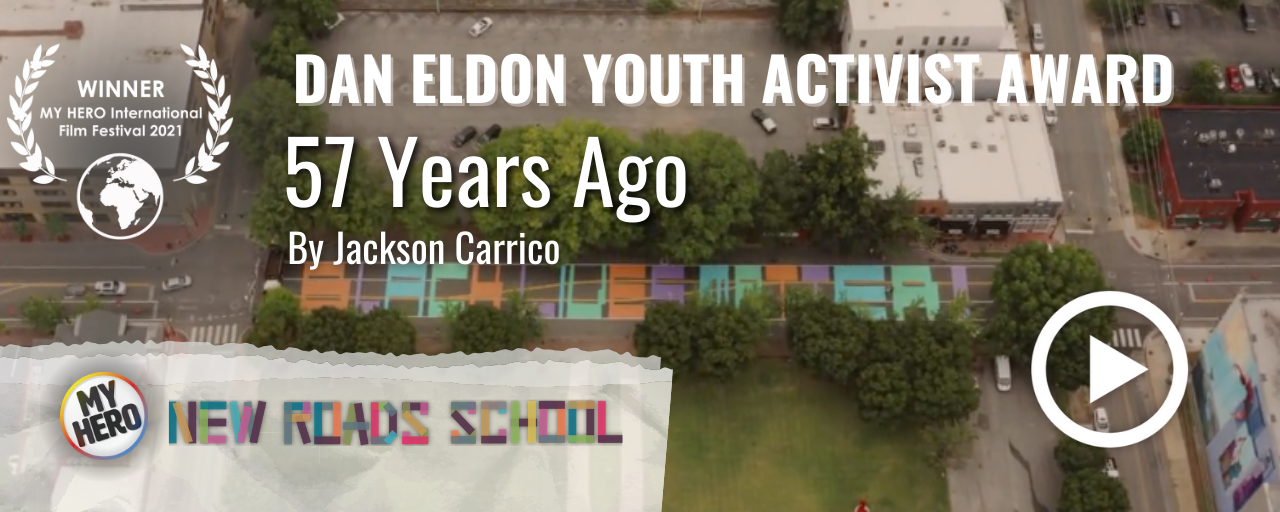 MY HERO57 Years Ago
8 Minutes and 46 Seconds by Angel Miracle Espericueta | In-Progress
Angel Miracle Espericueta from In Progress in Minnesota won the Dan Eldon Youth Activist Award for her film, 8 minutes and 46 seconds. The film is a moving video poem dedicated to the memory of George Floyd and those that stood up to protest his murder by police.
Angel is a high school graduate. She has been following social injustice play out her entire life on social media and so she has become a commentator of these experiences through her video work. In her production, she reached out to fellow youth and to three photojournalists to produce the imagery that would accompany the spoken work piece she created to acknowledge the murder of George Flloyd.
Angel was honored in last year's My Hero Festival, for her video "Cries of the Children," and was recently awarded $10,000 from the Waterers for her work in social justice, the arts and rural communities.
On presenting the Dan Eldon Award at the MY HERO International Film Festival, said Kathy Eldon: "The George Floyd movement is kept alive by films and creative activism and your film is going to reach a different kind of audience. I love the juxtaposition of the imagery against the music and against the spoken word. It was just wonderful."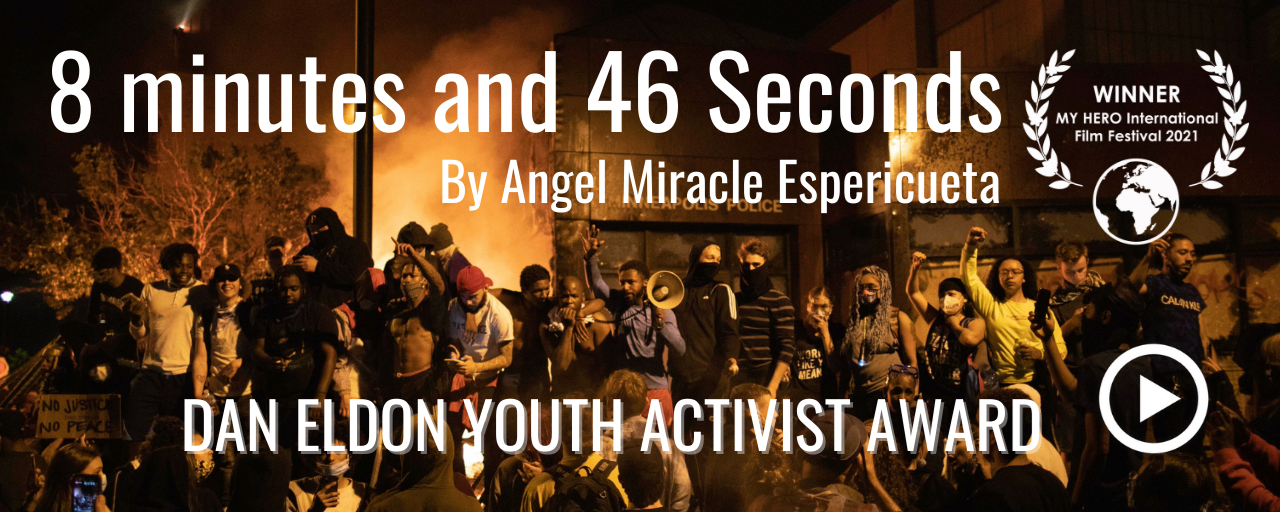 MY HERO8 Minutes and 46 Seconds
Kathy Eldon of Creative Visions Foundation, established the Dan Eldon Activist Award to honor his life and creative spirit; she presents the award to the filmmaker or filmmakers who best use media to effect positive change.
Call for Entries for 2022
Short films, ten minutes and under must be submitted online to The MY HERO International Film Festival by October 1, 2022 to be eligible for this special award.
The award is presented by Kathy and Amy Eldon in honor of Dan who was a passionate activist, artist, and photojournalist. He was fearless in his quest to help others and in his desire to tell the stories that others were not telling. Tragically, at the age of twenty-two, Dan was killed while working as a photo-journalist in Somalia. Kathy, of Creative Visions Foundation, established the Dan Eldon Activist Award to honor his life and creative spirit.
The Award comes with cash prizes of up to $500. The winner will be selected by Kathy and Amy and announced as part of the 18th MY HERO International Film Festival in 2022.
To find out more about the Dan Eldon Activist Award and to submit your films go to: myhero.com/dan-eldon-activist-award
About MY HERO International Film Festival
The MY HERO International Film Festival brings together professional and youth filmmakers who honor local and global heroes working for positive change in the world. Thanks to generous sponsors, prizes are awarded to elementary, middle school, high school, college and professionals in a variety of categories including documentary, narrative, music video, animation, experimental, and more.
To view the 2021 award-winning films, go to Winners

For more details about MY HERO's International Film Festival, please visit myhero.com/FilmFestival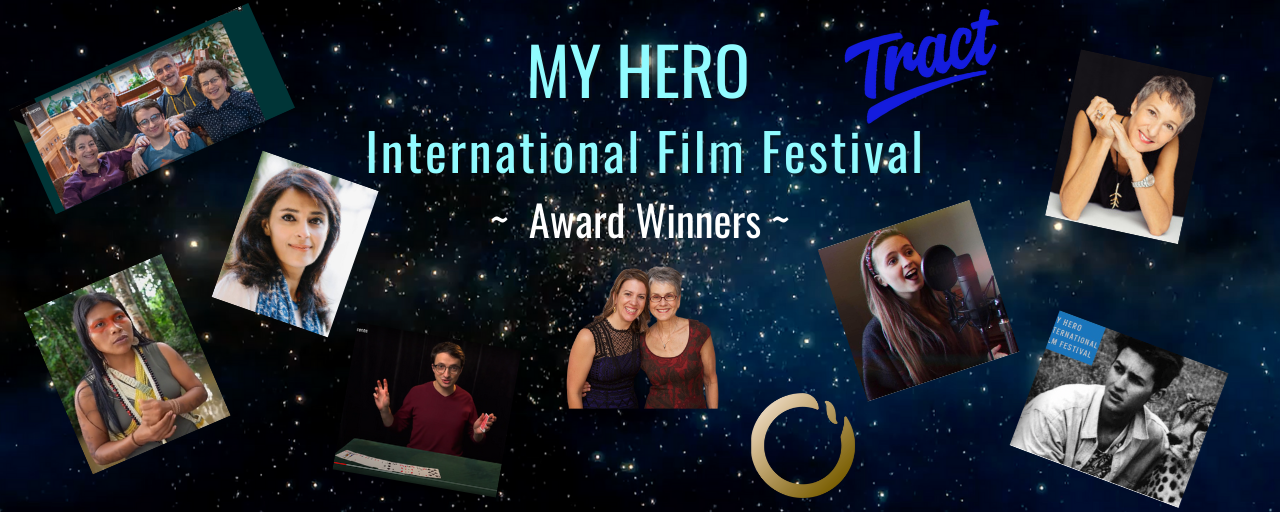 MY HEROWinners