Every once in a while you meet someone who is so genuine, so authentic, that they seem almost too good to be true. But the first time I met my fellow My Hero team member, Becky Miller, I knew I had met someone special. Becky Miller is credited as the General Editor for the My Hero Project and in that capacity she reads and edits approximately 5,000 stories a year, from students, teachers and life long learners from around the world, who want to share the stories of their heroes. As the facilitator for the My Hero Learning Circles, I rely heavily on Becky to help manage the hundreds of stories and Organizer pages that come through from Elementary, Middle and High School students from the USA to Nepal to Russia to Japan to Senegal, to Brazil and beyond. So just who is this angel of organization and the written word?
Becky comes from an unusual background and upbringing. Becky grew up in a little house a few blocks from the beach in San Clemente, California. In her teens, Becky's adventurous dad, a nature photographer, decided to sell their house and move the the family to the wilderness of Wyoming. Becky told me that while she and her brother John spent 4 hours round trip every day getting to and from school, her parents made a wildlife film. Becky happily participated in all of her dad's film adventures and a few of them landed the whole family on a couple of very popular TV travel shows: Bill Burrud's True Adventure and Jack Douglas' The Golden Voyage.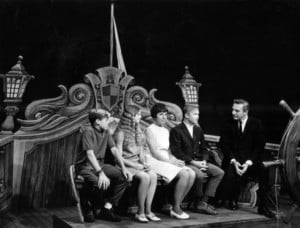 After high school, Becky worked on a dude ranch for one summer and then worked for the next year as the assistant teacher in a one room school house (yes they still exist) in Kelly, Wyoming, in Grand Teton National Park.

She was hired by the Mayor and President of the School Board..of a town with a population of, at that time, 35 people! She would have been happy to stay in Wyoming if college had not beckoned.


Becky attended the University of California, Berkeley in the seventies, where she changed her major from studying people (anthropology) to studying insects (entomology). Afterwards, and luckily for The MY HERO Project, she met artist and violinist Doug Miller when they collaborated on one of her dad's film projects. They were married at the Sawdust Festival in Laguna Beach, California and
raised their two sons in the little beach town. Once her boys were in school, Becky went to work in the public library system for ten years - until she started
working

for The MY HERO Project after which she

became a friend and mentor to teachers all around the world!
Their sons have both followed in the creative/artistic footsteps of their parents: the oldest one is a singer songwriter who also manages an art gallery in Laguna, while the younger one is a musician and part of a theatre group in Long Beach.
How did you find out about My Hero?
"I first heard about MY HERO through my husband, Doug Miller. He's known Jeanne Meyers, the Director and Co-Founder of MY HERO for many years. When he mentioned to Jeanne that I was in the process of retiring from my supervisory position at the public library, and that I was a writer, she immediately expressed an interest in hiring me as a story editor. My skills in writing, editing and public service turned out to be a good fit for the job of editor for MY HERO."
What interested you in becoming a story editor?
"First of all, I was intrigued by the idea of MY HERO and then I became fascinated while reading the numerous stories from all over the world. It gave me a real window into the different cultures - our human commonality with fascinating dashes of difference. I knew I could be of help to MY HERO's mission to share the best of humanity. I have always been patient and methodical and I have a good ear for what someone might be trying to say in writing, even when they have the challenge of saying it in a different language."
What do you do at the My Hero Project? Can you describe a typical day?
"Since I work at home, I have the opportunity to work whatever hours suit me. My availability is quite helpful when our global participants need assistance 24/7. I check my email and log into the website frequently - throughout the day and nighttime, too - in the event I might be needed by staff (who also work from far locations or at odd hours!) or by teachers and students. One never knows what might be required so my work is always engaging and educational. I have also picked up many other tasks that are related to editing, such as getting Organizer pages ready for special feature days. I pitch in to help with whatever might be required to help staff in other departments keep MY HERO running smoothly. Staff is always developing, improving and simplifying our programs.
What is the most rewarding thing about your work with My Hero and teachers in the USA and around the world?
"I especially love reading our guests' inspiring stories about family members - their tribulations, courage, humility, spunk, selflessness. I love the enthusiasm that students express when they find a hero, personal or public, who gives them hope, or a goal or insight. I love being of help to busy teachers as they work to get their students inspired about our mission and ready to work online."
Why do you think the My Hero Project is important in schools?
"MY HERO gives teachers the opportunity to provide their students with much need development and practice in writing composition, core values and computer skills. MY HERO gives teachers and students both the joy of sharing their cultural differences and the surprise of finding the unexpected things that they share with other cultures. For instance, students from all over the world love sharing their national heroes - and they all share a passion for pizza and pop music."
Do any teachers or students stories stand out for you? Or Organizer pages or T Shirt prize winners?
"I've had many favorites over the years. I love stories that show families who work together to help others:
I love being surprised by a hero I had not heard of before. I love being part of the MY HERO LEARNING CIRCLES and sharing in the sense of adventure in learning that their teachers and students enjoy."
Who is your hero and why?
"Foremost in my mind right now is my father, John Fowler, whom I recently lost. I wrote my own hero story about him several years ago and I miss him every day.
I also admire my creative and talented husband, Douglas, who has provided many illustrations for the MY HERO website. He has exhibited his art in Laguna Beach, California for over 40 years. He is also a beautiful violinist and a generous, caring and memorable person to all he meets."
The My Hero Project is very glad that Becky Miller decided she liked Laguna Beach and that we could persuade her to work with the MY HERO Project and edit these thousands of global hero stories every year. We invite you to learn more about Becky by clicking the links below. Enjoy.
Page created on 5/14/2014 12:00:00 AM
Last edited 3/12/2019 9:18:24 PM