A hero is a person who has managed to remain in our collective memory for their extraordinary achievements. What, then, is an unsung hero? I believe that that is what we call someone who should have been remembered, but was erased from history for a number of reasons. As we live in a traditionally patriarchal society, this often happens to women, especially those in male dominated fields like astrophysics. From time to time though comes a woman who is so extraordinary it is impossible for her to be forgotten. Katherine Johnson is such a person.
Katherine Coleman Goble Johnson is a mathematician, physicist, and a scientist for NASA. Born in the deep southern state of West Virginia, she could be considered a genius, as she graduated from school at the age of fourteen and from college at the age of eighteen. She has called herself a bookworm, saying that she would bring back one or two books home from the library to read every night. At the age of twenty, she was one of the first three black women to attend the graduate school at West Virginia University. Later, she would go on to work at NASA, where she was one of the pioneers in STEM calculations. She plotted multiple flight courses for NASA, including the course of the Apollo 11 spacecraft, which is famous for having been the first spaceship to reach the moon. She also co-authored a great number of scientific papers, which are still influential and used by NASA now, as well as several nonfiction books. Today, she still works at NASA, where she is working on the space shuttle and the mission to Mars. Nowadays, Johnson's work is recognized as incredible; she was awarded the Presidential Medal of Freedom by Barack Obama in 2015, and is one of the subject in the book and upcoming book and the movie adaptation Hidden Figures. She has been immortalized as a LEGO figure in LEGO's 'Women of NASA' series.
However, Katherine Johnson hasn't always been a household name and still isn't today. While every child knows the name Neil Armstrong and even Buzz Aldrin, the first men on the moon, very few of them were taught the name of the woman who got them there. Many consider Johnson truly incredible for her achievements in the face of prejudice and erasure. Women have never been particularly welcome in the scientific fields, more so than in others. This is doubly true for women of color, especially in the early twentieth century. It was hard for women to access education, and then to access any recognition for their achievements after they reached positions of influence. Very few women know the names Lady Mary Wortley Montagu or Henrietta Lacks, despite the fact that they shaped what medicine is today. The fact that Katherine Johnson not only made such progress in her field of choice, but also managed to be recognized for that progress, makes her a role model, in physics and in any other discipline that has a glass ceiling.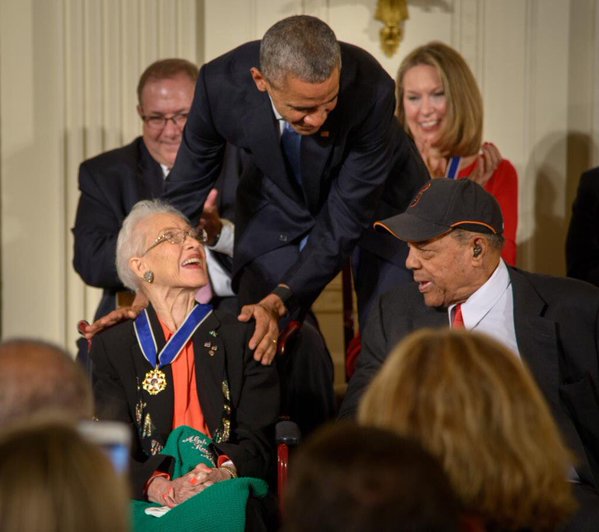 The channel Feminist Frequency created a series called "Ordinary Women," with the subtitle, "Daring to defy history by challenging stereotypes, smashing the status quo, and being defiant." I believe that this description fits Katherine Johnson excellently, as, at a time when women, especially black women, were faced with challenge after challenge and limitation after limitation, she managed to rise past what was expected of her and influence astrophysics to this day, and continues to do this today.
Page created on 5/15/2017 2:31:27 PM
Last edited 2/9/2021 8:34:04 PM