"Right To Play" Takes Home Three Awards at the My Hero Film Festival
by
The Kennedy/Marshall Company
The MY HERO Project, a non-profit devoted to connecting and inspiring children across the world through interactive media, awarded the "Best of Fest" at its 8th Annual International Film Festival to Frank Marshall's Right To Play. The award was presented to the filmmakers (accepted by the film's editor Ryan Suffern, seen below) on December 15th at USC's School of Cinematic Arts, during the Festival Awards Ceremony. In addition to the "Best of Fest" prize, Right To Play was also selected as the winner of The Ron Kovic Peace Prize, along with Best Excerpt.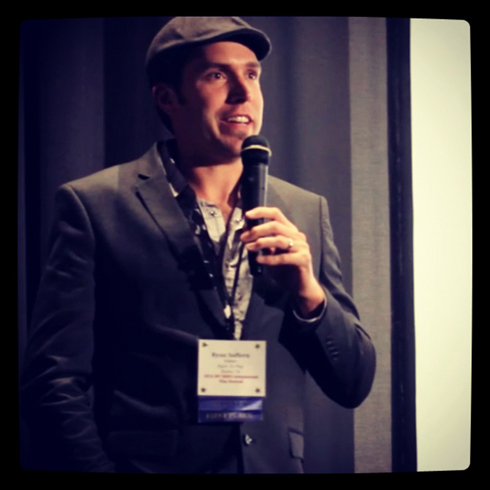 Since 1995, the MY HERO Project has worked to bring heroes from every walk of life to the forefront of international media. For the past five years, Ron Kovic has presented an eponymous Peace Prize at the festival as part of his continued fight for peace and social justice. Kovic is perhaps best known for authoring Born on the Fourth of July, which recounts his harrowing experiences in Vietnam, and was adapted into a screenplay by Ron and Oliver Stone. His award and its accompanying $1000 cash prize go to the film that most artfully celebrates the themes of peace and tolerance. This year, Mr. Kovic was very pleased to make a $1000 donation to The Right To Play organization, in honor of the work of Frank Marshall and Johann Olav Koss.

"We battle the wrong by doing whats right. The Right to Play," says Kovic. "In this film, watching Johann teach these children to play instills hope. By celebrating what is good and joyful and true about life. By celebrating goodness – we keep hope alive. May we all remain hopeful. No matter how dark the darkness gets, I pray that each one of us can keep lit the candles of hope in our hearts. May we remember to play and celebrate the goodness in life and commit to keeping HOPE alive. With this together, we can manifest peace."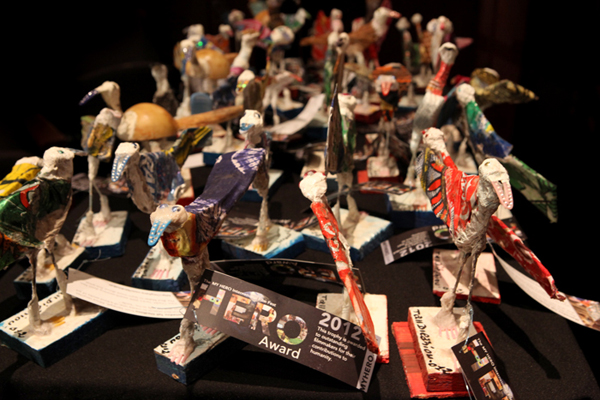 In addition to accepting the three awards for Right To Play, Suffern also took home the Best Trailer award for Bidder 70, which he edited at K/M as well. The incredibly unique awards handed out by the fest, as seen above, were designed by Mamadou Tall Diedhiou from Senegal, Africa. The artist recycles discarded objects to create one-of-a-kind works of art that give new life to his "birds."
Page created on 1/29/2013 12:00:00 AM
Last edited 7/7/2017 11:05:32 PM