"My vision is that creative young people from all walks of life can tell their stories with new media technology to promote positive change in the world."
For years I have been involved with creating educational programs that value peace, human rights and environmental responsibility. I was part of the original task force for the Community Learning Center in Laguna Beach. CLC is an alternative public elementary school based on cooperative learning and community involvement.
CLC is where I first met Jeanne Meyers the Co-Founder of The MY HERO Project. As a teacher at CLC, I had the pleasure of working with Jeanne and her boys. As a parent, Jeanne introduced The MY HERO Project to our students who wrote stories about heroes and uploaded them to the MY HERO website. I coordinated school wide celebrations of the United Nations International Day of Peace each year, as well as numerous Earth Day Festivals. I inspired elementary school students to express themselves through dance, songwriting, art, video and theatre. I wrote a song titled, VISION, that continues to inspire a positive message of hope.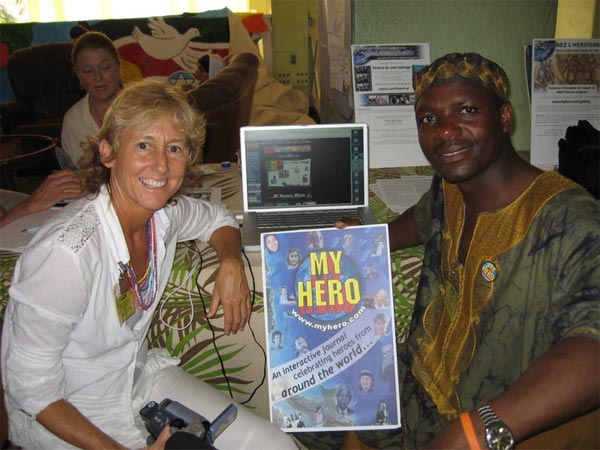 Once my own children were in high school I started on my adventure of film school at the University of Southern California . At USC I wrote, produced and directed a number of short films and crewed on many others. My passion for teaching was rekindled when I was given the opportunity to assist numerous USC students in making their own films as a Production TA. Since graduating with honors from USC, I have worked on many exciting films: IMDB.
I love working with young people, encouraging them to be creative and have a positive impact in the world. I was thrilled to re-connect with Jeanne Meyers and The MY HERO Project after completing my MFA in Production. Jeanne and I were excited to expand The MY HERO Project to include the MY HERO Film Festival and Virtual Screening Room. Here we celebrate the best of humanity in the form of short films. This resonates with the original vision of MY HERO as a TV show.
As the Director of Media Arts Education and the MY HERO Film Festival, I've developed and implemented filmmaking curriculum designed for creating short hero films. The MY HERO Project gives me the opportunity to take what I've learned at USC and share it with young people who want to make a positive difference in the world.
My vision for global education has found meaning through my work with MY HERO, as I present filmmaking workshops to teachers and students around the world. In 2005 I represented MY HERO in Senegal, Africa to conduct MY HERO media workshops at iEARN, the International Education and Resource Network.
The MY HERO Project has been the recipient of grants from the California Arts Council to promote creative technology in education for underprivileged students. We had the pleasure of working with Jerrilyn Jacobs and her media students at Taft High School. Through this program, we assisted her talented students in making their own hero films. Many of the films created through this grant received awards in the 2006 MY HERO Film Festival.
I represented MY HERO in the Netherlands for the 2006 iEARN conference and conducted MY HERO filmmaking workshops with my partner Chris Cain, who is also a filmmaker and brilliant teacher. We offered general MY HERO workshops, as well, with the talented Jewel-Kemker family.
In 2004 The MY HERO Project received a grant from the American Legion Child Welfare Foundation to produce The MY HERO Report. With members of the MY HERO team I produced, shot and edited a stand alone segment for The MY HERO Report featuring MY HERO youth reporter Slater-Jewell Kemker in her quest to meet her environmental hero, Jean-Michel Cousteau.
This short documentary, Slater Meets Her Hero – Jean-Michel Cousteau has screened at The Newport Beach Film Festival 2006, the Wild and Scenic Environmental Film Festival 2007 and the Cannes International Film Festival 2007.
My dream of connecting people from different parts of the world has been further realized when The MY HERO Project received a grant from the U.S. State Department for a global arts exchange with six different countries. As the Director of Media Arts Education, I coordinated workshops and productions in California where we hosted our international partners and produced short hero films. The culmination of this meaningful event was highlighted when our Global Exchange Partners attended the MY HERO Film Festival & Award Ceremony at USC in December 2006. Cheikh Seck from Senegal and Vladimir Kalinin from Belarus, two of our GX partners both received awards for their films in the Student/Teacher category of the competition.
I imagine a world where people everywhere have a voice. It brings me great pleasure to be part of a movement to bring innovative media skills to under-served communities and provide a platform for their creative voices to be heard. The celebration of the best of humanity through The MY HERO Project is a positive uplifting experience that I hope will continue to grow for many years to come.
SELECTED MOVIE PROJECTS
| | |
| --- | --- |
| | In honor of my hero, Dorothy Meyers, and in celebration of the heroic efforts of the Laguna Laughter Club, I created a short, titled i Luv Laughing Yoga. |
| | In addition to helping people make their hero films, I continue to create films about many of my own heroes. In 2003 I honored my dear friend and USC collaborator in film, the late Tania Trepanier, in Blue Angel. I am currently in pre-production on a feature film written by Tania Trepanier that I will shoot in Malawi, Africa, titled, Of Chameleons and Gods. |
| | I helped to train Slater Jewel-Kemker as a MY HERO youth reporter. Slater has been using her media skills and establishing numerous global relationships through her work for MY HERO. Slater is a true citizen of the world and a great inspiration to us all. |
| | In 2005 I presented MY HERO filmmaking workshops at Tech Ed, in conjunction with the Community College Foundation, on the eBus. Here we inspired teachers from Hong Kong to Oklahoma to participate on MY HERO. |
Page created on 10/27/2009 9:19:59 AM
Last edited 9/11/2019 9:07:00 PM