CONTACT: FOR IMMEDIATE RELEASE
Laura Nietzer
Educational Director
[email protected]
MY HERO HONORS ARTISTS WITH CELEBRATION AND AWARDS CEREMONY
LAGUNA BEACH, CA - DEC 10, 2022 - The MY HERO Project hosted their virtual Art Celebration and Awards Ceremony on Saturday December 3, 2022. The event featured finalists from across the globe, with artists ranging from pre-school right through college. Many of the artists, along with parents, teachers and guests, attended the ceremony hosted by contest coordinator, Laura Nietzer.
The MY HERO Sustainable Development Goal Poster Contest:
The annual MY HERO Sustainable Development Goal Poster Contest is in partnership with Art Miles and UN Association-San Diego and seeks to engage young artists in learning about the United Nations Sustainable Development Goals, which are meant to create a better earth now and for the future. We want young artists to be curious and investigate a goal and person, famous or non-famous, who is doing important work towards one or more of the goals.
There are 17 goals: No Poverty; Zero Hunger; Good Health and Wellbeing; Quality Education; Gender Equality; Clean Water and Sanitation; Affordable and Clean Energy; Decent Work and Economic Growth; Industry, Innovation and Infrastructure; Reduced Inequalities; Sustainable Cities and Communities; Responsible Consumption and Production; Climate Action; Life Below Water; Life on Land; Peace, Justice and Strong Institutions; and Partnerships for the Goals. (Find out more)
The MY HERO Poster Contest 2022 Winners:
This year students of all ages from South Korea, the United Arab Emirates, Russia, Malaysia, the United States, India, Hong Kong, and Slovenia submitted artwork to the Poster Contest to highlight heroes connected to the UN Sustainable Development Goals.
Some of the students selected heroes to depict that are working to achieve one or more of the UN's seventeen goals for Sustainable Development, whilst others chose to create art to represent one of the goals themselves.
Elementary Student Winners:
'Pablo García Borboroglu' by Alex Ma from the United States
'Jane Goodall' by Emily Im from the US
Middle School Student Winners:
'Earth Activist Xiuhtezcatl Martinez' by Kalista Gray Narag from the United Arab Emirates
'Soar High Women' by Sheza Siddiqui from the UAE
'Samina' by Muhammad Abdullah from the UAE
'Always Light' by Maya Lee from South Korea
High School Student Winners:
'David Suzuki' by Andy Liu from the US
'Real Hero' by Vishal Gupta from India
'Wong Siew Tu' by Tan Wei Yuan from Malaysia
'Quality Education' by Chan Ying Yi from Hong Kong
Special Recognition was given to students from the School of Creativity in Hong Kong
Over-all First Place Winner: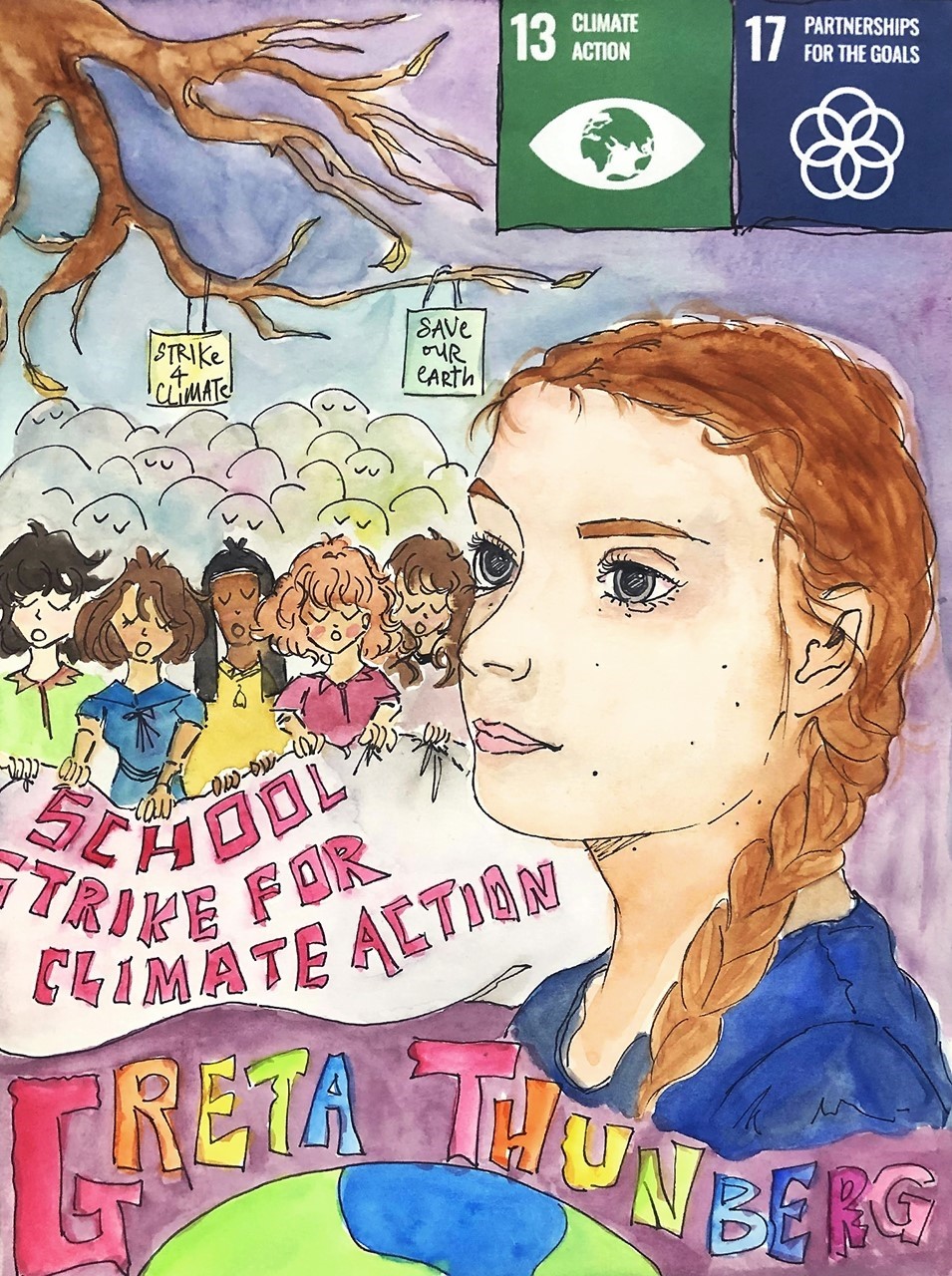 Greta Thunberg Ng Z-Yi, Malaysia 'Greta Thunberg' by Ng Z-Yi from Malaysia. Ng Z-Yi was present to accept her award, expressing thanks to MY HERO for giving her the, "opportunity to receive this prize," along with her art teacher, Miss Stacey, for encouraging her to enter the contest.
View winning artwork from the Poster Contest
The MY HERO Robert Shetterly Portrait Contest:
Robert Shetterly, an American artist and activist, has been a friend of MY HERO for years and generously partners with MY HERO as sponsor of the Robert Shetterly Portrait Contest, held annually.
2022 Robert Shetterly Portrait Contest Finalists:
This year's finalists were of all ages and from across the globe, including Hong Kong, United States, Australia, India, UAE, Pakistan, Thailand, Ukraine, Canada, Sri Lanka, United Kingdom, China, and Oman.
Pre-K Student Winner:
'My Dad I Love Him So Much' by Gianna Yurisak from the US
Early Elementary School Winners:
'Superman: Zelenskyy' by Hei Ching Lu from Hong Kong
'My Hero Tia' by Mary Frances Goldstein from the US
'My Papa and Mama' by Loic Tim from Hong Kong
Upper Elementary Student Winners:
'My Grandmother' by D. Aron Raj from India
'Mahatma Gandhiji' also by D. Aron Raj
Middle School Student Winners:
'RM of BTS' by Hyolynn Yang from the US
'Mother- the Greatest Hero' by Deepshikha De from India
'Women Leaders for Future - First Female Prime Minister of Pakistan' by Dua Shahid from the US


High School Student Winners:
'The Legacy of Shinzo Abe' by Annie Chen from Canada
'My Papayos' by Karla Rivas from the US
'Grandmommy' by Jane Rodriguez from the US
'Yu Gwan Sun' by Hyunsus Kang from the US
'Taehyung' by Oneli Seyara from Sri Lanka
'Albert Einstein' by Hussam Hazem Al Misshal from Oman


College Student Winner:
'Tireless' by Eloise Derdar from the United Kingdom
Special Recognition was given to the 9th grade class from the Mykolayic region of the Ukraine

Over-all First Place Winner: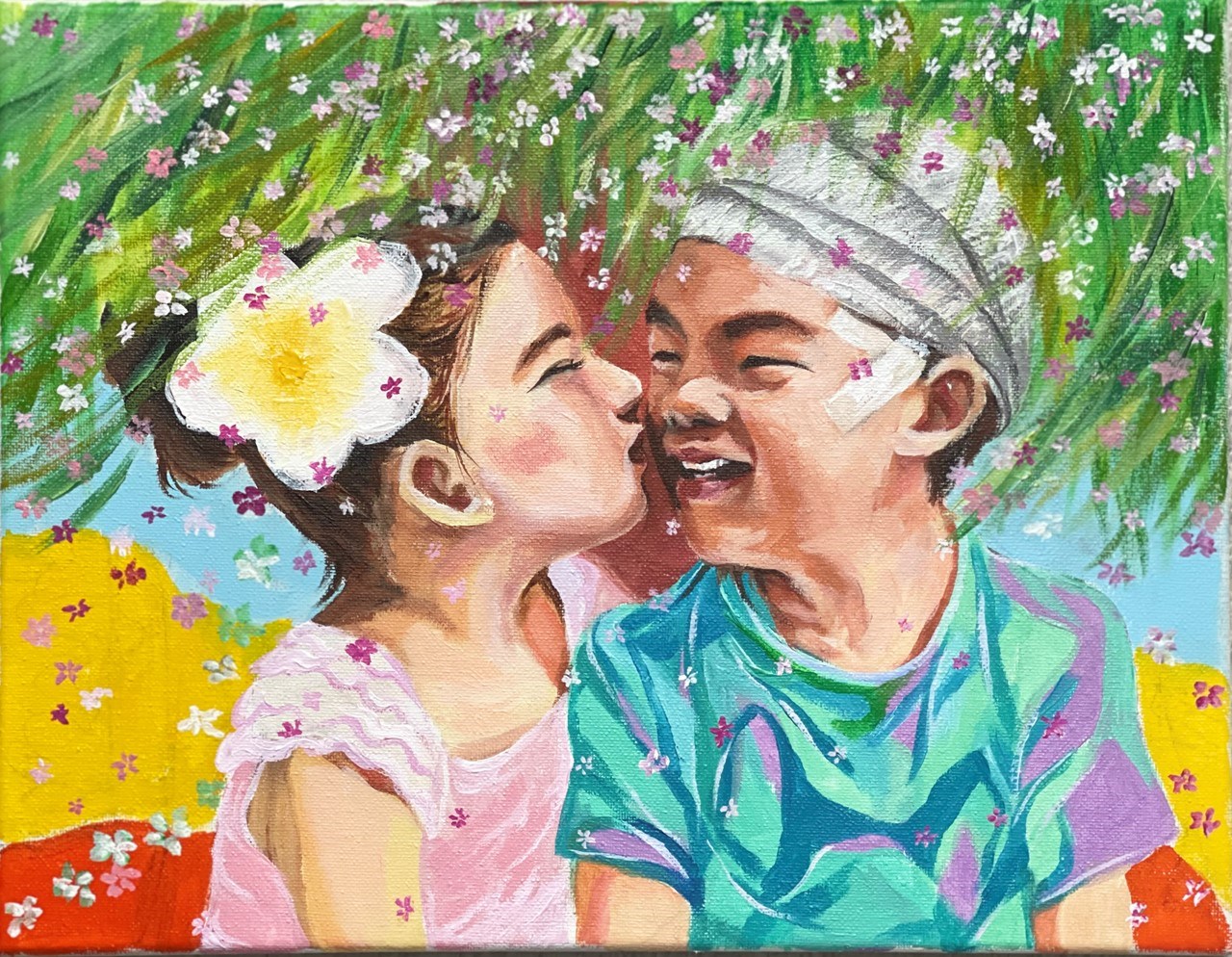 Esme Tran, United StatesMy Brother'My brother' by Esme Tran from the United States
View winning artwork from the Portrait Contest
MY HERO wish to congratulate each of the winners in both contests, and express gratitude for all entries we received as well as all the parents and teachers that encouraged their children to submit their beautiful work to us. Many of the teachers that were able to attend the ceremony spoke to just how proud they were of their students; perhaps Laura Nietzer put it best during the ceremony as she explained, "When your students do something like this, you feel as proud as their parents."
As our co-founder Jeanne Meyers expressed at the celebration on Saturday, "Art is a universal language and we encourage students and artists across the globe to continue submitting their work to us. Thank you, all."
About Robert Shetterly:
American artist Robert Shetterly is best known for his portrait series, Americans Who Tell the Truth, along with his book of the same name. Shetterly's portraits are exhibited in a number of public places around the U.S. such as schools, libraries, museums, and galleries. As well as art, Shetterly has a love of activism, with democracy, the environment, social and economic justice, all close to his heart. He has partnered with a variety of figures and organizations to carry out humanitarian work, often pairing this with portraits of said partners.
He has been working on best-known work, Americans Who Tell the Truth, for approximately 10 years, and the exhibit has been traveling around the country since 2003. Venues have included everything from university museums and grade school libraries to sandwich shops, the Cathedral of Saint John the Divine in New York City, and the Superior Court in San Francisco. To date, the exhibits have visited 26 states. In 2005, Dutton published a book of the portraits by the same name. In 2006, the book won the top award of the International Reading Association for Intermediate non-fiction.
The portraits have given Shetterly an opportunity to speak with children and adults all over this country about the necessity of dissent in a democracy, the obligations of citizenship, sustainability, US history, and how democracy cannot function if politicians don't tell the truth, if the media don't report it, and if the people don't demand it.
Shetterly has engaged in a wide variety of political and humanitarian work with many of the people whose portraits he has painted. In the spring of 2007, he traveled to Rwanda with Lily Yeh and Terry Tempest Williams to work in a village of survivors of the 1994 genocide there. Much of his current work focuses on honoring and working with the activists trying to bring an end to the terrible practice of Mountaintop Removal by coal companies in Appalachia, on climate change, and on the continuation of systemic racism in the US particularly in relation to the school-to-prison pipeline.
Since 1990, he has been the President of the Union of Maine Visual Artists (UMVA), and a producer of the UMVA's Maine Masters Project, an on-going series of video documentaries about Maine artists.
Americans Who Tell the Truth has been an active partner of The MY HERO Project Gallery, specifically promoting activism and compassion through the vehicle of fine art.
Call for entries:
Professional artists and students- you are welcome to submit one or more hero portraits as an entry or multiple entries. Works of art submitted will be judged by Robert Shetterly, artist founder of Americans Who Tell the Truth and the MY HERO Gallery staff.
Each work of art can represent someone you admire who has done something significant - for you, for your community or for our planet. Each of work of art can illustrate a heroic act that has impacted your world or our society as a whole. All winning entries will also be shared with students around the world online on www.myhero.com/Art & www.AmericansWhoTelltheTruth.org