"Don't let anyone define you. You define yourself." ~ Billie Jean King
Anticipation raced down her spine; she could feel herself gripping the racket as tight as she could. The crowds were cheering and the expectations were high. As she stepped out onto the court, the arena was full and the lights were so bright they were almost blinding. The sound of the announcer flooded her ears, saying "the Battle of the Sexes is about to begin." Billie Jean King, a professional tennis player from Long Beach, California, set her hopes high and pushed herself harder every single day to get better. King grew up in a middle-class family. Her entire family was very athletic. Her father was in the NBA, her mother was a successful swimmer, and her brother played in the MLB as a pitcher and grew up playing all different sports. Her first sport was basketball; she also played softball at the time and always had a competitive spirit to win. When Billie Jean tried tennis for the first time, she fell in love with it; she saved her money and bought a racket. "She entered into her first tournament in 1955 and excelled from there. She became pro in the year 1959; from then on she won major events including Wimbledon, Australian Open, and single championships" (King). King used tennis as a platform to fight for women's equality and to prove the fact regardless of gender, anybody can be the best if they work hard and don't let anything stop them. Through King's determination and mental toughness, she became a world famous tennis player, a fighter for equality in women's sports, changing the way women in sports are perceived today, and is known as a hero.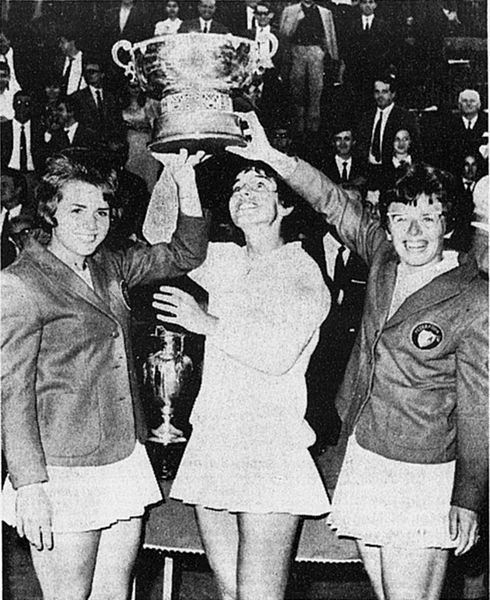 Billie Jean King winning the FedCupPhotograph with no copyright indication [Public domain]King always had a compassionate and hardworking morality, from hitting balls endlessly for hours to fighting for equal pay. King played many different sports as a kid, including softball and basketball. Once she tried tennis, she knew this was the sport for her: "As she entered fifth grade, she asked her father what sports she could play to continue to achieve success. Her father mentioned tennis and, shortly afterward, Billie Jean was introduced to the sport by her friend, Susan Williams. Susan took her to a country club, where Billie Jean played for the first time. From the moment she put the racquet on the ball, Billie Jean knew what she wanted to do with her life. She began to play on Long Beach's public courts using a racquet she purchased herself with money earned from odd jobs. The young athlete set the bar high for her tennis game: "I am going to be No. 1 in the world," Billie Jean told her mother. She soon realized, though, that the standards for young women playing the game were different than those for young men" (King). King always worked hard no matter what sport, and when a challenge came her way, she knew how to get over it. Whenever she had money, she went to buy a racket to get better at tennis. She worked every day to live up to her expectations of being one of the best tennis players ever to live. King did not just play tennis, she also fought for equality and equal pay, and through her efforts she changed women in sports. She was a crusader in this era and became determined to fight for equal pay. "King was not the kind of person to waste that sort of clout; she became a vocal and determined crusader for equal prize money for women players. ... However, the top male winner of 1970, Rod Laver, earned three times that much and won only a third of the number of tournaments that King won. Billie Jean King decided enough was enough. She banded with other top-ranked female tennis stars and threatened to boycott the big tournaments unless women were given more prize money. This threat, in turn, led to the creation of the Virginia Slims Tournament, the first tennis tournament strictly for women" ("Billie Jean King." Great Woman) King knew that there had to be a change and she was going to make it happen. She fought for equal pay and always kept her head up. She stood up for what she believed in and got the job done. She is mentally tough and made a change to society. Billie committed to the sport and would dedicate her time to the sport. "Billie Jean fell in love with tennis, using money earned at odd jobs to buy her racket and spending hours hitting balls to improve her performance. She entered her first tournament at age eleven, defeating a University of Southern California (USC) junior, though she was so inexperienced she did not even realize that a match consisted of winning two sets. She continued to work on her performance until a friend introduced her to tennis-great Alice Marble, who agreed to coach Billie Jean for six months in 1958" (Johnson). King worked hard doing whatever she could do get better. She would spend hours hitting balls and improving her technique. She dedicated her time to tennis and wanted to get better every single day. King did everything in her willpower to get better at the sport and was determined to be the No. 1 best player regardless of gender.
My Hero suggested viewing: Trailer for Battle of the Sexes (2017).
Watch the trailer below.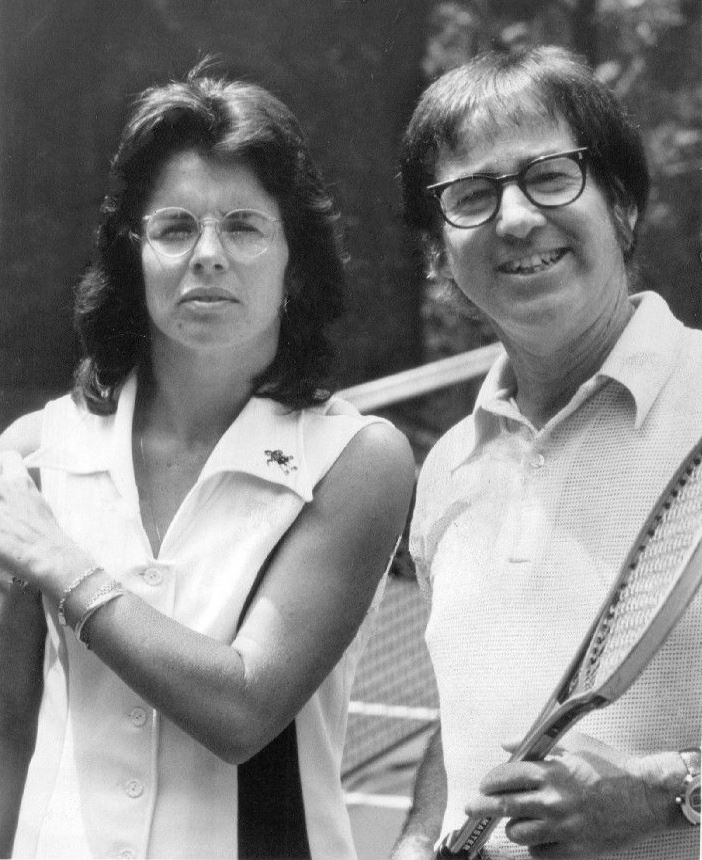 Billie Jean King and Bobby Riggs[1] [Public domain]King used her sport as an advantage, showing mental toughness by telling her beliefs and breaking through barriers. Billie dedicated endless hours to tennis and all of it paid off. "The year 1966 was a winning one for Billie Jean; she attributed this to her determination to concentrate on her game and not allow herself to be distracted. Her keen tactical sense showed in her strong doubles success, and strengthening her concentration increased her ability to win singles matches" ("Billie Jean King." Great Athletes). King was mentally tough; she had a strong-willed mentality. Even when she lost she would get back up and keep going. She met her expectations and kept setting the bar higher and higher for herself. She fought through the ups and downs, and that is why she is one of the best tennis players alive. King was successful on and off the field and made a significant impact on society. When King played in the Battle of the Sexes it was turning point in women's equality and women in sports. "Her extraordinary success and influence on the game gained a worldwide audience of 90 million in 1973 when she played former number 1 player and self-proclaimed chauvinist Bobby Riggs in the "Battle of the Sexes." As he proclaimed loudly and often that the women's game was inferior to the men's, Billie accepted his challenge to prove him wrong. And so she did. King defeated Riggs in three sets in the most-watched tennis match of all time" (King). A lot of people looked down upon women in sports in this era. King thought otherwise and when a man challenged her, a lot of people doubted her. She had all of the confidence in the world and knew she was going to win this match. She proved them wrong and won and changed women's sports because of her mental toughness and confidence. The Battle of the Sexes was a turning point in women's sports in many ways."The Battle of the Sexes tennis match was about more than simply defeating Riggs. She felt incredible pressure to win because, as she said afterward, "I thought it would set us back 50 years if I didn't win that match. It would ruin the women's [tennis] tour and affect all women's self-esteem. To beat a 55-year-old guy was no thrill for me. The thrill was exposing a lot of new people to tennis" ("Billie Jean King." Encyclopedia.) To King this was more than just a typical match; this was her time to shine and show what women can do. She stepped up and did it, and she proved everyone wrong. Even though there was a plan to sabotage the match, she still battled through it and won. That changed women in sports forever. King established the fact that regardless of gender, you can do whatever you want with mental toughness and perseverance.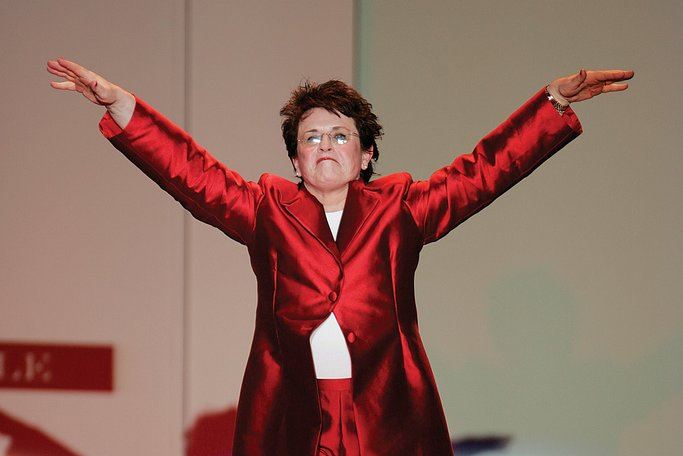 Billie Jean KingThe Heart Truth [Public domain]Billie Jean King truly changed the world and the perception of women in sports. King was a socialist, fought for her goals and proved that women can accomplish the same or more of the goals men have. When Billie Jean King was young, she would spend endless hours honing her skills and would set her goals high to be the best female tennis player to ever live. She wouldn't let anything stop her because she was determined to reach her goals. If King lost a match, she would shake it off and work harder to come back and be better than that person she played. "King served as an ambassador for the sport, introducing tennis to other across the country... she also played a key role in the professionalization of tennis, and by extension the explosion of money and corporate support that has so reshaped the world of sports since the 1970s" (Ware). King empowered others, and her message to all of us was: "Natural talent only determines the limits of your athletic potential. It's dedication and a willingness to discipline your life that makes you great." Billie Jean King used her sport as a gateway to fight for women's equality and equal pay; she proved that regardless of gender you can accomplish anything you set your mind to through determination and mental toughness.
Works Consulted
"Billie Jean King." Great Athletes (Salem Press), Oct. 2001, p. 1319. EBSCOhost, search.ebscohost.com/login.aspx?direct=true&db=b6h&AN=5362989&site=brc-live.
"Billie Jean King." Encyclopedia of World Biography, Gale, 1998. Student Resources In Context,https://link.galegroup.com/apps/doc/K1631003619/SUIC?u=powa9245&sid=SUIC&xid=517a8330. Accessed 25 Mar. 2019.
"Billie Jean King." Great Women in Sports, Gale, 1996. Biography In Context, https://link.galegroup.com/apps/doc/K1615000072/BIC?u=powa9245&sid=BIC&xid=dd4664f1. Accessed 26 Mar. 2019.
King, Billie Jean. "The Official Website of Billie Jean King." Billie Jean King Enterprises, www.billiejeanking.com/.
Ware, Susan. Game, Set, Match: Billie Jean King and the Revolution in Women's Sports. The University of North Carolina Press, 2015.
Wong, Stephanie Jade. "11 Quotes From Billie Jean King That Will Inspire You to Persevere." Shine,advice.shinetext.com/articles/11-quotes-from-billie-jean-king-that-will-inspire-you-to-pe severe/.
Page created on 4/8/2019 7:22:29 PM
Last edited 10/31/2020 1:18:17 AM
Related Links
ESPN
- This is an article written by ESPN and talks about her accomplishments.
Billie Jean King's Official Website
- This is her official website and has a biography and her accomplishments.
Hall of Fame Inductee
- This is an article by International Tennis Hall of Fame Organiztion showing her accomplsihments and her life outside of tennis.
Biography
- This is an article by PMCA and is about a overview of her life and her accomplishments.