CONTACT: WENDY MILETTE FOR IMMEDIATE RELEASE
media@myheroproject.org
949-376-5964
The MY HERO Presents the MY HERO INTERNATIONAL FILM FESTIVAL - November 11-12, 2017
SANTA MONICA, CA - 08/23/17 - The MY HERO International Film Festival brings together filmmakers of all ages and levels of experience to honor the efforts of everyday heroes working to create social change. This year's festival will take place November 11 - 12 at the Herb Alpert Educational Village at New Roads School in Santa Monica. The annual festival showcases uplifting and inspiring films that honor the world's heroes.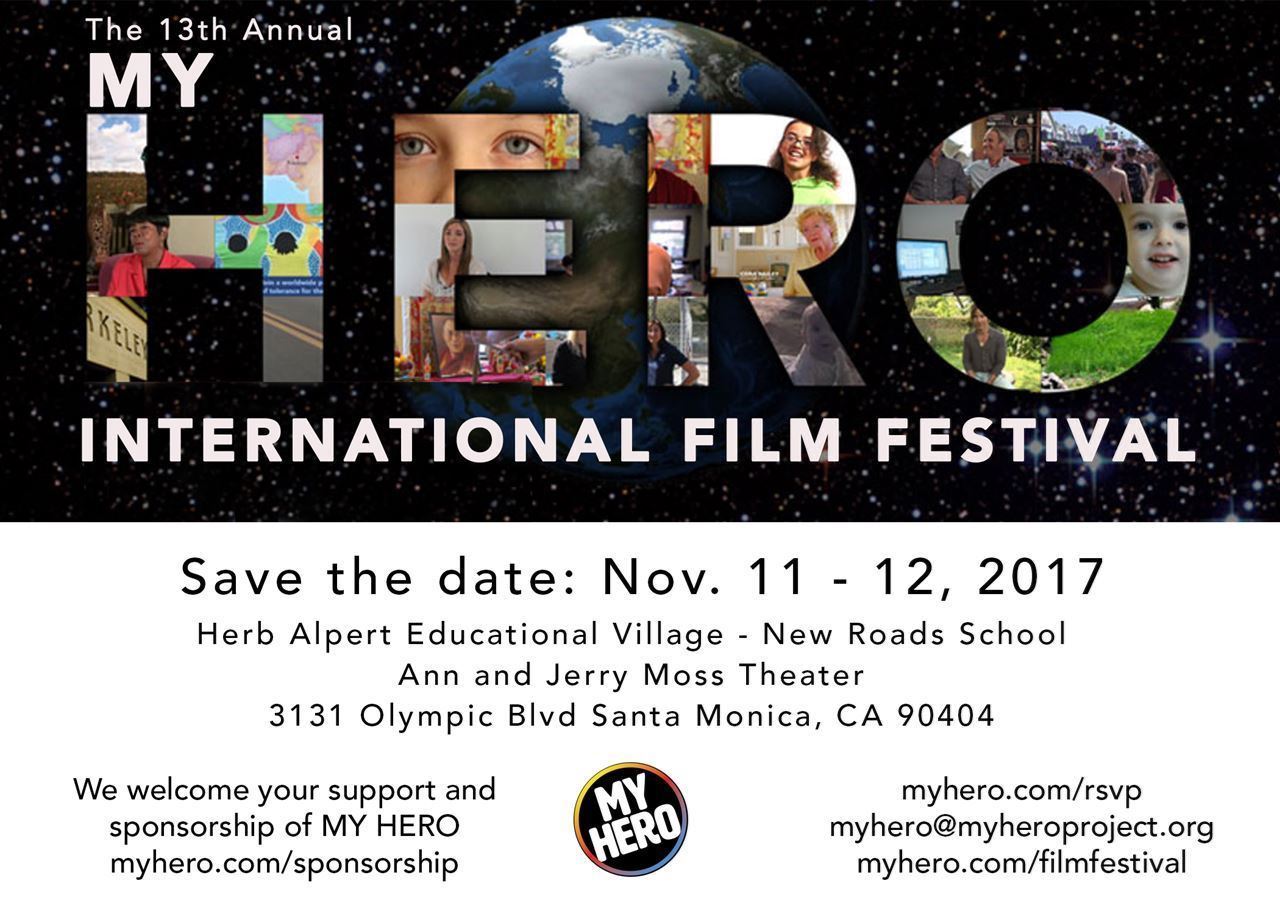 Film Festival Director, Wendy Milette and Winners at the 2016 MY HERO International Film Festival Celebrate on stage at the Moss Theater holding a mural created by Fauzia Minallah
On Saturday, November 11, 2017 from 2-5 pm, enjoy a showcase of winning films. Reception to follow.
On Saturday evening from 7-10 pm, Join MY HERO for our Special Awards Ceremony in the Ann and Jerry Moss Theater.
Musical performances and art will be on display at part of this global celebration of heroes.
Visitors will have a chance to meet inspiring filmmakers and their heroes.
Please REGISTER HERE to reserve your seats for this special event.
On Sunday, November 12 join us for a very special afternoon program, details to be announced.
Final Call for Entries:
Submission deadline is September 15, 2017
The Ron Kovic Peace Prize is a $1,000 prize that honors a filmmaker whose work deals with the concept of peace. Kovic was paralyzed from the chest down in the Vietnam war. He told his story in the best selling memoir Born on the Fourth of July. Each year, Kovic presents the award, which comes with a $1,000 cash prize.
The Dan Eldon Activist Award is a $500 prize given to the filmmaker who best uses media to effect positive change. Kathy Eldon, founder of Creative Visions Foundation, presents the annual award in honor of her late son Dan Eldon, a photojournalist who was killed on assignment in Somalia.
The TEEN PRESS Award comes with a $500 cash prize for a hero-themed journalistic film by a youth reporter. The award is sponsored by the Teen Press of Santa Barbara Middle School, which has covered national stories on timely issues.
The Relationships First Award, a $1,500 cash prize for a short film that creatively depicts the heartfelt connections found in any type of contemporary family relationship.The Foundation for the Contemporary Family annually presents this special award.
The Robert Shetterly Award is a $500 cash prize that goes to an artist whose work illustrates a hero. The award is presented by Americans Who Tell the Truth, in honor of artist Robert Shetterly, the organization's founder.
2017 Song Contest. Prizes will be awarded for songs that celebrate local and global heroes in Student, Teacher, Mentor and Professional categories.
The Immersive Storytelling Award honors a Virtual Reality Experience that uses innovative technology to promote positive social change. The award is sponosred by Oculus to promote engagement and activism.
The MY HERO International Film Festival is part of The MY HERO Project, a non-profit 501(c)3 organization dedicated to sharing stories of the world's heroes through films, art, music and written stories. For more information, and for sponsorship opportunities, contact media@myheroproject.org.
Page created on 7/28/2017 4:28:19 AM
Last edited 9/6/2017 6:06:24 PM