National Science Foundation [Public domain]


Her Childhood
Córdova was born in Paris. Expecting a boy whom they planned to name Frederick III, France's mother sewed little Fs on all the baby's clothes. Named Francoise, Córdova later shortened her name to France. The daughter of a Mexican father who attended West Point and worked in the U.S. State Department and a fifth generation Irish-American mother, France was the eldest of 12 children. She helped take care of her younger siblings from an early age, and her sense of responsibility stayed with her for the rest of her life.
Córdova grew up in West Covina and went to a private Catholic high school. Boys and girls had separate classes, and only five girls took physics. "The teachers didn't think girls would go on to be scientists," Córdova relates. She read a lot of Nancy Drew books and loved mysteries. "Science is full of mysteries," she emphasizes.
Since being entranced at the age of 13 by the Bohr's model of the atom in a World Book encyclopedia ("I thought I had never seen anything so elegant, so simple"), she has reveled in the continuation of discovery. She says, "Every new understanding is a truth revealed, but never entirely true; that the search for truth is distinctly human; and that beauty, true beauty, is – in the words of Harold Bloom -- that which surprises well." By her senior year in high school, Córdova was named one of California's Ten Outstanding Youths.
Córdova remembers that Einstein intrigued her. She says, "Einstein overturned conventional thinking and imagined things from a different point of view. He was very creative." Her favorite quote by Einstein later hung in her daughter's room: "Gravity can not be held responsible for people falling in love." But she didn't set her sights on a career in science.
Córdova received her bachelor's degree cum laude in English from Stanford University. She enjoyed Existentialist writers like Camus and Sartre, as well as Joyce and Eliot. During her junior year, she worked on an archaeological dig near a Zapotec Indian pueblo in Oaxaca, Mexico. Delving deeply into her Mexican heritage, she wrote a short novel and compiled recipes into a Mexican cookbook. From these endeavors, she won a national contest from Mademoiselle and a guest editorship, but her life was about to take a different course than the journalistic one she had planned for.
The Moon and Stars
After watching the news coverage of the Apollo 11 moon landing and then a documentary about cosmology, she became completely fascinated with space science. Córdova continued writing and editing articles as a staff member of the Los Angeles Times news service, but she was going to forge a career as a scientist. She earned her Ph.D. in Physics from the California Institute of Technology, one of only two women in a class of eighteen.
She said, "We know that the universe emits not only invisible light, but also X-rays and gamma rays, sometimes in fits and bursts. I marvel at all these things, and I marvel more at the evolution of thinking and discovery that has led to our understanding. I think sometimes, there is nothing finer, nothing deeper, nothing truer, than to be connected to the tide of the universe. I am thrilled to analyze data, to write papers to try to explain nature, to further, a little, the collective knowledge about the universe."As a young astronomer at Los Alamos National Labs in New Mexico, Córdova studied the stars. Pulsars, sometimes called the most exotic objects in the galaxy, are pulsating relics that remain in space after a supernova explodes. Córdova would become an expert in observational and experimental astrophysics, multispectral research on X-ray and gamma ray sources, and space-borne instrumentation. Her passion for science has not ceased.
Córdova became deputy group leader at Los Alamos National Labs in New Mexico and headed the Astrophysics Department at Pennsylvania State University. She took leave of absence from Penn State to become Chief Scientist at NASA, where she was the Administrator's chief advisor. Córdova's star rose again when she won NASA's highest honor, the Distinguished Service Medal. She then became Professor of Physics and Vice Chancellor for Research at UC Santa Barbara, and lastly head of the National Science Foundation.
Inspiring Girls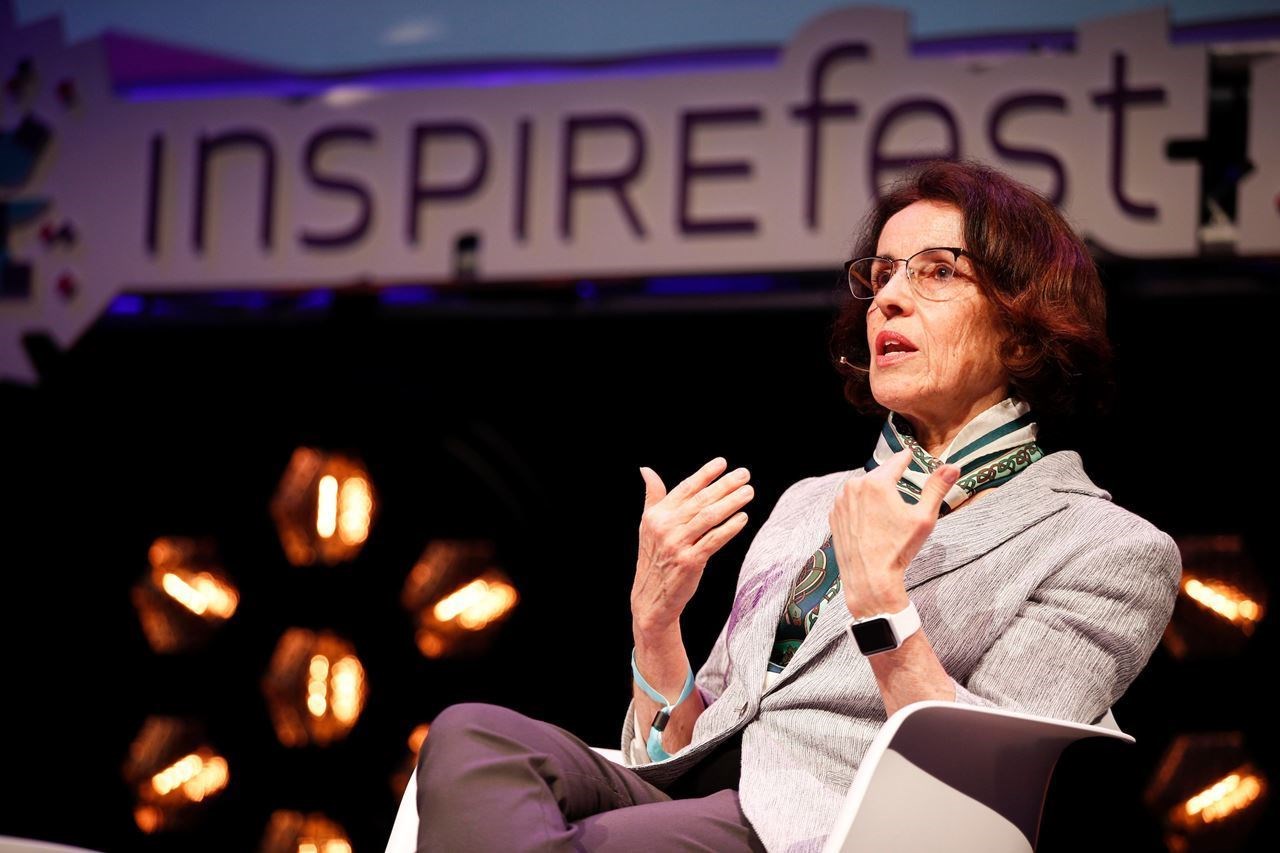 France A. Córdova speaking at Inspirefest 2017Silicon Republic [CC BY-SA 4.0 (https://creativecommons.org/licenses/by-sa/4.0)] "When I went to school, teachers felt certain work was for boys. Girls didn't go to grad school. If you went to college, you got married," she states. Córdova is a current champion of "the need to prepare young people for careers in the sciences, especially women and minorities." Role models are important, Córdova says, "just so you know that you're not alone out there."
She adds, "I try to give the example of my life. You can start in one area and make changes. Science is a lot of fun and you should also learn math. It's like being a cosmic detective figuring out explanations for things not well understood; it gives you pleasure. I love puzzles, figuring things out."
While not too keen on labeling groups all the time, she does want to change the culture of science itself "to root out that which discourages females from starting and continuing in the field." She believes in women as agents of change, finding ways that they don't feel isolated in the field and increasing mentoring opportunities and support groups for them.
Minorities in Science
"A lost battle is a battle one thinks one has lost."
-- Jean-Paul Sartre
Córdova has not given up on increasing diversity in the sciences. "Underrepresented groups are not in the sciences because they weren't exposed to it. They need an avenue for exposure, like through public TV. I'm an advocate of nature and science programs. It's not continual pressure or sustained support alone. It's the exposure from books and television, and events that get children on a research campus. Inspiration goes a long way."
According to The Hispanic Outlook in Higher Education, Córdova, a diehard optimist, told Hispanic youth, "Reaching goals isn't for pessimistic people. At all steps of my career, there was someone saying, "I wouldn't do that. You're too old, too young, too inexperienced. There are always naysayers." Córdova encourages students to have the conviction and vision to stand by their dreams even in the face of adversity.
Encouraging Kids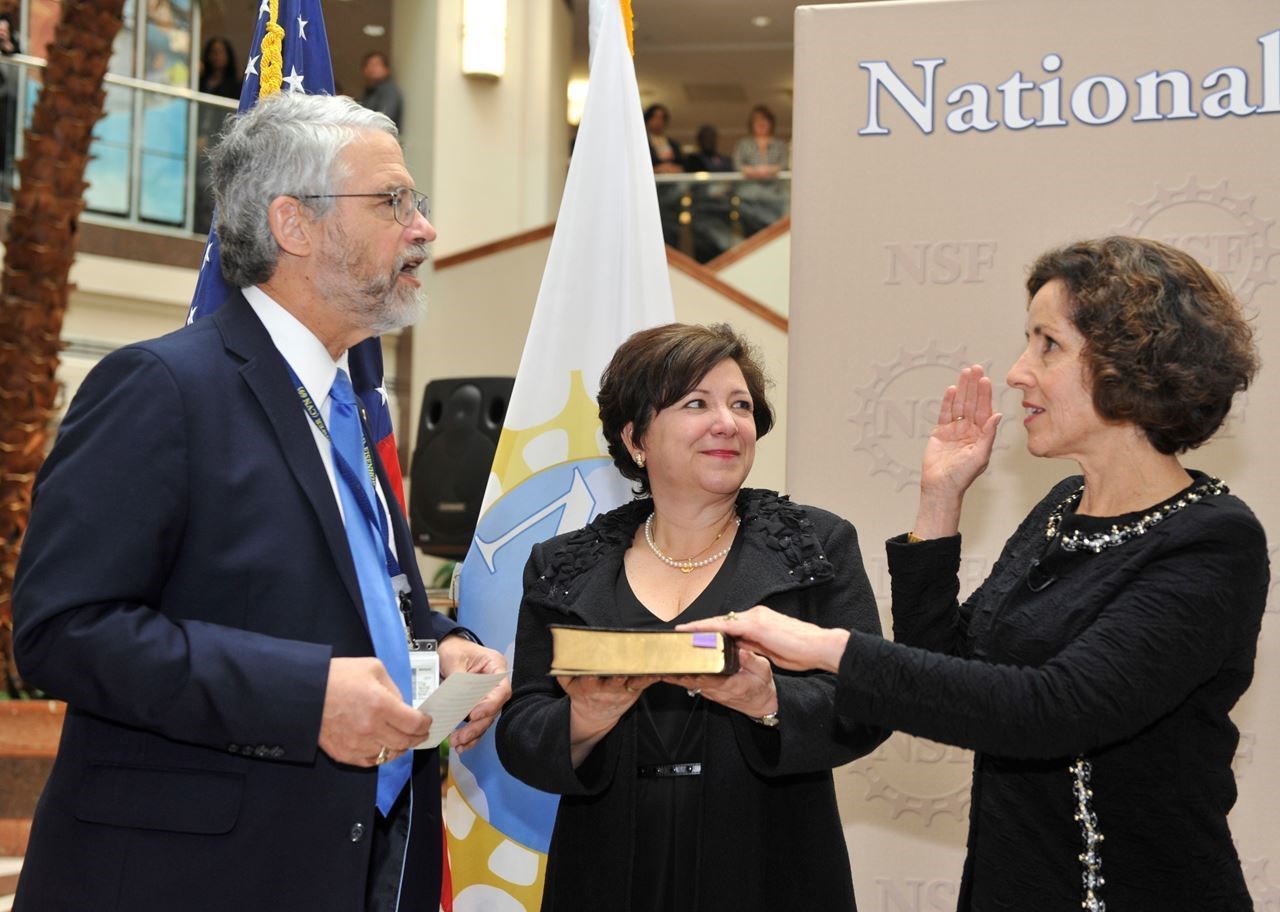 Dr. France A. Córdova sworn in as the director of the National Science FoundationNational Science Foundation [Public domain]How do you encourage kids to get more involved in science? Córdova wants "to improve the professional development of K-12 teachers, to widen the pipeline of people going into math and science teaching and to retain those teachers once we get them into the pipeline." Then of course, she wants to spark the fire in the kids.
"Science is so open ended and there are so many interesting careers with it. Backgrounds in policy can be directed towards the environment, social science interests lend themselves to teaching, careers in writing can be had in science. Look at the influence of Sally Ride, a famous astronaut, who is now writing for junior high students. Science is a rich base that allows you to go into many areas; you have a variety of options."
What's Next for Córdova?
We shall not cease from exploration, and the end of all our exploring will be to arrive where we started and know the place for the first time.
-- T. S. Eliot
The work — and the ensuing recognition — continues. She is the recipient of numerous awards and honors. She contributed to the PBS documentary Life Beyond Earth and was featured on the PBS Nova program, "BreakThrough: The Changing Face of Science in America." This miniseries profiled the careers of minority scientists and engineers and was billed as a celebration of science. She was named one of 100 Most Influential Hispanics by Hispanic Business Magazine and one of "America's 100 Brightest Scientists Under 40" by Science Digest magazine. Córdova continues to win accolades and serves as a member of many prestigious committees, councils and boards.
As Chancellor of UC Riverside (UCR), where nearly 70 percent of the students are members of a minority group, Córdova's goal was to make the campus a leader among research universities. UCR developed an initiative, Project Copernicus, in conjunction with other partners and with the aid of an $11.5 million educational grant, to better prepare highly qualified science teachers in the state. She also was the key driver of a collaborative effort between UC and the Community College system to create a partnership that supports professional development, leadership training and research. Now overseeing an independent federal agency worth $8.1 billion, Córdova leads the country's scientific discovery and is committed to fostering a love of science for the next generation.
The accomplished scientist and leader in education, who met her husband while rock climbing, is still meeting challenges. With her two children grown up, Córdova has not ceased her exploration. "It's still exciting to discover. Participating in that is a rare privilege as a human being."