by
Dorothy Lie

- MY HERO Staff - from

Los Angeles, California in United States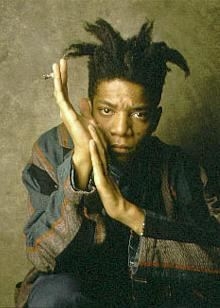 Jean-Michel BasquiatBy Source, Fair use, https://en.wikipedia.org/w/index.php?curid=29602496
To the wanderer strolling The Broad museum gallery, a large head dynamically placed against a sky-blue canvas depicts an ardent feeling of power and distortion.
Neo-expressionist painter Jean-Michel Basquiat was born on December 22, 1966, in Brooklyn, New York. At a young age, Basquiat showed great potential as an artist. While never having attended art school, he drew his inspiration from artistic environments, galleries and museums. His Puerto Rican mother, Matilde Basquiat, instilled in him a deep enthusiasm for creativity and art, nurturing his artistic talents by frequently taking him to art museums when he was a child.
In pursuit of his artistic vision, Basquiat dropped out of high school during his junior year and sold sweatshirts and postcards to make ends meet, showing perseverance and tenacity. Basquiat, along with his high school friend Al Diaz, began producing a series of graffiti art, tagging buildings with short phrases with the symbol SAMO. Soon, the SAMO graffiti scene garnered the attention of notable art critics like Jeffery Deitch, former director of Museum of Contemporary Art, Los Angeles (MOCA); notable writer Glenn O' Brien; and British Art Critic Anthony-Haden Guest.
After a falling out with his partner Diaz, SAMO was "killed" and Basquiat transitioned to gallery art, where he found remarkable success as an artist. His paintings were initially sold for $25,000 and are now sold for over $100 million.
Basquiat's obsession with skulls and anatomy is interpreted as "an exploration of the vulnerability of marginalized bodies," according to a TED-Ed video on Basquiat's brilliance.
My Hero suggested viewing | MY HERO Recommends The Chaotic Brilliance of artist Jean-Michel Basquiat.
One of Basquiat's most notable works can be seen at The Broad Museum in Downtown Los Angeles. According to The Broad website, his untitled head "alludes to modernist appropriation of African masks and employs the mask as a means of exploring identity." Upon further interpretation, this image of a large head demonstrates Basquiat's restless and profound perception of the world. To a bystander gazing upon "Untitled," the bold and distorted juxtaposition of color and the intentional depiction of a head--not just an empty skull, indicates Basquiat's observation of the extrinsic and intrinsic nature of the world.
Jean-Michel Basquiat's work will continue to demonstrate charismatic and profound messages to spectators for years to come. His influence is in the art movement known as "Transavantgarde," which according to wikiart.org indicates an art period known for the proliferation of conceptual art and forms expression by metaphors and emotion and demonstrates a revival of self-expressionist spirit previously seen in European art. His personal stance on the experiences of the African American community honors black folk and demonstrates how the power of the creative spirit has the capacity to deeply resonate with individuals, creating an everlasting legacy through which Basquiat is immortalized.
Page created on 2/24/2020 6:21:04 PM
Last edited 12/23/2020 11:31:40 PM
Bibliography
https://www.wikiart.org/en/artists-by-art-movement/transavantgarde#!#resultType:masonry
http://www.artnet.com/artists/jean-michel-basquiat/
https://www.thebroad.org/art/jean%E2%80%90michel-basquiat
https://www.sothebys.com/en/articles/21-facts-about-jean-michel-basquiat
https://www.biography.com/artist/jean-michel-basquiat