Voice Above Water is the story of a 90-year-old Balinese fisherman who can no longer fish because of the amount of plastic pollution in the ocean, instead he collects trash in hopes of being able to fish again.

Fisherman Wayan Nyo Dana Frankoff, with permission
The 2022 Silvia Earle Ocean Award goes to Voice Above Water, directed by Dana Frankoff and produced by Turning Tides Films and BaliProd Films in Indonesia. The film features 90-year-old Wayan Nyo who does his part to clean the ocean and make the world a much better place. The MY HERO award is the 19th award for this film.
This short, heartfelt documentary is a cinematographic wonder, with much footage of the island's long tranquil beaches, forested hills, and vast, sparkling seas. But its real gem is fisherman Wayan Nyo, who wants his ocean to be the way it used to be. He remembers all the fish when he was growing up; now along with fewer fish he's often catching plastic. Nyo's been hauling plastic out of the ocean for over twenty years. Hearing from him in his own voice is both touching and inspiring, his smile to die for. This short documentary film by Dana Frankoff is not to be missed.
The MY HERO Project presents the Sylvia Earle Ocean award each year to filmmakers who shine a light on heroes who are working to protect the world's oceans. The award is named for Dr. Sylvia Earle, a world-renowned marine biologist and activist and sponsored by MacGillivray-Freeman Films' Educational Foundation's One World One Ocean campaign. The winner is chosen each year by Barbara MacGillivray, the organization's Director of Partner Outreach, and her team.
About Voice Above Water, MacGillivray said: "With the 90-year-old Indonesian fisherman turned environmentalist/ocean plastic eliminator, that film was definitely the most personal and emotionally engaging."
Upon accepting the award, Frankoff said, "Sylvia Earle is such a hero of mine and it is an incredible honor to win the Sylvia Earle Ocean Conservation Award! Voice Above Water was made to encourage hope and motivation towards protecting our oceans. Thank you Barbara MacGillivray and MY HERO awards for helping spread awareness and sharing our film."
This year, two additional awards were granted — one for a student filmmaker and one for a film aimed at young audiences. Please visit /my-heros-2022-sylvia-earle-ocean-conservation-award-finalists-2 for more information about our winners.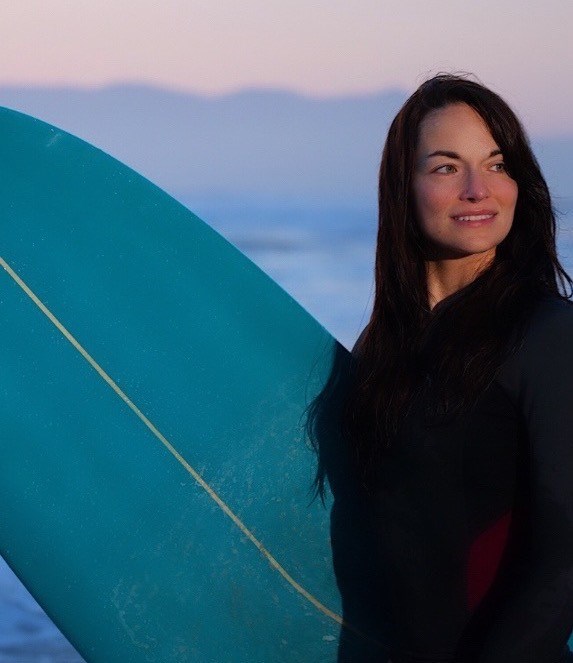 Dana FrankoffRomain Caillez, with permission
The back story
Dana Frankoff, producer, director, and writer, is an award-winning filmmaker based in Northern California. Her overall goal as a filmmaker is to tell emotional stories that inspire ocean preservation, sustainability, and global change. Dana was born and raised in Houston Texas, but, she says, she has always been fascinated with the ocean.
Dana's been telling stories and journaling since she was five. After studying writing at Emerson College in Boston, she decided to take a year off and travel. She lived in Thailand, Bali, and Australia. Her dog, Ulu, short for Uluwatu, is named after a surf break in Bali. Dana picked out the name 15 years ago after she learned to surf in Bali. (Surfing is another of Dana's passions.)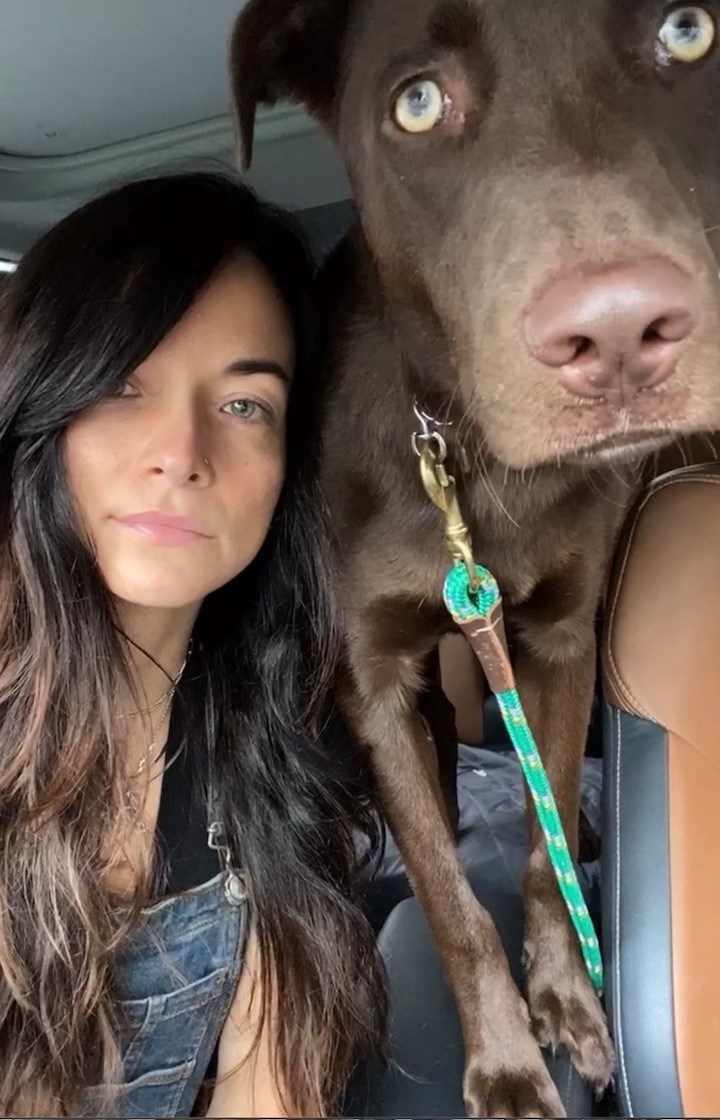 Dana and her dog, UluDana Frankoff, with permission
Then Dana's career hit the ground running. Dana had edited a literary magazine at Emerson, where, she said, her teachers encouraged her to go into publishing. She tried it and decided that she would pursue what she always deep down wanted to do—her creative passion – film.
Dana worked with Sony Animation--as the assistant to Henry Selek's assistant, at small company called Climate Cartoons and at Lucasfilm. Then she landed her current job at Pixar Animation Studios, a subsidiary of Walt Disney Studios, known for its computer animated feature films. Dana has been working in production management at Pixar for the last ten years. And since 2019, her production company, Turning Tides Films, has been making short documentary films about sustaining our oceans and earth.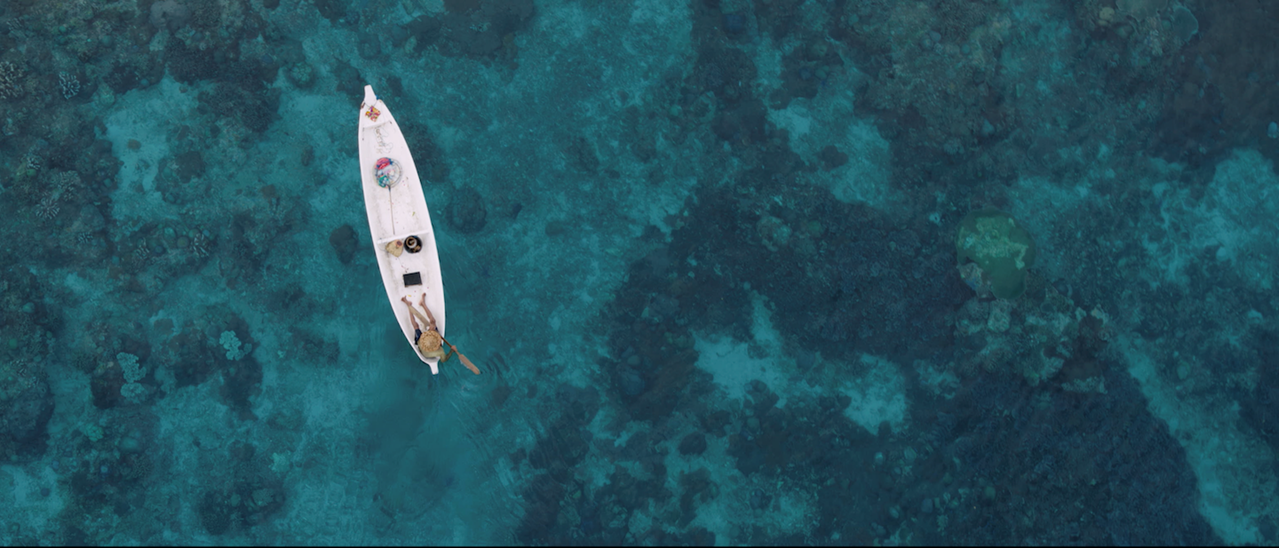 from the film, Voices Above WaterDana Frankoff, with permission
Making the film
"After traveling to places like Bali, Africa and across the United States and seeing that a lot of the world's wild spaces were no longer wild, I knew I wanted to work to protect the environment, and my heart is in the ocean," Dana told MY HERO.
During her time researching about oceans--conducting interviews, meeting over coffees, and having calls with nonprofits and scientists working on the issue, she met the people at 4ocean, a company that uses a portion of their profits to remove trash from the ocean to help eliminate plastic pollution.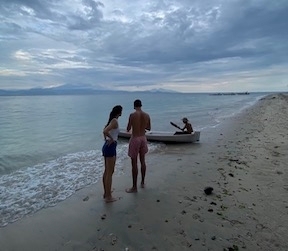 IndonesiaCourtesy of Dana Frankoff, with permission
Dana discovered the story idea for Voice Above Water when she heard that the company was hiring fishermen to take trash out of the ocean. She wanted a hopeful story and envisioned a small boat in the vast sea would tell the story and inspire hope.
Dana funded much of the film through Pixar Coop, and then used award money to pay what was still owed. And it all came together in this stunning, multiple award-winning film.
While the MY HERO award is the film's 19th award, winning the MY HERO Sylvia Earle Ocean Award means a great deal to Dana, who wants the film to be available for educational access by community leaders, organizations, mentors, students, and teachers. One of Dana's favorite activities, she said, is going into communities to talk about the film to start conversations and spur action. "My end goal," she told MY HERO, "has always been to bring communities together for inspiration and learning." Dana has shown the film at many film festivals and to ocean conservation community groups, as well as at a few schools. She said she would like to play the film at even more schools in the future where it can be used as a learning resource for students of all ages.
Dana and her co-producers, Omri Ben-Canaan and Eric Ebner, made a beautiful behind-the-scenes video-- Voices Above Water - Behind the Scenes--that can be viewed along with the film. As Dana says towards the end of the film,"The goal of Voice Above Water is really to bring awareness to all the plastic that is collected in the ocean and mostly it's to show that we can all do our part and not just sit and wait for others to do it." This is such an important message for our time. If 90-year-old Wyo can do it, why can't we?
When asked, "Who are your heroes?" she said without hesitation, "my parents and godparents." Dana's godfather is filmmaker and has been a big inspiration and her godmother is a career coach. "I still run everything by them and my parents," Dana added.
Still working full-time at Pixar, Dana has two films in post-production and another is currently being filmed. Dana updated MY HERO:
Guardians in the Sea, in post-production, is a film about women ocean farmers in Hawaii. We filmed women who are restoring sea plants on the Big Island, Kauai, and Maui for nutritional purposes, scientific research, and to bring native plants and sea life back to the ocean. I'm also working on a film about the history of the Monterey Bay Sanctuary and one on The Ecology Center, one of the largest sustainable farms in California.
In this pivotal time for our planet, MY HERO looks forward to showcasing Dana's films about sustaining our oceans and earth as her excellent work progresses.
Credits
Director: Dana Frankoff
Producers: Dana Frankoff, Omri Ben-Canaan, Eric Ebner
Director of Photography: Romain Cailliez
Production Manager: Reinaldo N Samosir
1st AC: I Ketut Jaya Artawan
Drone Operator: Hugo Pes Underwater
DP: Sean Gilhooley
Edited by: Romain Cailliez
Sound: Guillaume Ravenel
Colorist: Sumiartana
Talent: Wayan Nyo & Men Lama
Selected Awards for Voice Above Water:
Best Short Documentary at Banff Centre Mountain Film Festival
First Time Filmmaker Award at International Ocean Film Festival
Environmental Filmmaker Award at Coastal Film Festival
Links to more information:
For more film awards and to learn more about Dana Frankoff see https://filmfreeway.com/DanaFrankoff
See Voice Above Water – Behind the Scenes on Vimeo: https://myhero.com/voice-above-water
See Turning Tides Films' other 2021 film, Silent River, about the effects of drought on the Colorado River, on Dana Frankoff's Vimeo page: https://vimeo.com/search?q=dana%20frankoff