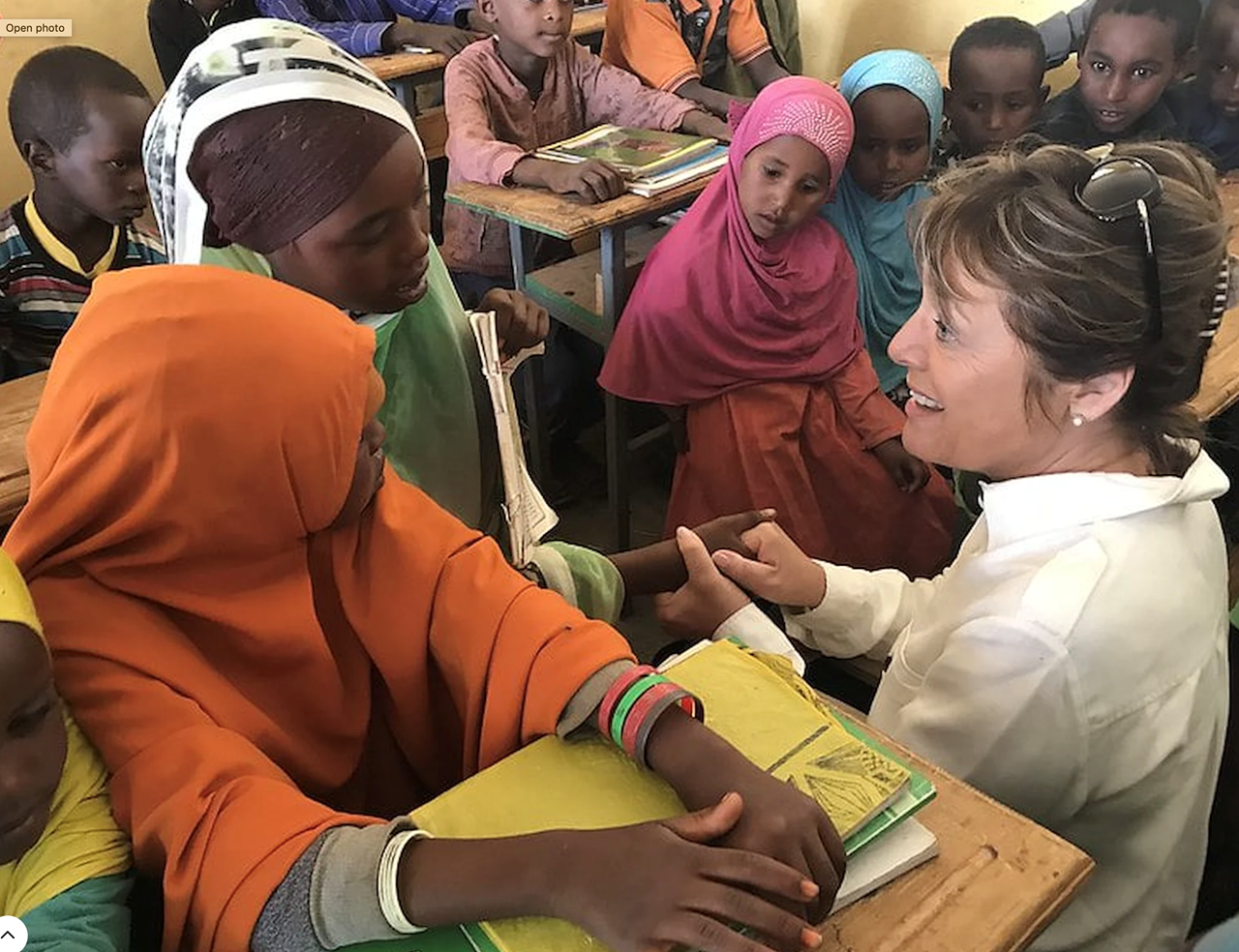 Yasmine Sherif with Ethiopian childrenPhoto courtesy of Education Cannot Wait/Kent Page
The MY HERO Project honored Yasmine Sherif with the 2020 Global Educator Award. Sherif is a champion for human rights around the world, particularly in war-torn areas and conflict zones. She has practiced human rights law with the United Nations since 1998, published a book in 2014 called "The Case for Humanity: An Extraordinary Session," and in 2016 Education Cannot Wait (ECW) a UN-hosted, global fund for education in emergencies, was launched at The World Humanitarian Summit, and Sherif was appointed to lead it. Sherif is passionate about education as a gateway to equipping boys and girls with a knowledge base that will serve them and their communities as they become adults. She tells MY HERO, "It's [education is] the key. As you turn that key, a whole sea of human rights will open for you. . . . Education is about shaping the minds and the hearts of a human being, and give them the tool to live a full life and tell their story. Every human being has to tell their story to live a full life." Sherif puts into practice the motto of MY HERO: to celebrate the best of humanity, one story at a time. Through her heroic actions on the ground, aiding displaced refugees and fighting for the rights of children, she works to ensure that they are afforded their basic human rights, enabling them to grow, learn, and thrive so they can tell their own stories.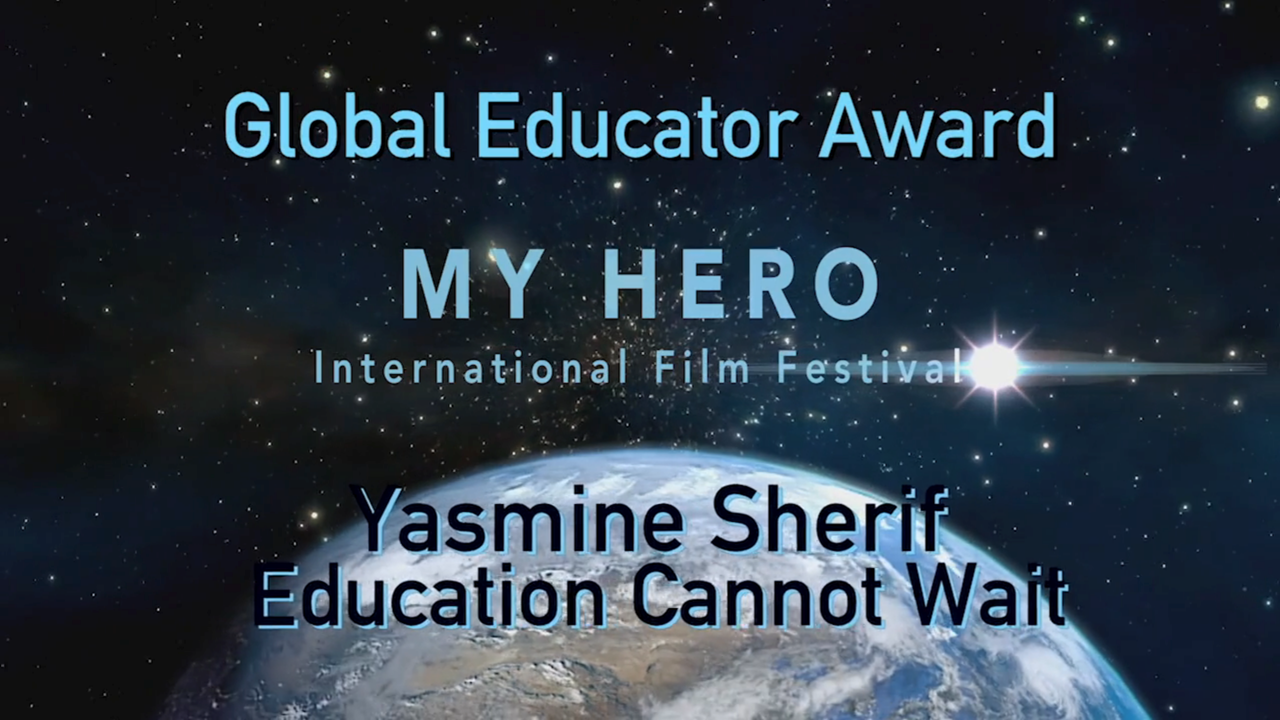 Yasmine Sherif accepting the 2020 Global Educator AwardEducation Cannot Wait and Kitty Richardson
Click the photo above to see the video tribute to Yasmine Sherif.
Yasmine Sherif, a Swedish national of Swedish and Egyptian descent, knew from a young age that humanitarianism was her calling: "The notion for me for humanity has always been with me, forever, since I was a child." In the United Nations podcast "Awake at Night," she tells interviewer Melissa Fleming that she grew up surrounded by books. The Bible, the Quran, the Bhagavad Gita, and the encyclopedia of the five world religions sat on her shelves as keys to appreciating different cultures and beliefs. Her parents divorced when she was three; her doctor father returned to Egypt, and her mother later married an Indian journalist who had been part of Mahatma Gandhi's movement. Subsequently, Sherif's own identity and that of her immediate family was multicultural.
Not only does Sherif embrace this multiculturalism, but she lives it daily by aiding individuals in crisis-affected countries across the globe. In her 20s, after graduating from Stockholm University with a master's degree in international law and legal studies, Sherif pursued her long-held desire to work for the United Nations by writing letters of interest and ultimately securing an internship under Jan Mortenson, the Swedish Under-Secretary-General for the Centre for Human Rights. She has continued to work for the UN since then, using her expertise in international affairs in such countries as Afghanistan, Sudan, the Congo, and Bosnia.
Sherif sees heartbreak on a regular basis in the unstable areas where she provides support. She says, "I've seen the loss of hope in many countries…" But she also shared with MY HERO that in the face of great adversity, she has found hope and resilience in the the brave children and refugees she has met. For instance, in 1990 Sherif was sent to Afghanistan to do a documentary for UNICEF. There, at age 26, she visited her first war hospital and saw children who had lost limbs and lost loved ones. She remembers in particular a young man named Siddiqula, who was sitting outside in the yard. "He was so sweet and he smiled. I said to him, 'What makes you smile that beautiful smile?' He said, 'I'm so grateful, because when I was playing under that tree with my friends, there was a mine, the donkey was hit, but God saved my life.'" She remembers another instance in Palestine, after the shelling and bombing of Gaza. A man had a greenhouse that Sherif could tell he cared for like a child. Tanks had bulldozed his greenhouse and everything had been flattened. However, the next day, the man went out for new seeds and plants. When Sherif visited, the plants were starting to blossom. Sherif says, "That's when I realized hope is to keep building back better. 'With every stone you throw at me, I'll build a castle.' And that's what he did. They are my greatest teachers, the ones who suffer, that I have met out there. They teach us a lot about hope, perseverance, and building back better."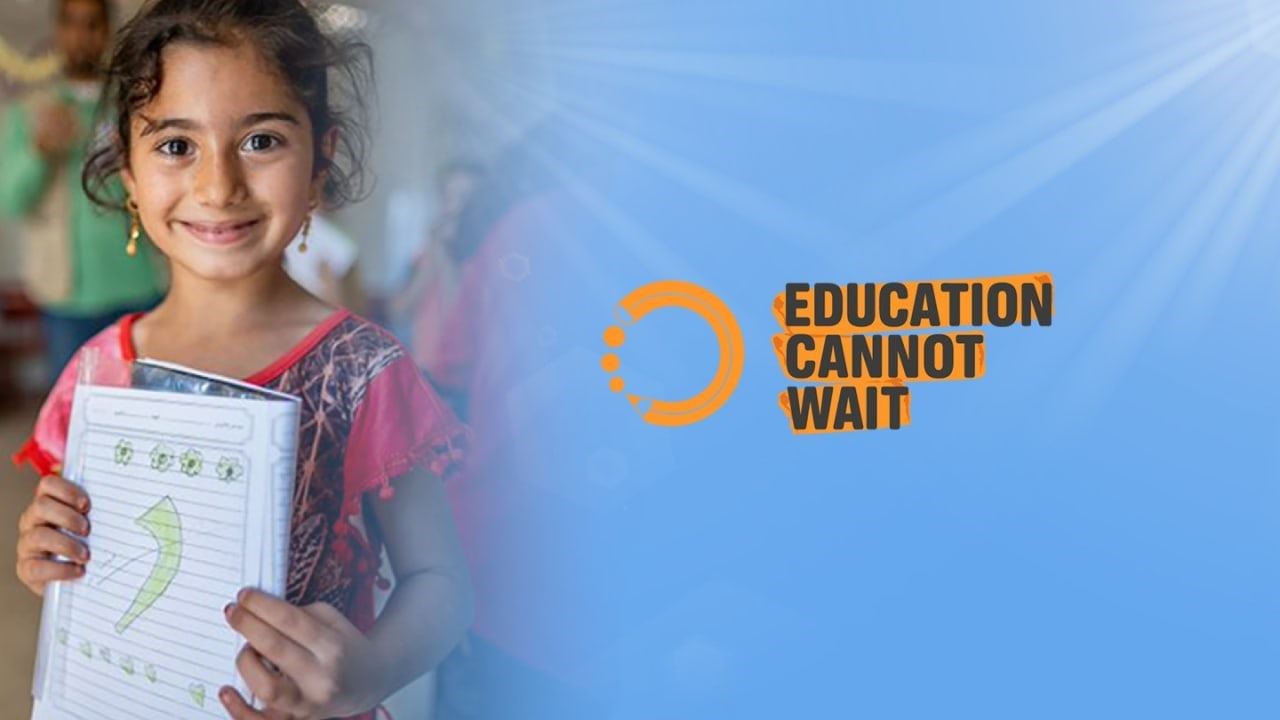 Education Cannot WaitPhoto courtesy of UNICEF
Lately, Yasmine Sherif has focused her efforts on children, and particularly a child's right to education. In 2016, she was appointed to lead Education Cannot Wait (ECW), which is a global fund for education and emergencies. Through her work with the UN, Sherif is intimately aware of the lack of urgency when it comes to providing education to areas of conflict and crisis. Children are given food, water and shelter, but education often takes a back seat or is slow to progress. Sherif says, "What about their minds? What about their future? Getting a certificate? Graduating? Becoming doctors, becoming leaders of the country? They are not investing in that. So that's why we were created." To date, Education Cannot Wait has invested in 33 countries in need of dire support; the fund has mobilized a record $700 million from governments and private sectors in just over three years.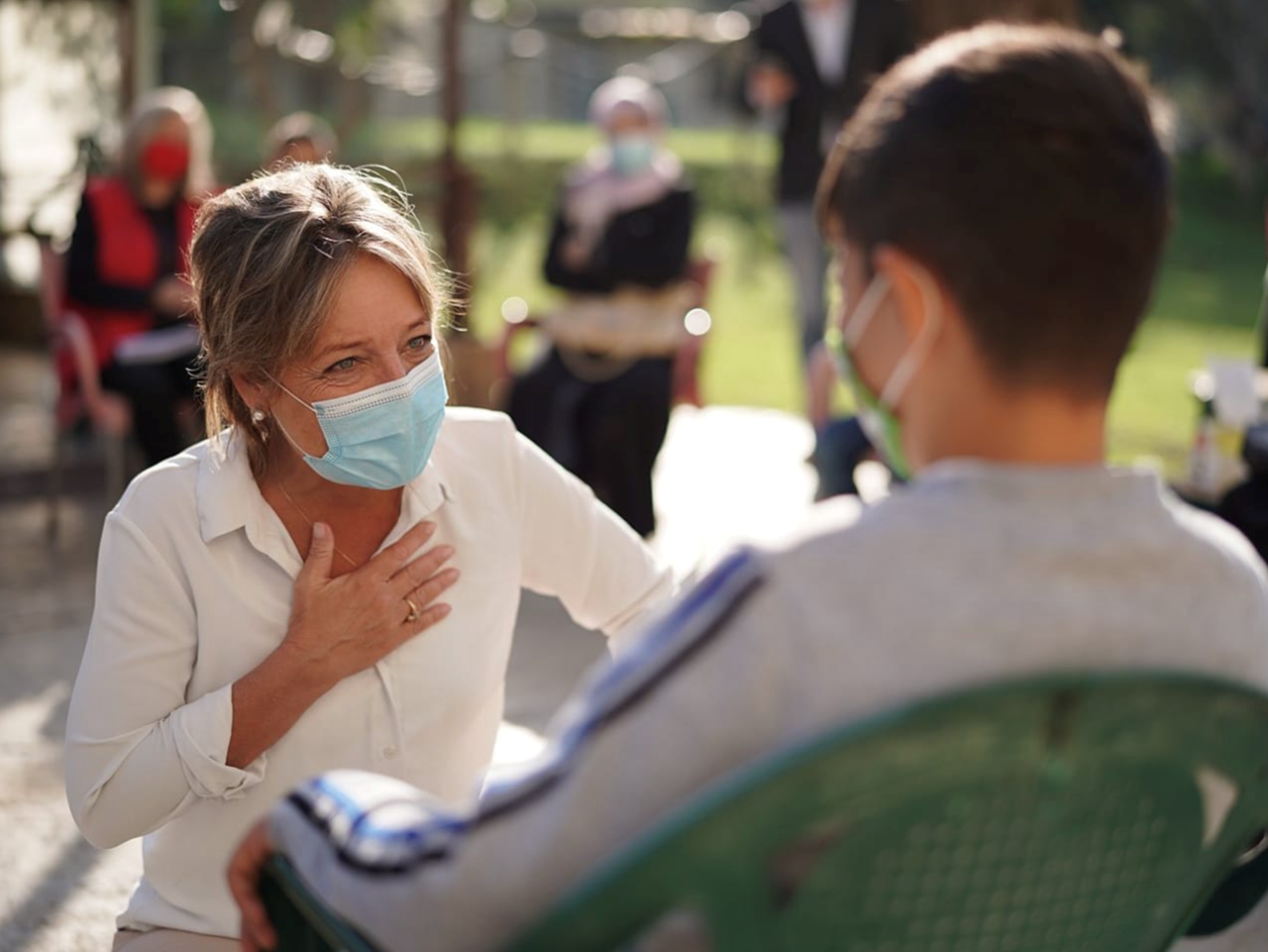 Yasmine SherifPhoto courtesy of Education Cannot Wait/FouadChoufanyCurrently, one of the biggest global threats is the COVID-19 pandemic, which is halting or slowing down education around the world. Yasmine Sherif knows first hand that this crisis greatly impacts communities that lack the infrastructure for online learning. She says, "In a country like Afghanistan, you go outside Kabul, there's no wifi. You can't connect." She does see technology as essential for students around the world in the future, including in areas that today suffer from poor infrastructure. Education Cannot Wait is addressing the COVID-19 crisis by providing and deploying funding, particularly to support those children most impacted by school closures: girls, refugees, displaced and migrant children, children with disabilities, and children with trauma or mental health issues. The future of technology can be a powerful tool for the world's children.
Sherif's book, "The Case for Humanity: An Extraordinary Session," opens with a quote by Leonardo da Vinci: "Learn how to see. Realize that everything connects to everything else." In this beautiful book, Sherif creates a UN assembly made up of time-honored heroes from around the world, utilizing their voices and lessons with real quotes to disseminate their collective wisdom. In her book, political leaders, humanitarians, artists and poets of all ages assemble at the New York headquarters of the United Nations and discuss the case for humanity in a fictional debate. Sherif says, "I've spent time in the UN in the New York headquarters, and I've been in the corridors of political decision making, and I wish Martin Luther King Jr. was here, I wish Eleanor Roosevelt was here, I wish we had Rosa Parks standing here. … So I started dreaming as I was planning this book, that I want to bring them all in to the UN security council. I wanted to make that dream come true, irrespective of time and space … because the UN is my world." In the fictional debate, Sherif includes global heroes that The MY HERO Project holds dear, including Desmond Tutu, Rigoberta Menchu, and Robert Kennedy. Her pages bring to life our own call for humanity, and her heroic decades of service make her a hero in her own right, full of humility, grace and conviction.
It is with deep admiration and gratitude that MY HERO bestows the 2020 Global Educator Award to Yasmine Sherif and her dedicated team at Education Cannot Wait, who put Nelson Mandela's words into action: "Education is the most powerful weapon which you can use to change the world."

A poem by Yasmine Sherif:
I hear a whisper from deep within myself. It yearns to be heard. I close my eyes and listen:
In all that you dream to possess and achieve,
Seek to remove the "I" and the "me."
In all that you yearn to become and to be,
Seek to merge the "they" and the "we"
Beyond all that you crave, and all that you wish,
There is a greater "What shall be…"
The goal of all human life and Thee:
Humanity set free.