CONTACT: FOR IMMEDIATE RELEASE
Wendy Milette
Festival Director
[email protected]
949-376-5964
DEADLINE EXTENDED FOR 2021 MY HERO INTERNATIONAL FILM FESTIVAL ENTRIES
September 14, LAGUNA BEACH, CA - October 1, 2021 is the FINAL deadline for submissions for the MY HERO International Film Festival. The festival offers cash and prizes for inspiring short films about people making a difference in the world. Categories include Narrative, Documentary, Music video, Experimental, Animation, Trailer and Excerpt.
Separate divisions honor Elementary, Middle School, High School and College students as well as Professionals. (Students can submit their work for free by emailing Wendy Milette at [email protected].)
Learn more about our Special Awards and enter your work today!
This year we are inviting youth reporters to create short documentaries on heroes making a positive difference in their community with the
WOJ YOUTH REPORTER AWARD! CLICK ON THE LINK TO LEARN MORE: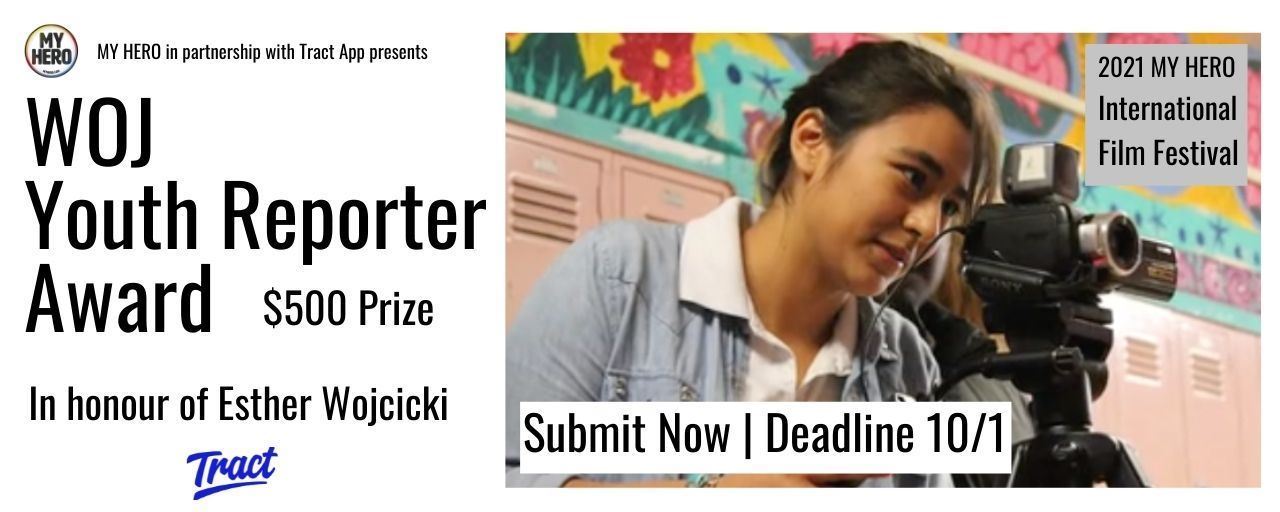 The WOJ Youth Reporter Award is presented by Tract in honor of its co-founder Esther Wojcicki, an outstanding media arts educator, author and reporter. The Award comes with a 500 dollar prize. The winner will be selected by Tract and Esther Wojcicki.

Dan Eldon Activist AwardMY HERO
The Dan Eldon Activist Award offers a $500 cash prize to a filmmaker whose work highlights an activist or activism. The award is sponsored by Creative Visions Foundations founder Kathy Eldon and Amy Eldon Turteltaub, mother and sister of the slain 23-year-old journalist, who died in 1993 on assignment in Somalia in 1993.

Ron Kovic Peace PrizeMY HERO
The $1,000 Ron Kovic Peace Prize is awarded to a filmmaker whose work promotes peace. The winner is chosen by Ron Kovic, a U.S. Marine-turned-peace activist, artist, and author of the New York Times bestseller Born on the Fourth of July, which became a major motion picture.