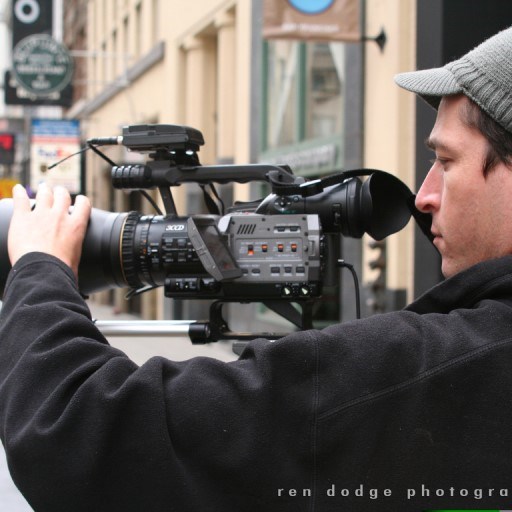 Gabriel Diamond, FilmmakerGabriel Diamond, with permission
Gabriel Diamond's short film, Strangers in Boxes, brought a big smile to my face. Twenty-three strangers—mostly social activists—erre talking on Zoom about what they miss during the height of lock-down during the COVID pandemic, using their cell phones to show each other their families, their children in the kitchen, and—of course, the work they were doing in the field. The Zoom experience was facilitated and directed by Gabriel Diamond and produced by the Skoll Foundation.
The message? We are not in this alone and connection can happen. Strangers can connect with each other in surprisingly profound ways, despite being from different countries and living very different lives. Strangers in Boxes is a life-affirming testament to how the power of human connection can transcend language, distance, a global pandemic, and the limitations of technology, and how people anywhere can be united by their common urge to create a better world.
The film won First Place Sheltering Award in My HERO's 2021 International Film Festival and won best short documentary at the Amelia Island Film Festival.
Another powerful film that Diamond recently submitted to MY HERO Film Fest, The Color of COVID, won 1st Place Social Justice Award. Directed by Diamond, edited by Patrick Barnes, and produced by Phil Collis for the Skoll Foundation, the short film is a visual essay about the disproportionate impacts of COVID-19, set to the words of award-winning spoken word artist, Darius Simpson.
Diamond told MY HERO, "I lived in a large communal house with eight other people in Berkeley, where Darius Simpson (the poet) was one of my housemates. His work inspired me to make this film."
Like Strangers in Boxes, the film asks the big questions: What if no one was disposable? During a time when most of us took refuge inside, what about people for whom there is no inside? And what about students who have no kitchen table for at-home learning?
Here we are in a global pandemic that is incapable of discriminating and sees all of us the same, Darius Simpson tells us. Yet Blacks and other communities of color are unduly affected: U.S. Blacks, for example, have a 6.7% higher COVID mortality rate than whites. Not to mention the unequal economic impact.
Diamond's series of films during COVID, like his earlier film, The Space Between Us, are, as he states, "a radical experiment in the power of bearing witness, inviting vulnerability, and sharing movement, in a time of social distancing and racial reckoning."
Diamond's Short Documentaries
Diamond has been submitting his award-winning short documentaries to MY HERO's International Film Festival for the past five years and—no surprise, his films have been big winners every year.
In 2018 he won two awards for films about social equality, including the prestigious Best of Fest for Still I Rise, an experimental film that illustrates the a video poem spoken by Maya Angelou, set to music by Bobby Brinkerhoff and edited by Patrick Barnes.
That same year his film, Educate Girls, edited by Matthew Beighle, won MY HERO's Dan Eldon Activist Award. Educate Girls shows the untiring efforts of a non-profit organization in India that is tackling gender equality by reforming educational practices in a region in which most girls don't finish primary school.
Gabriel Diamond MH Film Festival 2019photo by Michelle Falerne
"What an incredible honor to receive these awards and recognition from MY HERO," said Diamond. "I feel like it's the Oscars for impact film-making. Thank you to MY HERO for curating and celebrating uplifting films from around the world. I'm delighted to be part of this community."
We love having Diamond as part of our MY HERO family. We have many of Diamond's films in our collection, including his powerful personal projects such as Dance with Me and Rise/Vulnerable Rally (co-directed by Candice Holdorf), which engage the viewer in powerful experiences that "bring strangers together, increase empathy and play." These two amazing films bring out heroic moments between random strangers, showing us a place for healing and connection.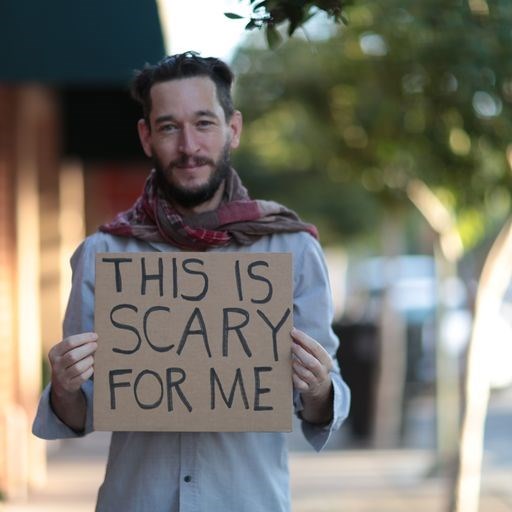 Gabriel Diamond in Rise/Vulnerable RallyGabriel Diamond, with permission
"If you were to make a sign that reveals something about yourself that you want to hide from the world and hold it in public, what would it say? That's the question Rise: Vulnerable Rally poses. And here, connected by our common humanity, we discover, even in our vulnerability, that we are not alone." Vulnerable Rally is the backdrop of Mikey Pauker's song, Rise, which too is rallying cry for its listeners to rise up both in strength and in vulnerability—a sentiment echoed by the song's refrain, "Don't let this world lock you out of your soul." The music video won 1st Place Music Video at MY HERO Film Fest in 2018. Rise/Vulnerable Rally went viral on social media with more than 1.2 million views and 9000 shares on Facebook. Diamond and Candice Holdorf co-directed the film and co-created the first rally in Fall 2016, and since then they've held rallies in many US cities.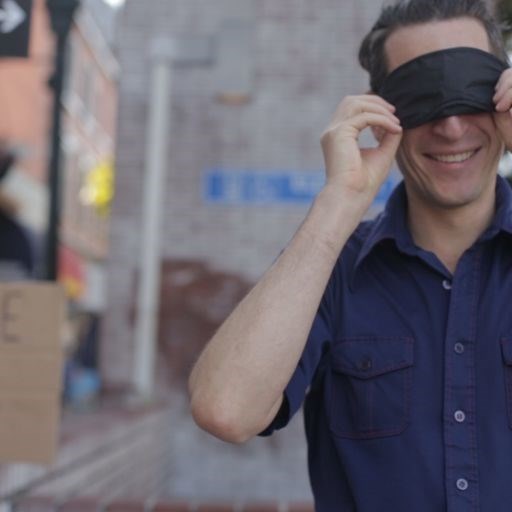 Gabriel Diamond in Dance with MeGabriel Diamond, with permission
Then, in 2020, another of Diamond's experiments in personal vulnerability, Dance with Me, won First Place Experimental Film at the MY HERO International Film Festival.
Filmed on a street corner in downtown Oakland, arms outstretched, with a blindfold over his eyes and a cardboard sign that says: "Dance With Me?" Diamond proceeds to dance by himself, on film. Thoughts go through his head, "Is the world good? Are people going to hurt me?" Vulnerable, too, a young man joins and dances for a time; an old woman's face lights up with joy in the embrace. A group of school kids go by, and one joins in, to the delight of the students. One by one, we witness people of all walks of life join Diamond in his dance.
Diamond writes about the film:
My dream is to live in a world where people are safe and free, where we listen deeply to each other, and take nothing for granted, where we are judged by how we show up, not how we look, where we are available to be filled with awe, where we can fall in love with a stranger and then say goodbye just as easily. Here's my humble experiment in creating that world.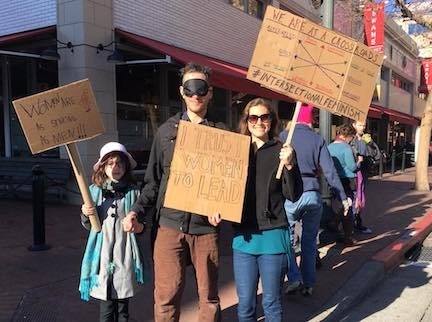 Women's March with Lizzy Diamond, Gabriel, and Candice HoldorfGabriel Diamond, with permission
Diamond's Journey
Diamond writes, "When I was a teenager and people asked me what I wanted to do when I grew up, I'd say 'I want to save the world.' But at some point along the way, I stopped believing that was possible."
Growing up, his road was not always an easy one, but like so many with big dreams, something happened when Diamond was a teenager that turned his life around.
He told MY HERO:
I was a troubled youth. Then in 9th grade I started taking video production classes at KDOL TV, the Oakland Unified School District's TV station. The next year it became an after-school and summer job that lasted throughout high school. Film-making took me off the streets and taught me to be more creative. Learning I could produce videos collaboratively and to find audience was a real boost. Anyone in the Oakland Public School District could put programs on TV: Most young people didn't have access to the power media in that way in the late 1980s. I was lucky to have found that outlet at such an impressionable age. I did this all through high school.
Born and raised in Berkeley and Oakland, Diamond obtained his degree in Visual Media at New College of California in San Francisco, studied acting at Trinity Rep Conservatory, was a founding member of Cutting Ball Theatre, and has acted on numerous Bay Area stages. Whether it be film-making, acting, or dance, Diamond strives to promote empathy, magic between strangers, and inspiring ideas to rediscover our common humanity.
In 2005 Diamond co-founded The Youth Sounds' "Factory", a Bay Area film-making lab designed to mentor young people. His mentees include an Emmy winner and winners of many national film festivals.
His short documentary, "We Are in The Field: Adventures of a Nepalese Animal Rights Activist," shot in Nepal, is being developed into a series of short films with primatologist, Jane Goodall.
In 2006, Diamond started making films about nonprofits and people making big changes in the world. He began to travel around the world and tell stories about heroes: "I even had a benefactor who wanted to help support the series," he told MY HERO, "but identifying people who were both inspiring, relatively unknown, and doing work that lent itself to film felt like a full-time job." Then he saw an ad for Video Producer with the Skoll Foundation, an organization that had a portfolio full of grantees with stories waiting to be told.
Diamond, who has been a filmmaker since he was 13, is currently the staff filmmaker for the Skoll Foundation, run by Jeff Skoll. The organization showcases social inovators making a difference in the world. His subjects have included Malala, Al Gore, Kofi Annan, Bono, Jimmy Carter, Annie Lennox and many more.
The Skoll Foundation shares MY HERO's commitment to using the power of stories of heroes working to make a difference in the world. On the foundation's website, their home page describes their important work: The Skoll Foundation catalyzes transformational social change by investing in, connecting, and championing social entrepreneurs and other social innovators who together advance bold and equitable solutions to the world's most pressing problems.""
A dedicated humanist, the work of decolonizing storytelling in philanthropy has a deep personal resonance for Diamond. In his article, More Proximate Storytelling in Philanthropy, he reflects on his role as a Skoll filmmaker:
I have a dream job. I get to travel the world making films about inspiring change makers doing incredible work on many of the world's thorniest problems: environmental degradation, human rights, poverty, water and sanitation, peace building, and gender equity. Recently though I've become aware of how my presence as a filmmaker may contribute to the colonialism which has created many of these problems in the first place.
For a white American man to parachute into these communities, where I have little connection, and extract their stories for a mostly foreign audience can be ethically problematic, even if there's informed consent and an eagerness from all parties to have the story filmed. Despite my best efforts to always ensure consent to film and to avoid presenting people as helpless, or lacking agency, I've become less comfortable with my role in this status quo. If this is my dream job, then why the cognitive dissonance?
"As a white male filmmaker at the Skoll Foundation," Diamond writes, "I have access to power, privilege, and a set of experiences that shape my world view. And I have blind spots and biases."
In October 2019, just before the pandemic, he led a bootcamp for emerging filmmakers in East Africa in partnership with Docubox in Nairobi, Kenya. Part of their goal was to help connect local filmmakers to the NGOs and social enterprises in the region. The filmmakers were paired with NGOs and produced films about the NGO's work. These films can be seen in Diamond's article, Towards More Proximate Storytelling In Philanthropy.
Concerned that in documentary film-making the producer's agenda or point of view can get in the way, Diamond's films typically don't use narration or voice over, letting his subjects speak for themselves. "It's harder to edit," he told us. "It's about sharing authority, letting people tell their own stories, in their own words," adding, "At the Skoll Foundation, we work to hire local filmmakers for our projects whenever possible."
Heroes and Inspiration
Diamond told MY HERO, "Working at Skoll, my dream came through for me. I met incredible social change leaders and global activists; we'd spend hours together in the field, driving down bumpy roads and I'd be thinking: What do we have in common?"
Inspired by the people he filmed, he thought about how one person can create meaningful change and observed how these people were in for the long haul, working to shift entrenched unjust systems.
We asked Diamond to tell us something about his heroes:
"There were many times while interviewing people for Skoll films that brought tears to my eyes," he said, pausing to think about his answer. "But really, it's the people on the ground that really inspire me, the community health workers, the paralegals, the teachers, journalists, activists… Through my work I have met hundreds of people doing the daily work of bringing social justice to communities, people who are not in the spotlight. Those people are my heroes and I try to bring in their voices and stories whenever I can."
Then, "Bryan Stevenson!" he said with conviction. Stevenson is the founder and Executive Director of the Equal Justice Initiative, a human rights organization in Montgomery, Alabama. Mr. Stevenson is a widely acclaimed public interest lawyer who has dedicated his career to helping the poor, incarcerated, and condemned.
"He is a superstar and unsung source of love and justice. His book, Just Mercy – and the film... I wouldn't be surprised if he wins a Nobel Peace Prize."
We asked him if there was anyone else that stood out for him, someone in his family, for example:
My mom, Sandy Diamond. I was very close with her. She was a self-described hunchback (standing just 4'6"), and a calligrapher, poet, playwright. As I was growing up, we'd go to craft shows together and I would help her set up her booth where she'd sell quotes that she'd calligraphed. She was a voracious reader with a great sense of humor and unique sensibility, and would curate poignant quotes from authors and activists. What I'm doing--making films that highlight peoples work and vision, contains tidbits of my mother's artistic messages of justice, beauty, and healing. I'm part of her lineage in that way.
To give the reader some insight into Diamond's reflective brilliance and his deep alignment with the missions of MY HERO, when Kofi Annan came to the Skoll World Forum, Diamond had time for just one question: "So I asked the one question that we ask when we have one question: What is the world that you're working to create?"
Lastly, we asked Diamond, "If you could share one thing with aspiring filmmakers, what might that be?" "Find the stories that need to be told, the ones that scare you, inspire you, follow your own unique wild vision. There's no failure if you do that."
Diamond continues to travel the world making powerful films that focus on equity, vulnerability, and improving our communities. His portfolio site acts as a collection of his films and is another destination for people to discover his work.
Other Notable Films and Projects:
Less: Losing is Everything, is Gabriel's feature length narrative film, shot in San Francisco about a man who chooses to live on the streets, living off what others throw away.
Gabriel is also a movement facilitator and co-leads Blindfolded Contact; Surrender To Your Inner Sight in the Bay Area.
Along with his partner Candice Holdorf he holds occasional Vulnerable Rallies at conferences, street corners, and workshops.
For more films, information, and inspiration:
Outsider Films: Gabriel Diamond's Portfolio Site
Gabriel Diamond MY HERO Filmmaker Showcase
Gabriel Diamond Wins Big at MY HERO Film Festival (2019)
Unsettling Nonprofit Filmmaking by Gabriel Diamond