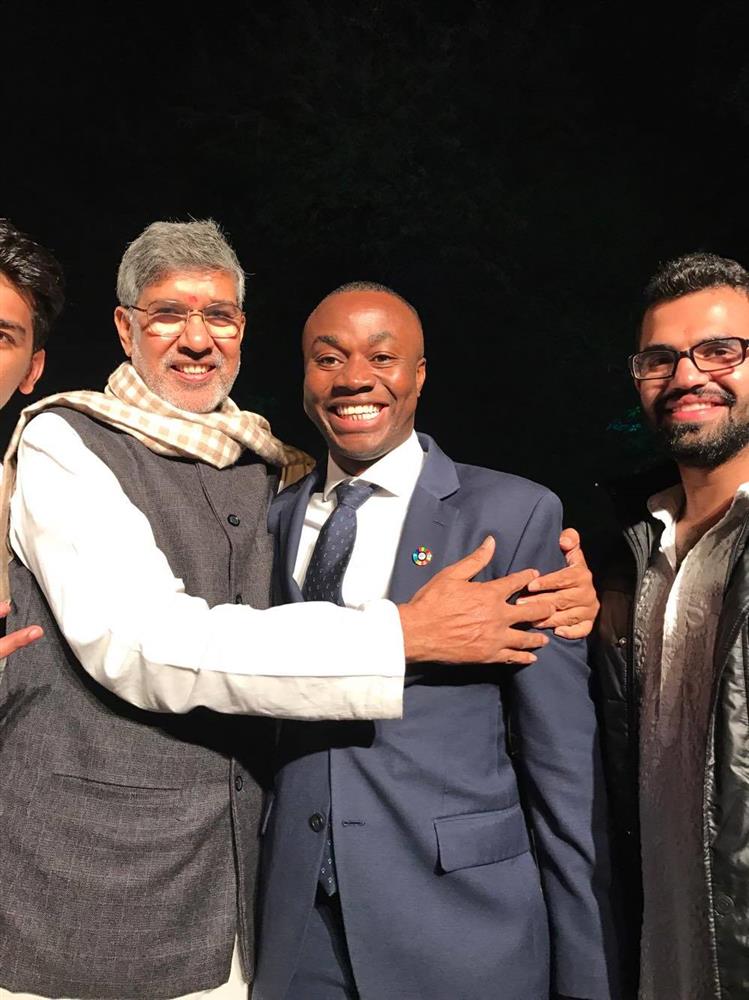 Kailash Satyarthi is the embodiment of The MY HERO Project purpose. He is a timeless hero, a true champion for children, and a gift to those he touches. Since 1980, he has been fighting to end child labor and human trafficking around the world. He and his foundation have rescued over 85,000 children worldwide I had the honor of first meeting this wonderful man in 2015, at the United Nations General Assembly, "A World at School Town Hall, where I spoke about my experience of being a child soldier in Sierra Leone, and where he was being honored for his tireless effort to end human trafficking and child labor.
A few months after our first encounter I was in Colombia teaching English to underprivileged youths, and I was nominated and selected to serve as a Youth Commissioner on a high level panel called, "The Education Commission on Financing Global Education." To my surprise and excitement, I learned that Kailash was also a member of this panel. When I found myself sitting next to him a few months later, and we were delivering our report to UN Secretary General Ban Ki-moon, Kailash and I picked up, right where we had left off...
Kailish told me about his new campaign, the 100millionfor100million Project. I immediately wanted to become involved.
"Our goal is to get 100 million children and people with access to resources to pledge to help another 100 million without access to quality education." How could I not be part of this project? Yes was the word that soon followed when he asked if I would like to be involved.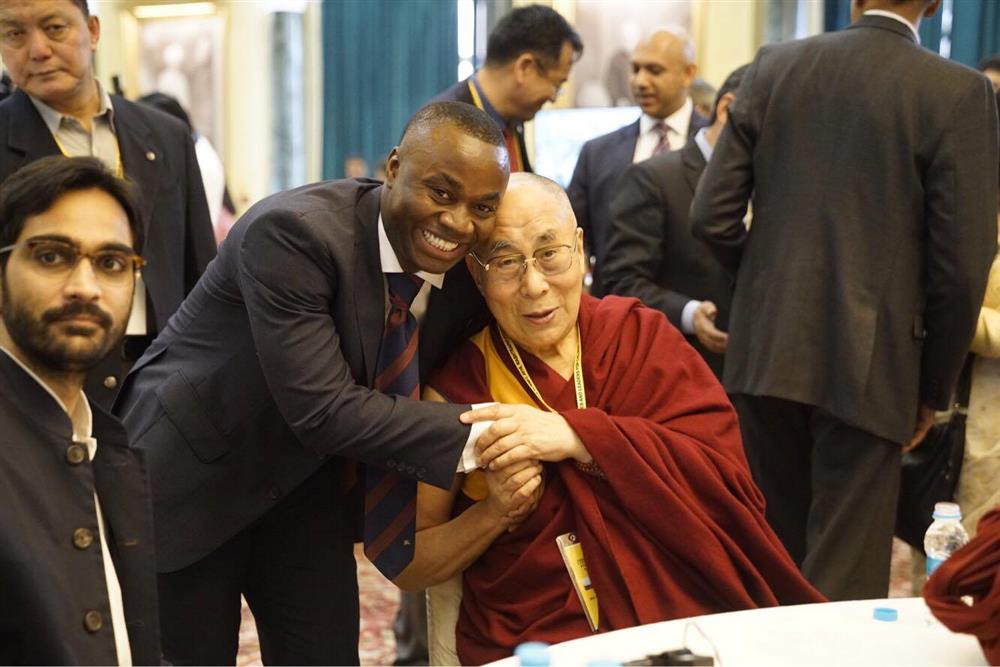 On a long flight to Dubai and then New Delhi 3 months later, I couldn't hold my excitement. I was going to attend the launch of Kailish's program, 100millionfor100million. My first excitement was that I was going meet my hero, his holiness, the Dalai Lama. Three hours after my arrival, I found myself at the Presidential Palace in New Delhi for the opening ceremony of this wonderful event. This was the largest ever gathering of Nobel laureates and world leaders. And there I was, sitting and speaking to some familiar faces of activists and world leaders that I have worked with over the years. Being in a room with so much of India's history, I began to wonder if something would actually happen by the end of that event; if the anger felt by everyone in that room regarding child labor and human trafficking would not just be a viral moment of anger but something that would transform into a movement for change.
"We all sometimes find ourselves asking God to bring world peace. But if I were to encounter God or any of his messengers and ask them to bring world peace, they will not be able to help us because war is a by product of man. And only man can bring peace. And Peace must first begin in the mind, body and soul." Those were the words of a man who has given so much love and care to the world, his holiness the Dalai Lama.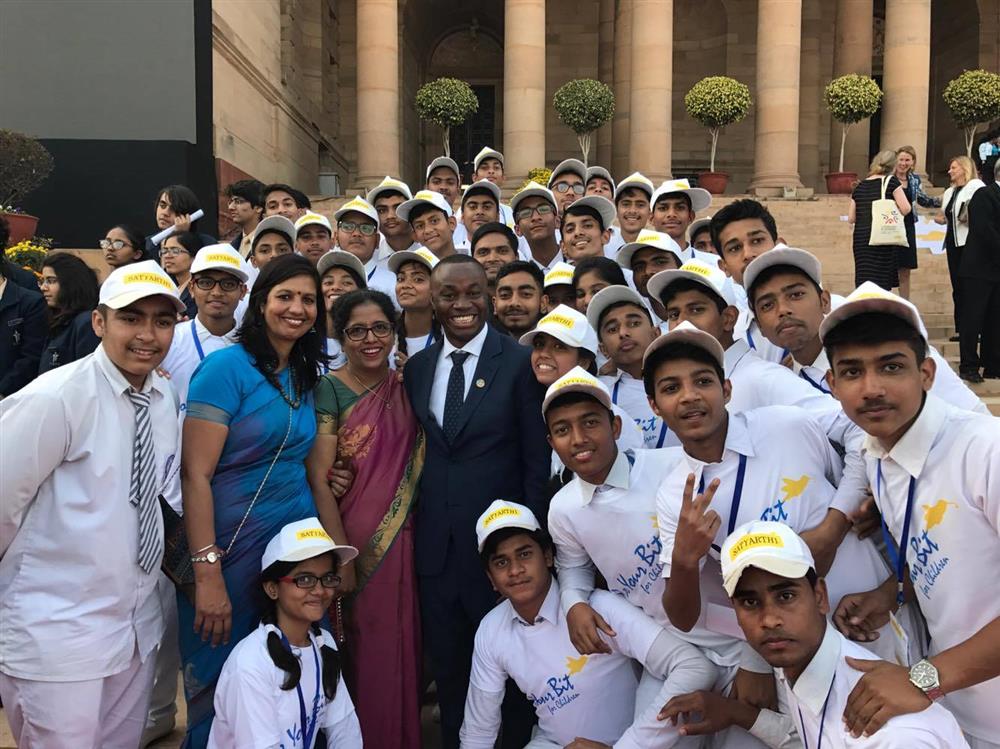 The first words that came out of my mouth when I spoke with his holiness was "you are my hero." His response was something I was unprepared for. "You my child are the hero. For despite what you went through you keep on fighting to bring hope to others." I am not someone who cries often, but I would be lying if I said tears had not filled my eyes.
Empowered by his words and as a representative of youth around the world who have been denied access and opportunity, it was my responsibility to ask those present to think about the urgency of the issue at hand- to deliver on the promises made on that day.
The collective power, courage and strength of the people in that room were capable of effecting change... and change they must effect.
When the people that have been rescued by Kailash and his foundation began to speak about the horrors they have experienced, I again pleaded to the leaders not just to listen to their stories and respond, but to listen - to understand - to walk in their shoes, feel their pain and desperation. Then, they must ask themselves - how much urgency is needed to bring an end to the injustice and inequality face by the marginalized children of the world?
I left that summit as a youth leader pledging to do whatever is needed of me to help Nobel laureate Kailash continue this huge movement of getting 100 million people to help another 100 million gain access to quality education.
Page created on 12/27/2016 9:30:44 PM
Last edited 7/7/2020 7:57:52 PM