FOR IMMEDIATE RELEASE
HIGH SCHOOL DOCUMENTARY WINNER: TRANSPARENCY: Becoming Oliver by Tessa Grace Morell
Tessa Grace Morell from James Wood High School won the Tract WOJ Youth Reporter Award for the category High School Documentary for her film, Transparency: Becoming Oliver, an experimental short film made to visually accompany the original poem "Becoming Oliver" written by Oliver Marino. It explores Oliver's decision to transition and his 'power struggle between confidence and acceptance'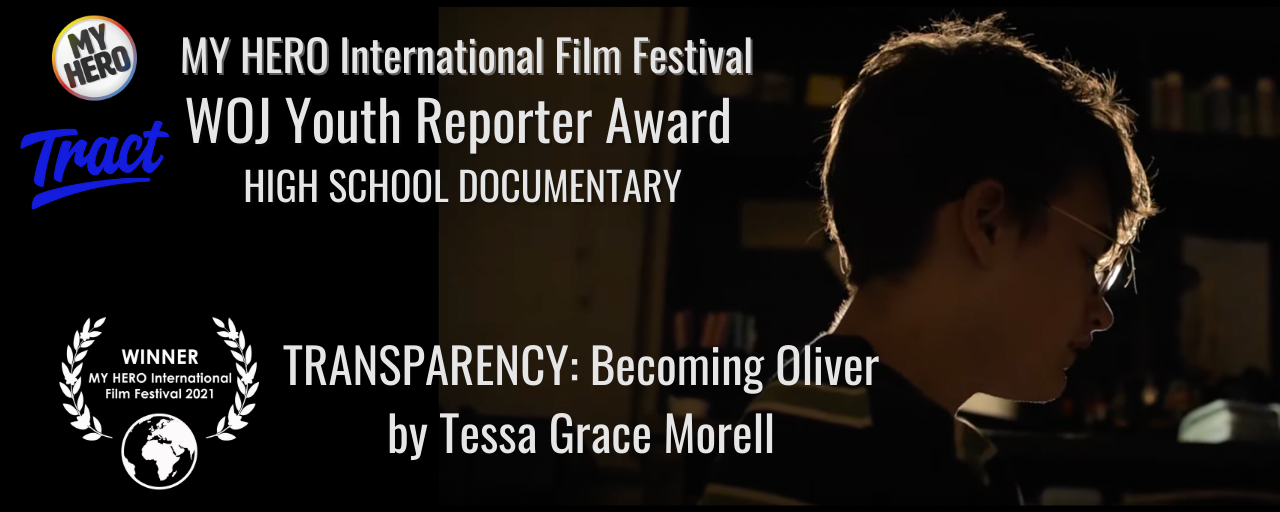 Becoming OliverMY HERO
At the 17th MY HERO International Film Festival, The WOJ Youth Reporter Awards were presented by Esther Wojcicki of Tract. Wojcicki is an educator, author, and journalist committed to transforming education throughout the world.
Said Esther: "I am so impressed with all of the students that have entered these films. I had a very tough time picking the winners as they were all just outstanding. I chose this film because I thought it represented a very important decision/moment in a young person's life. Many people today are struggling with their identity…this film does a great job of explaining how it feels for a young person to make a change and to accept and believe in themselves and this is an important thing for all young people to do as they grow up."
On receiving the award on behalf of Tessa, said her mother, Jennifer Morrell: "Thank you so much. We are so grateful, and Tessa is so excited. This is a passionate subject for her. We have known Oliver since he was 8. He has been a part of the family for a long time and (his journey) has been a challenge and a joy."
At a later date, Tessa told MY HERO that: "It was actually Oliver's idea to make the video in honor of Pride month because it had been pride month at the time of filming. After hearing the piece he wrote, I just knew it would be a great video. We actually ended up filming the whole thing in about 24 hours so we're very excited that the film has been successful!"
Watch the 2021 MY HERO International Film Festival WOJ Awards HERE.
Other recipients:
High School Creative - "As An Asthmatic" By: Alayna DeGraef, Elise DeGraef, and Bailey Revering | In-Progress | USA A video short about the impact of vaping on youth. View the full film at: /as-an-asthmatic
Middle School Documentary - "Thank a Hero: Maurice Hilleman" By: Jasmine Blossom Martoglio, Aurelia Sunshine Martoglio | Batchelor Middle School | USA. This is a documentary about an unsung hero named Maurice Hilleman who created an amazing amount of vaccines and made it possible for modern vaccines to work. View the full film at: /thank-a-hero-maurice-hilleman
Call for Entries for 2022
The WOJ Youth Reporter Award offers a wonderful opportunity for youth reporters to share their short films and to be eligible for prizes! The award is presented by Tract in honor of its co-founder Esther Wojcicki, an outstanding media arts educator, author and reporter. Short films, ten minutes and under must be submitted online to The MY HERO International Film Festival by October 1, 2022 to be eligible for this special award.

The Award comes with cash prizes up to $500. The winner will be selected by Tract and Esther Wojcicki and announced as part of the 18th MY HERO International Film Festival in 2022.
To find out more about the WOJ Youth Reporter Award go to: myhero.com/the-woj-youth-reporter-award
Add any story, art, film and music to our global learning project: myhero.com/Start
MY HERO has Media Arts Resources and mentors to help you get started: myhero.com/MediaArtsResources
About MY HERO International Film Festival
The MY HERO International Film Festival brings together professional and youth filmmakers who honor local and global heroes working for positive change in the world. Thanks to generous sponsors, prizes are awarded to elementary, middle school, high school, college and professionals in a variety of categories including documentary, narrative, music video, animation, experimental, and more.
MY HERO2021 WinnersTo view the 2021 award-winning films, go to Winners

For more details about MY HERO's International Film Festival, please visit myhero.com/FilmFestival
Page created on 1/11/2022 5:53:21 PM
Last edited 1/11/2022 7:11:58 PM