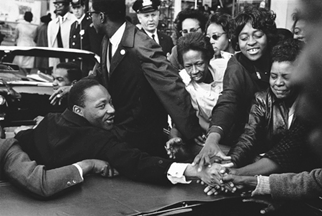 Dr. Martin Luther King was born in 1929 in Atlanta, Georgia. In a time where segregation and discrimination were the norm, Dr. King sought to find equality for fellow African Americans, and for all.
Dr. Martin Luther King, Jr. has inspired people around the world with his message of peaceful resistance and racial equality. Dr. King, himself, was greatly influenced by the success of Mahatma Ghandi's nonviolent protests in India. The dream of Dr. King lives on in those who continue to work for racial equality, in heroes like Rosa Parks and Nelson Mandela, Malika Sanders, and Marian Wright Edelman.
In 1964, at the age of 35, Dr. King became the youngest man ever to receive the Nobel Peace Prize. Four years later, on April 4th, 1968, Dr. King was assassinated in Memphis, Tennessee. But his dream did not die and his call for equal rights for all has been heard around the world.
What follows are quotes from visitors and heroes who consider Dr. Martin Luther King, Jr. their hero...