by
Jeanne Meyers, MY HERO Co-Founder and Director

from

United States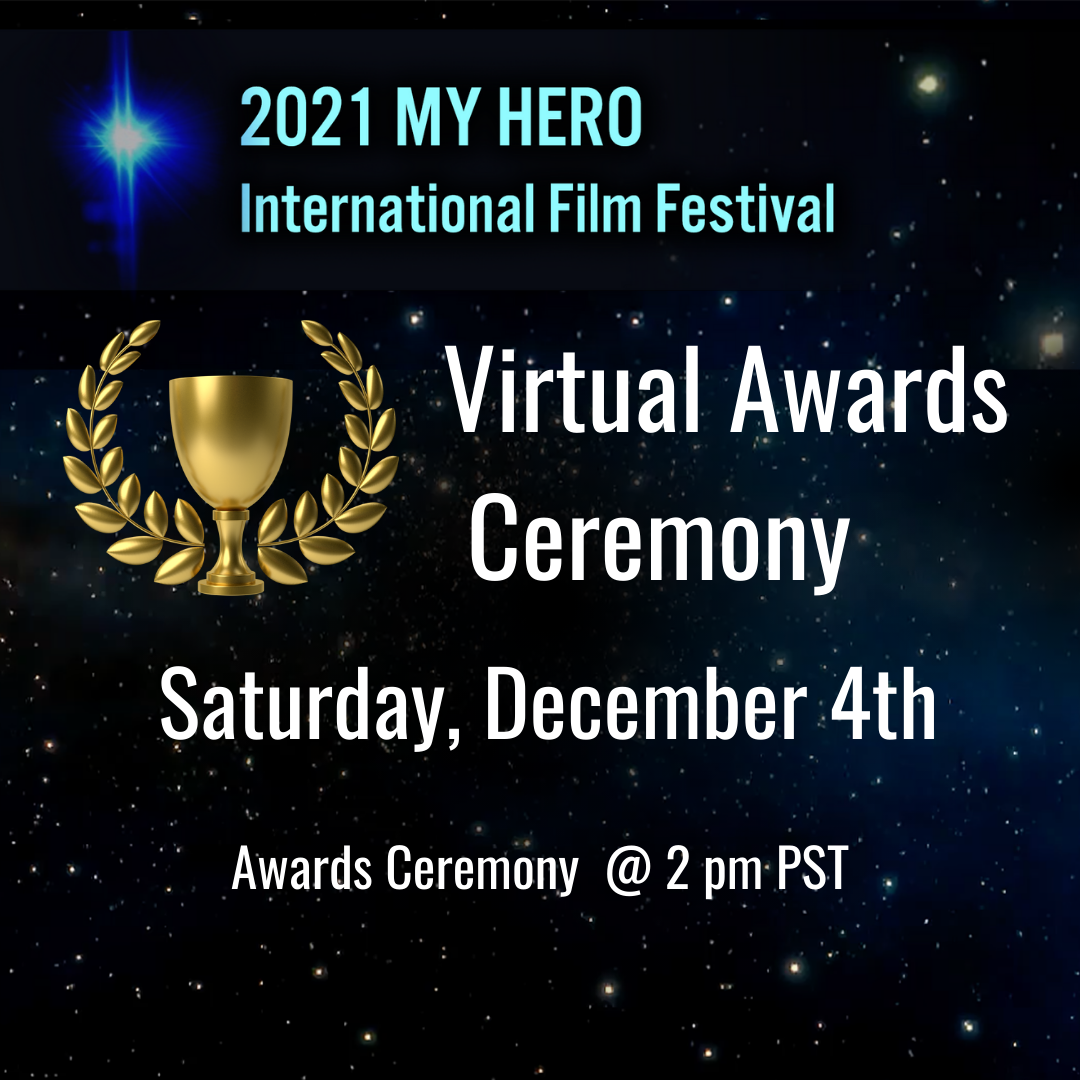 Film Festival Virtual Awards CeremonyMY HERO Project
FOR IMMEDIATE RELEASE:
November 30, 2021
This Saturday, December 4th, we are delighted to be hosting The MY HERO International Film Festival. The world-renowned festival showcases inspiring short films about activist heroes.
You, your families and friends are all invited as our guests.
This year's prize winners come from across the USA, South Africa, New Zealand, Germany, Poland, the UK, Pakistan and more. Ryan Coogler, Gabrielle Gorman, Tiffany Shlain, Frank Marshall, Albert Maysles and Kayla Briët and many other professional and youth filmmakers have won festival awards in the past
We hope you can attend our online event and see the amazing films by talented filmmakers from around the world. You will have a front row seat!
Come see our distinguished presenters:
Eva Haller, philanthropist and mentor to generations of women, will present the Women Transforming Media Award.
Kathy Eldon, of Creative Visions Foundation, will present the Dan Eldon Activist Award, which is awarded each year to a filmmaker who best uses media to bring about positive change.
Ron Kovic, renowned author, painter and activist, will present the annual Ron Kovic Peace Prize, which awards $1000 to the filmmaker who most effectively addresses the issue of peace.
Esther Wojcicki, esteemed media arts educator, author and co-founder of Tract, will present the WOJ Youth Reporter Award.
Judith Anderson, founder of The Foundation for the Contemporary Family, will present the Relationships First Award.
Come and meet our prize winners:
The Goldman Environmental Prize is being recognized by MY HERO as the 2021 MY HERO Media Award for their work supporting environmental activists working to save our environment from destruction.
Frances Moore Lappé and Anna Blythe Lappé are being awarded the 2021 MY HERO Global Educator Award for their book, "Diet for a Small Planet" and their work with smallplanet.org, changing millions of lives around the world.

Holly Carter, founder of BYkids, will receive MY HERO's 2021 Global Educator Award for her work pairing master filmmakers with youth from around the world to create short documentaries about globally relevant issues.
and more!
Special thanks to Eva Haller for her support of the MY HERO International Film Festival.
Date and Time:
Saturday, December 4th at 5pm EST / 2pm PST
For more details, please visit myhero.com/FilmFestival
Page created on 11/30/2021 1:36:48 PM
Last edited 12/1/2021 1:50:34 PM