CONTACT: FOR IMMEDIATE RELEASE
Wendy Milette
Director of Media
[email protected]
949-376-5964
FINALISTS ANNOUNCED! 2021 SYLVIA EARLE OCEAN CONSERVATION AWARD
MAY 12, 2021 – LAGUNA BEACH CA - The finalists are announced for the Sylvia Earle Ocean Conservation Award — given each year to a short film that celebrates heroes working to protect the world's oceans. The award, which is part of the MY HERO International Film Festival, includes a $500.00 cash prize.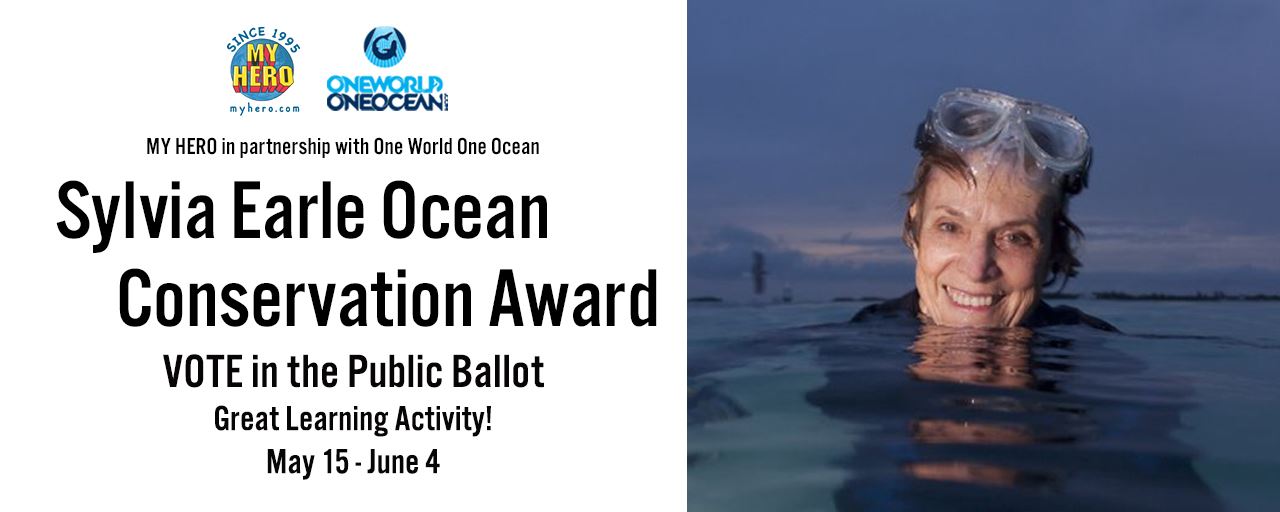 Sylvia Earle Ocean Conservation AwardMY HERO
The Sylvia Earle Ocean Conservation Award is sponsored by MacGillivray Freeman Films Educational Foundation's One World One Ocean Campaign. One World One Ocean. It is inspired by the work of renowned oceanographer and explorer Dr. Sylvia Earle. Earle is an author, lecturer, and research scientist who has logged more than 70 expeditions and more than 6,500 hours underwater. She was the National Oceanic and Atmospheric Administration (NOAA) chief scientist and currently serves as National Geographic explorer-in-residence. She was awarded the 2009 TED Prize for her proposal to establish a global network of marine protected areas called "hope spots."
Learn more about the finalists from the descriptions below:
Rise From The Cape Flats - by Shamier Magmoet
The film is about a man who lives in the heart of the notorious Cape Flats, one of the most dangerous places in the world. After one life-changing encounter upon experiencing the ocean, he now does everything in his power to advocate for positive change within his community through education and affording the youth to experience the ocean, becoming advocates and protectors thereof.
Protect What You Love | Protect Your Island - Sea Walls: Artists for Oceans - Bali, Indonesia - by Yoshitaro Yanagita
In September of 2018, a team of 19 international and local artists and changemakers gathered on the island of Nusa Penida, off the coast of Bali, Indonesia, to create a series of public artworks addressing marine environmental topics relevant to the local community and environment. The initiative's goal is to catalyze positive change for our oceans both within the local community and visitors to the Coral Triangle, one of Earth's most biodiverse regions.
OUR ATOLL SPEAKS, Ko Talatala Mai Tō Mātou Wenua (TRAILER) by Gemma Cubero del Barrio
Our Atoll Speaks (Ko Talatala Mai Tō Mātou Wenua) is a short film meditation on the environmental knowledge of the people of Pukapuka/Nassau, an atoll in the Northern Group of the Cook Islands. This short documentary is a communal film poem from the perspective of her people.
The Beauty by Pascal Schelbli
What if plastic could be integrated into sea life? Take a deep breath and dive into a world where feelings of guilt dissolve amongst the mysterious depths of the ocean. In this world, we encounter bizarre creatures and discover eerily beautiful landscapes. Unfortunately, our air doesn't last forever, and we have to realize that nature alone can't solve this issue.
MABON 'The 8 year old activist' - by Jack Davies
An 8-year-old boy, Mabon, is residing on the stunningly stark north welsh coast. He works with his mum to keep the welsh beaches clean, spending hours each week scouring the sand of plastic waste.
An Ocean of Tea - by Grégoire Scherpe
Boujmaa Guilloul, a Moroccan pro windsurfer, talks about his connection with the sea in the country of Essaouira, located in Morocco.
The Sentinel by Brendan Donovan
The population of Antipodean Albatross is in free-fall; we've lost 60% of them since 2005. In two decades, they'll be extinct. After a million years of evolution, they are now competing with our hunger. And they're losing.
Use this link to the public ballot that is offered as a learning activity:
We will announce the winner on World Oceans Day - June 8th
The MY HERO International Film Festival is part of The MY HERO Project, a 501(c)(3) organization dedicated to sharing stories of heroes from all parts of the world. MY HERO's award-winning website (myhero.com) hosts the world's largest archive of hero-themed stories, music, art, and short films.
For more information about the Sylvia Earle Ocean Conservation Award, visit the MY HERO website or email festival director Wendy Milette ([email protected]). Watch the Sylvia Earle Ocean Conservation Award SIZZLE.
Page created on 5/17/2021 7:58:04 AM
Last edited 5/26/2021 8:29:36 PM