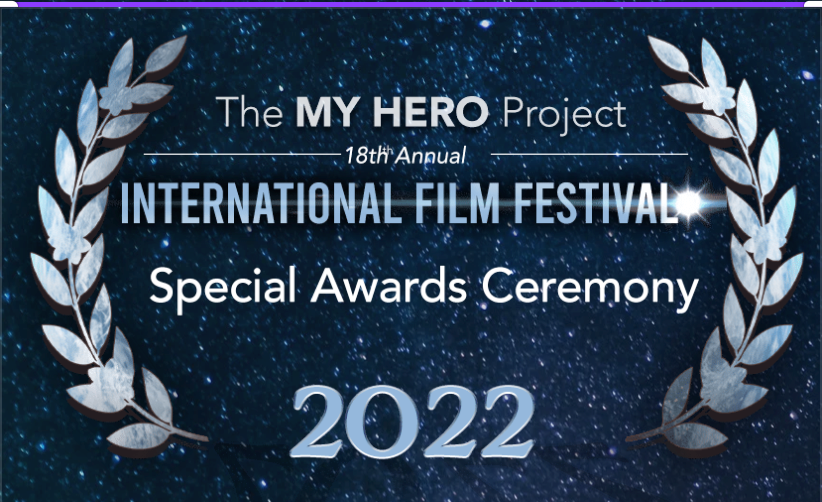 MY HERO International Film FestivalMY HERO
CONTACT: FOR IMMEDIATE RELEASE
Wendy Milette
Director
The MY HERO International Film Festival
[email protected]

MY HERO INTERNATIONAL FILM FESTIVAL SPECIAL AWARD CEREMONY - NOVEMBER 19TH ONLINE
OCTOBER 19, 2022 - LAGUNA BEACH, CA - Join us for an online celebration of the best of humanity! The MY HERO International Film Festival shines a light on activists, peacemakers, environmentalists, humanitarians, artists & others who make a positive impact in the world.
This year's festival is hosted, virtually, in partnership with the Eva Haller Salon Series. Come celebrate the student and professional filmmakers who bring these important stories to life and their heroes, from all parts of the globe.
Special Awards presenters include:

Eva Haller, philanthropist and mentor to generations of women, will present the Women Transforming Media Award. The award offers $2500 in prizes for to be shared among emerging student and professional filmmakers

Kathy Eldon, of Creative Visions Foundation, will present the Dan Eldon Activist Award, which is awarded each year to a filmmaker who best uses media to bring about positive change. The award comes with $1500 in cash prizes to be shared among the winners this year.

Ron Kovic, renowned author, painter and activist, will present the annual Ron Kovic Peace Prize, which awards $1000 to the filmmaker who most effectively addresses the issue of peace.

Esther Wojcicki, esteemed media arts educator, author and co-founder of Tract, will present the WOJ Youth Reporter Award. The award offers up to $1050 in prizes to be shared by the winning filmmakers.

Judith Anderson, founder of The Foundation for the Contemporary Family, will present the Relationships First Award, with $1500 of cash prizes to be shared among the winning short films that depict the power and importance of contemporary family relationships.
Barbara MacGillivray, from MacGillivray-Freeman Films' Educational Foundation's One World One Ocean campaign and her team select the winner for The Sylvia Earle Ocean Conservation Award. This award is named for Dr. Sylvia Earle, a world-renowned marine biologist, author of more than 200 publications, and explorer, who has led more than 100 expeditions. The annual award is presented on World Ocean's Day to filmmakers who shine a light on heroes who are working to protect the world's oceans.
The MY HERO Project is a 501(c)(3) non-profit organization. Donations from individuals, foundations, and corporations fund our award-winning educational programs and film festival. Your donation is greatly appreciated. (/donate)
Page created on 10/16/2022 6:46:22 AM
Last edited 10/19/2022 6:58:32 PM